I was scanning the internet, trying to find other advocates for what I have recently started to call the 4th Industrial Revolution (October 22) — a revolution that will be fueled by sustainable energy sources, replacing the ones that pollute the atmosphere and cause unsustainable climate change with catastrophic effects. I came across a blog titled "Our Finite World," run by Gail Tverberg. The blog strongly reminded me of my own blog in its mission to save the world from its own mindlessness, through the use of the educational system. A long comment on that blog redirected my attention once again to M. King Hubbert. I have mentioned Hubbert in my book and in my previous blog, but only in the context of his detailed calculations of the available oil resources in the USA and the emergence of the now famous Hubbert peak. This peak depicts these resources in the form of a bell-shaped curve, or as I called it in my previous blog, a wavelet. In terms of the US reserves, the Hubbert peak is in agreement with future estimates.
The blog has refocused my attention to other parts of Hubbert's work, which focus on longer-term issues of what to do about the projected decline of these reserves.
In one aspect, Hubbert agrees with Robert J. Gordon's analysis, in terms of the uniqueness of the present. In his 1962 very detailed report titled "Energy Resources," submitted to the Committee on Natural Resources, he was trying to extend his Hubbert Peak analysis both backward and forward, 5000 years. The result of this analysis is shown in Figure 1.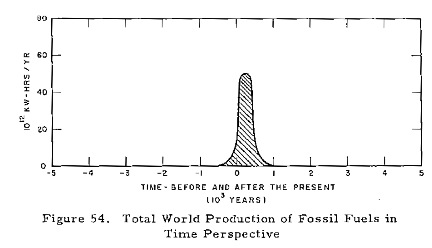 Figure 1
This was not the end of the story, either in that report or in his later writings.
Figures 2 and 3 were taken from a short paper titled "Exponential Growth as a Transient Phenomena in Human History," that was published in 1976 as part of a collection to celebrate the United States' 200th birthday.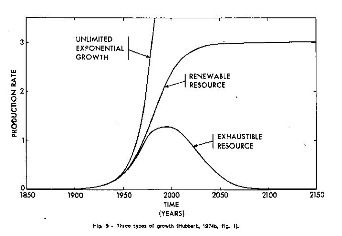 Figure 2- Three types of growth (Hubbert, 1974)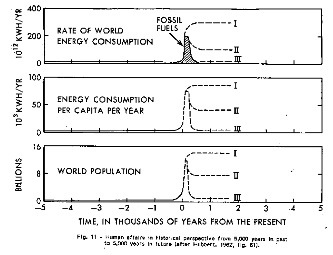 Figure 3- Human affairs in historical perspective from 5,000 years in past to 5,000 years in future (after Hubbert, 1962)
Both figures include various future scenarios, which are clearly marked in Figure 3.
Here is Hubbert's definition of the three scenarios, taken from the 1962 report that describes an earlier version of these scenarios: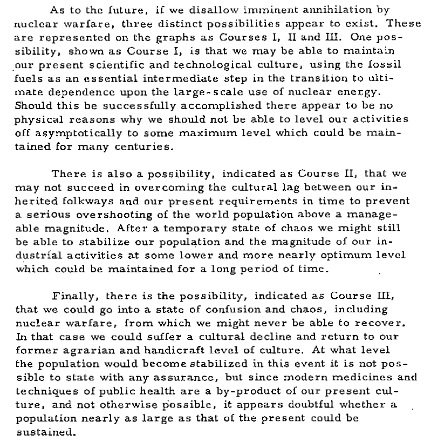 Today, one can obviously argue about the role nuclear energy plays in Hubbert's scenarios. His words can be repeated today and redefined as the 4th Industrial Revolution. While climate change didn't actually play any role in Hubbert's analysis, he would have been justifiably alarmed to have a front row seat watching us expedite the time scale needed for implementation of this revolution.