Turkana Farms is a small-scale producer of heritage breed livestock and a wide array of vegetables and berries on just over 39 acres in Germantown, New York. It is run by two friends who have sent me the following message for the New Year:
Hello All and Happy New Year (Peter here):
I think we are all, either from direct experience or reading about it, aware that the year 2012 has gone down in U.S. weather history as being the hottest since records have been kept. And those of us who enjoy local fruit or have orchardist neighbors are also aware that a two week record breaking heat wave last April took the temperatures up to the 90's, causing apple, pear, and cherry trees to bloom prematurely in Columbia County, only to be followed by a killing frost a few weeks later, effectively decimating about half of the expected fruit crop.
Our sympathies go out to our near neighbors, the Riders, who lost virtually their entire 2012 apple, pear, and cherry crop. And, of course, to our disappointed pigs who usually look forward with great anticipation to the cast off apples that annually come our way from the Riders.
Other problems and disruptions caused by Climate Change are not so obvious but are subtly changing life at Turkana. We are becoming more and more aware of how changes in light and temperature control the life cycles of our livestock. The cues for our peacock to begin and end his mating period, for instance, somehow changed this season. Ordinarily in late spring, when his tail feathers have completely grown back, the peacock begins his displays, which usually continue to the end of July/early August when he molts his tail feathers, and the daily dances end. I was surprised in early spring, three weeks earlier than usual to see him displaying (with partially grown out tail feathers), and then to see him end his gorgeous show three weeks earlier than usual, as his tail feathers began to drop out.
But an even more dramatic disruption of the cycles was evidenced by our sheep lambing in early December rather than in mid January or February. We usually keep our ram together with his ewes and have let him in the past set the mating schedule. He in turn is programmed by weather conditions, and ordinarily would take his cue from the first cool night of around 55 degrees in August or September, the births taking place about five months from this date.
But it is only January 4th and we have already had over twenty lambs—all of these before the time we normally begin lambing. This would mean that the ram began making his conjugal rounds in July. Could there have been, we wonder, a string of changes in the environmental cycle that precipitated his activity? That both the peafowl and the sheep's normal cycles were disrupted suggests that this is so.
The farm was affected not only by the excessively hot summer of 2012 but also by the almost non-existent winter of 2011-12. Quite early in the spring I began to notice a rat and mouse population moving into our barn and other outbuildings. Inquiring around I learned that this was a common problem at other local farms. Normally this invasion is something to be expected in late fall as the weather turns extreme and food sources begin to dwindle.
At first I attributed this early migration to the extremely wet spring weather, which raised considerably the water table, assuming that the rodents were being driven out of their holes and tunnels by water. But I have since heard a more persuasive explanation: that it was the extremely mild winter that is actually the cause, a mild winter that allowed the rats to, as they say in the Bible, "be fruitful and multiply." Again a change in the environmental cycle, no freezing period to trigger hibernation and, therefore, more sexual activity, accounts for the early plague of rats.
The rat situation was not helped by the resistance of Mark and our farm helper, whose scruples apparently did not allow them to plant poison rat blocks in the affected places. Since there was no hope of a Pied Piper of Hamlin magically appearing on the scene, it would be up to me, I realized, to be the Darth Vader of the rat population.
Soon rats were not only working their way through the clapboarding of the barn and coop walls but also, amazingly punching holes, through the concrete floors. But the biggest disaster was finding one day that over a third of our chicks had gone missing from the brooder box. Upon inspection I found that the rats had gnawed through the several inch thick boards of the brooder box and been carrying off the chicks at will. The only solution was to move the surviving chicks into wire cages and suspend the cages by ropes from the ceiling.
When the chicks had outgrown the cages it was impossible until they reached a certain size to release them in the coop for fear of what would happen to them in the night. It became obvious that we needed to discover where the rats were nesting. My guess was under the brooder box they had gnawed into. When we moved the brooder box we found a nest of a dozen or so, obviously poisoned rats dead or dying, directly beneath it. How many healthy live ones absconded from there as we moved the box I had no idea. Ultimately I set in motion a determined campaign of setting poison, sealing holes in the concrete floor and walls, and removing food sources. I am happy to report that after my blitzkrieg that at last the rat population seems virtually decimated.
Our experiences this past year make it clear to us that Climate Change is and will be working its strange magic at the farm in all kinds of unexpected ways. Obviously, halting climate change is infinitely more complicated than halting the proliferation of rats, but as we saw with the rat situation, dragging one's feet only compounds and increases the problem. Are we now that we are starting a new administration in Washington, at last ready to at least talk about addressing Climate Change once again?
They know, as well as most of us, that the variety of impacts that they observed on the farm and attribute to Climate Change, are not necessarily anthropogenic (man induced) in origin. The impact is not specific to their farm and has many contributions from a variety of non-anthropogenic sources. All the impacts that they list can be attributed to attempts to adapt to climate change – some more successful than others. We also know (my June 25th blog post) that our present energy use leads to a disruption of the global energy balance, which leads to major climate changes by way of changes to the chemistry of the atmosphere. The atmospheric changes are fast approaching the levels that trigger non- linear imbalances (tipping points in some jargon) that will leave us helpless to adapt to these changes. So, the local, observable changes in the weather serve (or should serve) as an alarm call.
None of Turkana Farms' impacts are attributed to the increase in the intensity and frequency of extreme weather events. To show this, we would need more data.
Here is a summary of a very recent report compiled by NOAA (National Oceanic and Atmospheric Administration) for the United States on 2012's extreme weather and climate events:
Today, NOAA released preliminary information on extreme weather and climate events in the U.S. for 2012 that are known to have reached the $1 billion threshold in losses. As of December 20, NOAA estimates that the nation experienced 11 such events, to include seven severe weather/tornado events, two tropical storm/hurricane events, and the yearlong drought and associated wildfires.
These eleven events combined are believed to have caused 349 deaths, with the most significant losses of life occurring during Sandy (131) and the summer-long heat wave and associated drought, which caused over 123 direct deaths (though an estimate of the excess mortality due to heat stress is still unknown).
The eleven events include:
Southeast/Ohio Valley Tornadoes — March 2–3 2012
Texas Tornadoes — April 2–3 2012
Great Plains Tornadoes — April 13–14 2012
Midwest/Ohio Valley Severe Weather — April 28–May 1 2012
Southern Plains/Midwest/Northeast Severe Weather — May 25–30 2012
Rockies/Southwest Severe Weather — June 6–12 2012
Plains/East/Northeast Severe Weather ("Derecho") — June 29–July 2 2012
Hurricane Isaac — August 26–31 2012
Western Wildfires — Summer–Fall, 2012
Hurricane Sandy — October 29–31 2012
U.S. Drought/Heatwave — throughout 2012
More from NOAA…
"2012 was warmest and second most extreme year on record for the contiguous U.S."
"The average temperature for 2012 was 55.3°F, 3.2°F above the 20th century average, and 1.0°F above 1998, the previous warmest year."
The impact is not localized to the United States: England was flooding, China is freezing and Australia is burning as described  in Sarah Lyall's January 10, 2013 article in the New York Times,  "Heat, Flood or Icy Cold, Extreme Weather Rages Worldwide."
A map of the very recent fire distribution in Australia where temperatures have exceeded 500C (1220F) is given below.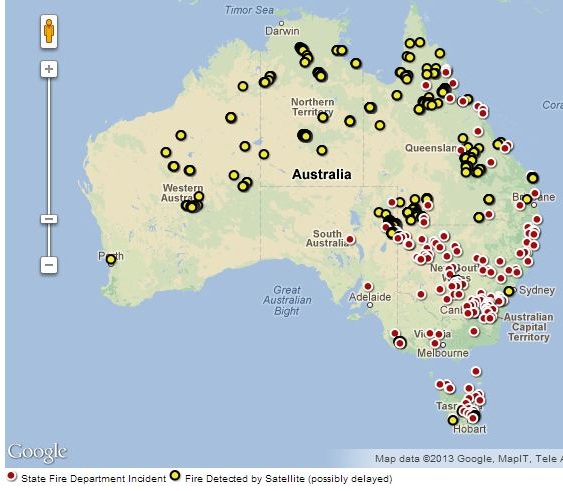 The official global average temperature and some of the distributional properties of this record are expected in a week. The anticipation is not for a global record breaking because of La-Nina, but a statistical adjustment for La-Nina can probably confirm the trend.
My friend from Turkana's obvious question was – what can we do about this? As we will see in the coming blogs, we need some help to address it.