A survey that was published in a recent OECD report has found that only 5% of American students expect to pursue a career in the sciences by age 30.
We are in good company – countries such as Brazil, UK, Canada and the Netherlands have similar statistics. Estonia is the highest (among the countries that were surveyed – at around 30%). Unfortunately, the survey probably never questioned the students on their understanding of what science entails. If they have similar attitudes to students that I know, science for them is associated with disciplines such as Physics, Chemistry and Biology that require a lot of math – many of them have decided that they hate math and don't want to be associated with it any longer than they absolutely must. Presumably, nobody told them that they are now part of the physical world and if they want to participate in the decision-making process of governing the place that they and their families live in – they had better change their attitude about science. The "Two Cultures" (C.P. Snow – see the previous blog) cannot stay separated.
One of the questions that was surveyed by the National Science Foundation (NSF) to probe factual knowledge among the American public was, "Human beings, as we know them today, developed from earlier species of animals – true or false?" 47% of Americans surveyed had the correct answer (true). For comparison, they also provide the score for international respondents: South Korea (64%), EU (70%), Japan (78%), India (56%), China (69%) and Russia (44%).
Recent reports by Yale University on American Global Warming Beliefs and Attitude found that Americans can be divided into six "distinct" groups in terms of their attitudes to climate change. The groups are shown in the figure below, together with the relative proportion of responses in each group (2009).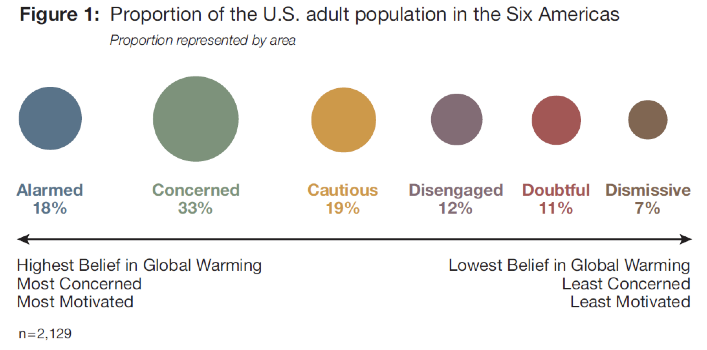 In the "Alarmed" group, 88% of the respondents believe that humans are the main culprits. In the "Concerned" group, that belief in mostly human culpability is reduced to 79%.
Interestingly, but not surprisingly, a similar survey that was conducted among frequent visitors to Science and Technology museums found that 45% of the frequent visitors are in the "Alarmed" category and 29% in the "Concerned" category. In total, 66% of the frequent museum visitors understand that global warming is mostly caused by humans.
The Christian-Science Monitor has recently reported on a survey that asked whether the respondents believe aliens have visited Earth – 36% of those who were surveyed responded that they do, 48% aren't sure, and 17% said they don't believe so. This means that more than three in four Americans (77%) think there are signs that suggest aliens have visited the Earth, whether or not they've made up their minds about the question.
With some margin of error, the percentage of ignorance in all three questions is about the same. However, the consequences are very different. As long as we keep people who don't believe in evolution and people who believe in visits from extraterrestrials away from teaching (not an easy task) the damage is mostly personal. Nobody is asked to "vote" on these issues.
The climate change issue requires real remedies in the form of changes to the way that we and our children and grandchildren conduct our individual and collective lives. It also requires spending large sums of money that otherwise would go to address different needs. In democratic societies, these actions require public support.  The public is repeatedly required to make informed choices. If the public cannot make informed choices based on first principles, it will search for "epistemological lawyers". Climate scientists would like to serve in this role (see my May 21 blog) but they are not the only ones – it becomes a hotly debated political issue that in most cases leads to inaction. Even many "skeptics" admit that in the near future ("end of now") we will need to change our energy choices to ones that do not result in human-induced climate change because of irreversible changes in the chemistry of the atmosphere. They just question the timing (not now – later). We are starting to find out that the necessary changes are so fundamental that to accomplish them we require basic changes in our educational system.
Some movements in this direction will be discussed in the next blog.