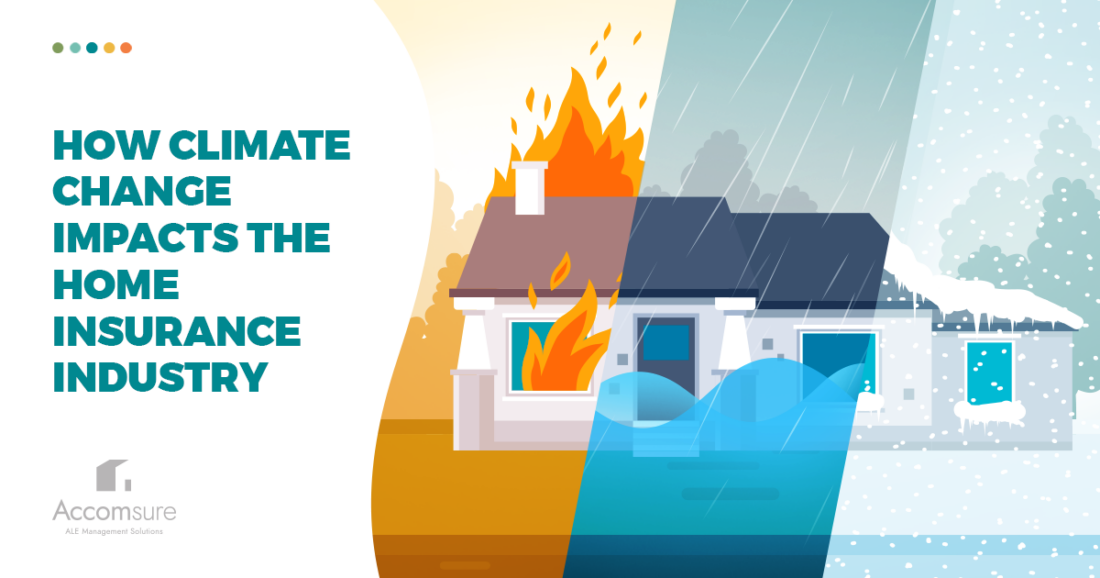 (Source: Accomsure)
The last two blogs focused on the money that we need to spend now to try to mitigate the increasing impacts of climate change on all of us. The example that I used was the recent devastating impacts of the fires in Maui, Hawaii, and the factors that could have lessened the damage, namely: water availability and burying power lines. In the meantime, hurricane Idalia hit Florida hard and hurricane Lee strengthened in the Atlantic to become a category 5, with a track that includes some probability that it will hit my home (NYC).
At the same time, I got an email from a reader (Erika Reid) of my recent blogs, asking me to focus on insurance policies. I responded that this was exactly my plan. It turns out that she is an "influencer" for considering the impacts of disasters on insurance companies. Below is a brief excerpt of what her site has to say about the impact of climate change. I emphasized the most dramatic sentence because it illustrates just how big the effects of the problem are:
As the effects of climate change have worsened, insurance companies have responded by increasing the cost of coverage — or pulling out of markets entirely. Farmers Insurance, the nation's seventh largest auto coverage provider, announced in July that it will no longer offer policies in Florida. The insurer cited the financial risk of hurricanes as a significant reason. Farmers' decision affects roughly 100,000 people, according to CNN.

As the warming climate exacerbates wildfires, floods and other natural disasters, car insurance companies are likely to see a greater number of comprehensive claims. Car insurance will get even more expensive, and more companies may follow Farmers' lead. The insurance providers that remain on the market would have an incentive to charge more in higher-risk areas.

"Unless we have more auto insurers competing, the general auto insurance premiums will stay higher for a long time," Yao said.
I wrote about the impacts of climate change on insurance policies in previous blogs. Put "insurance" into the search box and you will get several entries. One example is titled "We Are Not Prophets II – Back to Deniers and Skeptics and Forward to Insurance" (August 20, 2012). I opened that blog with a citation from my book that applies just as well today as it did more than 10 years ago:
Can we insure the survival of the planet as a habitable environment? If the answer is yes, then who will pay the premium?  If climate-change is just a big catastrophic event, then the mechanism of financial preparation should not be much different than the insurance of present catastrophic events. The trouble is that we are not very good at insuring catastrophic events. The present situation of flood insurance is a good example. In the United Kingdom, flood insurance is provided by private insurance, but in the United States it comes through a federally backed insurance system. In France and Spain flood insurance is bundled with other natural perils into a national pooling arrangement, and in Holland it is completely unavailable. The insurance industry is heavily involved in the debate on climate change. "Climate Change is a clear business opportunity for the insurance industry," declared Shinzo Abe, former Prime Minister of Japan, at the Geneva Association meeting in Kyoto on 29 May 2009 [The Geneva Reports, www.genevaassociation.org, "The Insurance Industry and Climate Change – Contributions to the Global Debate", No. 2, July 2009].
This is what is happening today:
From devastating hurricanes and wildfires to catastrophic floods and tornadoes, natural disasters are increasing in frequency and cost. According to the NOAA National Centers for Environmental Information (NCEI), over the past ten years, 152 disasters caused at least $1 billion dollars of damage per occurrence. This puts the total cost of billion-dollar disasters to more than $1.1 trillion over the past ten years. Climate change plays a major role in the frequency and intensity of severe weather. In addition to factors like insufficient building codes, increased population in vulnerable areas and inflation, the death tolls and financial cost of extreme storms may continue to rise every year. Homeowners bear the brunt of the financial burden and need to have adequate insurance coverage or risk paying out of pocket to rebuild their homes.
Major insurers say they will stop covering damage caused by hurricanes, wind, and hail for property along coastlines and in wildfire country. Again, I have emphasized the sentences that describe the biggest impacts:
In the aftermath of extreme weather events, major insurers are increasingly no longer offering coverage that homeowners in areas vulnerable to those disasters need most.

At least five large U.S. property insurers — including Allstate, American Family, Nationwide, Erie Insurance Group and Berkshire Hathaway — have told regulators that extreme weather patterns caused by climate change have led them to stop writing coverages in some regions, exclude protections from various weather events and raise monthly premiums and deductibles.

Major insurers say they will cut out damage caused by hurricanes, wind and hail from policies underwriting property along coastlines and in wildfire country, according to a voluntary survey conducted by the National Association of Insurance Commissioners, a group of state officials who regulate rates and policy forms.

Insurance providers are also more willing to drop existing policies in some locales as they become more vulnerable to natural disasters. Most home insurance coverages are annual terms, so providers are not bound to them for more than one year.
Examples of this year's impacts on states and companies can be found below :
What's driving this upheaval? Climate change. Extreme weather, including devastating California wildfires and costly Gulf coast hurricanes, are forcing insurers to reassess their risk tolerance.

And many are simply deciding the increased risk of extreme weather combined with rising construction costs due to inflation make offering insurance in at least some locations untenable.

The problem isn't confined just to coastal areas of the country. As Steve Bowen, chief science officer at global reinsurance broker Gallagher Re told Axios last month, "this is a 50-state problem as insurers are being forced to re-assess their risk tolerance as climate change leads to more common and severe extreme weather events.

Believe it or not, we could be facing a future where certain parts of the country are literally uninsurable or where insurance is affordable only for the wealthy.
This last sentence summarizes the issue. Many of the worsening impacts of climate change are taking place in Republican-governed states in the Southeast US such as Florida, Texas, and the Carolinas. Florida is compensating for the destructive impacts of hurricanes with what some of the media call a "hurricane tax":
In Florida, it won't just be those with homes and businesses hit directly by Hurricane Idalia who might be stuck picking up the pieces. Thanks to a broken home insurance market, a particularly bad hurricane could spread financial fallout throughout the state, leaving residents from Pensacola to Key West stuck paying repair bills for years.

Beset by hurricanes made more severe and more frequent by climate change, as well as rampant fraud and tides of frivolous lawsuits, dozens of insurers in the state have closed up shop or stopped selling new home insurance policies in the state in recent years. (Farmers became the most recent big insurer to pull out of the state last month). Residents have increasingly turned to Citizens Property Insurance Corporation, a public entity established by the Florida government as the state's so-called "insurer of last resort" for people unable to find affordable rates from private insurers. For more and more residents, though, Citizens is becoming the first and only option, especially for those with coastal homes at particular risk from hurricanes. In 2019, Citizens had about 400,000 home insurance policies on its books; today, it has more than 1.3 million, about twice as many as the state's next-largest insurer.
Yet, the Republican governors of these states and the Republican party still refuse to acknowledge our collective culpability and our ability to mitigate future climate change-driven disasters. One example of this reasoning is a fictional scenario outlined in the WSJ. They refuse to acknowledge that human culpability does not manifest itself in the variability of the weather (hot vs. cold) but, instead, by amplifying the frequency and intensity of extreme events. It's the victims of these events who need insurance.
The next blog will focus on the role of the federal government in mitigating the impacts of climate disasters.