I watched both the Republican and Democratic conventions.  I was listening for information about where the parties and the candidates stand on the issue of climate change.
In advance of the conventions, the candidates did, in fact, provide written responses to science related questions posed by ScienceDebate, an organization that debates scientific issues, including climate change. The candidates' written responses to the ScienceDebate questions were summarized in a Scientific American document.
I thought that the comments in the candidates' speeches would tell us the most about their real position on climate change because of the "ownership" that the candidates had to assume once they agreed to include them
So, today I will focus on the speeches. I will cover the relevant sections in the platforms and in the ScienceDebate responses in my next blog.
In his August 30th acceptance speech in Tampa, FL, the Republican candidate Mitt Romney, mentioned climate change and the essence of his energy policy in two brief sentences:
And unlike the President, I have a plan to create 12 million new jobs. It has 5 steps: First, by 2020, North America will be energy independent by taking full advantage of our oil and coal and gas and nuclear and renewables.

…President Obama promised to begin to slow the rise of the oceans and heal the planet. My promise…is to help you and your family.
President Barack Obama, the Democratic candidate, in his acceptance speech in Charlotte, NC on Thursday, September 5th had this to say:
You can choose the path where we control more of our own energy. After thirty years of inaction, we raised fuel standards so that by the middle of the next decade, cars and trucks will go twice as far on a gallon of gas. We've doubled our use of renewable energy, and thousands of Americans have jobs today building wind turbines and long-lasting batteries. In the last year alone, we cut oil imports by one million barrels a day – more than any administration in recent history. And today, the United States of America is less dependent on foreign oil than at any time in nearly two decades.

Now you have a choice – between a strategy that reverses this progress, or one that builds on it. We've opened millions of new acres for oil and gas exploration in the last three years, and we'll open more. But unlike my opponent, I will not let oil companies write this country's energy plan, or endanger our coastlines, or collect another $4 billion in corporate welfare from our taxpayers.

We're offering a better path – a future where we keep investing in wind and solar and clean coal; where farmers and scientists harness new biofuels to power our cars and trucks; where construction workers build homes and factories that waste less energy; where we develop a hundred year supply of natural gas that's right beneath our feet. If you choose this path, we can cut our oil imports in half by 2020 and support more than 600,000 new jobs in natural gas alone.

And yes, my plan will continue to reduce the carbon pollution that is heating our planet – because climate change is not a hoax. More droughts and floods and wildfires are not a joke. They're a threat to our children's future. And in this election, you can do something about it.
Both responses include a desire for energy independence. I will discuss my opinion as to the wisdom of such a goal at a later date. Here, I would like to focus on Governor Romney's comments about his preference to "help you and your family" as "opposed" to President Obama's preference to "slow the rise of the oceans and heal the planet."
The picture below was taken (Google photo – no attributes) at the same time as the Republican Convention and in close proximity to Tampa, Florida, where the Republican convention took place. It illustrates evacuation efforts from the flooding caused by Hurricane Isaac.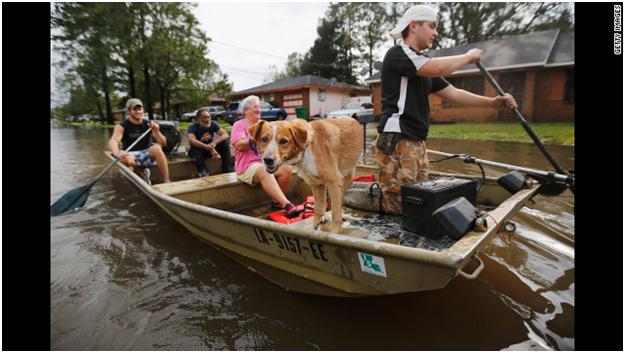 In my interpretation, the young boat drivers are taking care of the family. Governor Romney might help by providing a more efficient transportation means to get the family back to their home as quickly as possible. President Obama (through Governor Romney's interpretation) might instead put his effort toward preventing the flooding in the first place.
I would rather provide people with boats than watch them drown, but the flooding is indicative of a much larger weather trend.  The record droughts, prevalent hurricanes, and incredibly hot summer, paint a picture of the most immediate and dramatic effects of climate change.  Some percentage of this is anthropogenic (human contributed). That said, what do we plan to do about it?  It is helpful in the short term to have the rescue boat available, but what happens after that?  Our country needs to decide which path to take.  We have options; we simply have to evaluate them.