A few days ago, I attended a special session of the AAAS (American Association for the Advancement of Science) in Boston. The session was titled "International Teacher-Scientist Partnership Conference," and emphasized collaboration. I attended the session in my role as Co-Director of my school's GK-12, NSF funded, program. The program is focused on a combined effort between graduate students and a few of our local high schools. It is a very successful program that is about to end because of budget constraints. Both our participating graduate students and a few of the high school teachers that are working with us took part in the conference.
Suzanne Donovan, Executive Director of the Strategic Education Research Partnership Institute and Heidi Schweingruber, Deputy Director at the National Research Council, delivered the first plenary presentations at this meeting. Their talks focused on the role of partnership in education, with an emphasis on K-12 education standards.
Every state now has its own school standards, at least in core subjects. The continuous debate is about the desirability of federal standards. The talks discussed federal standards in science and math. The main argument supporting the need for national standards rests on the discrepancy between state standards and our lag in international competitiveness.
I was listening politely, waiting to hear if part of the discussion would center on participation in important policy decisions that require an understanding of science. It did not. The main issue that I was concerned about was Climate Change, but the need for understanding applies to many more issues, including general environmental policy, health care, and genetic engineering. All of these are affected by political decisions regarding both the allocation of resources and regulation of activities. In order to make informed decisions to ensure a better future, the policymakers must first have an in-depth understanding of the subjects.
I grew up in Israel, where, after high school, at age 18, almost everybody is drafted into the army. At the same age, we are also entitled to vote.
The two figures below compare the global voting age distribution with the global distribution of military conscription.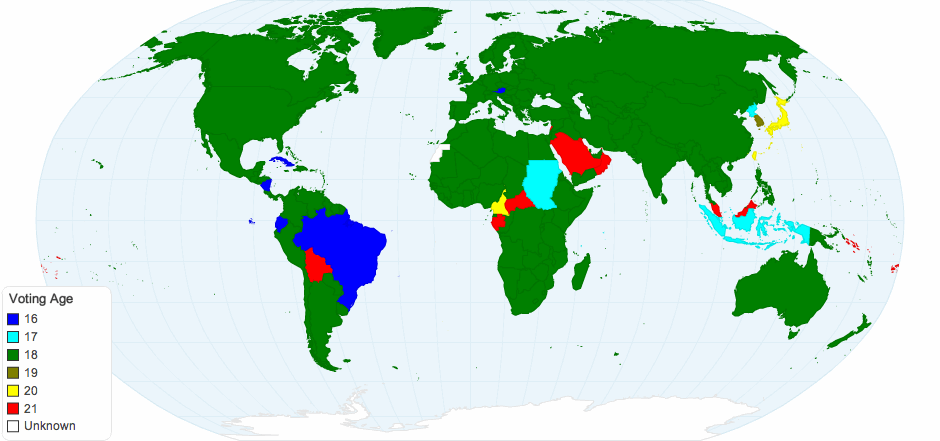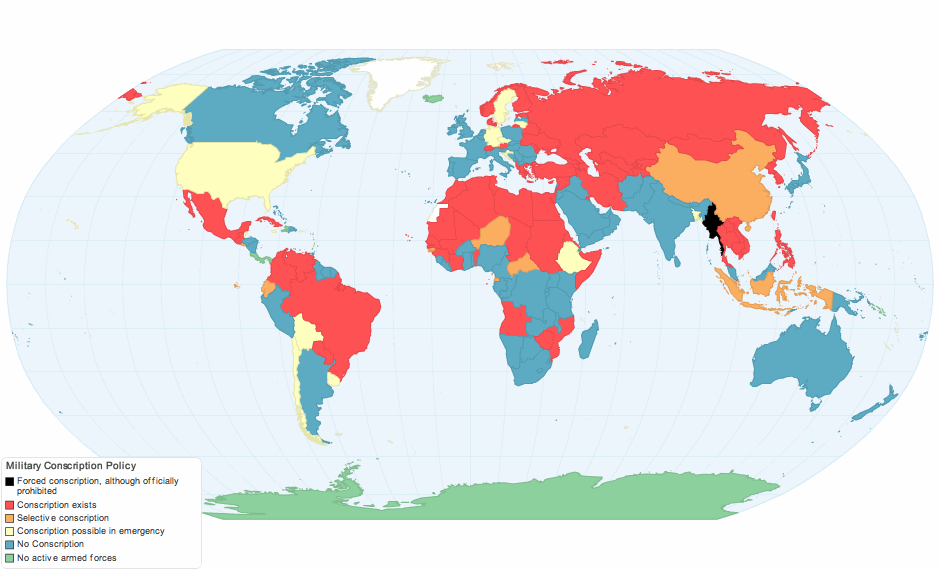 In the US, the compulsory draft ended in 1973, but males between 18 and 25 are still required to register to the Selective Service System in case a reintroduction of conscription becomes necessary.
When a youngster enters military service, he or she goes through basic training that can be very demanding. If he or she desires or is assigned to a leadership position or a specialized role, he or she must first undergo further training before being allowed to take part in any combat activity.
The age threshold for voting in most countries is 18. The preparation, in the optimum case is high school. I am absolutely not trying to advocate a reintroduction of literacy tests for voting. I do, however, think that we should use every opportunity available to educate our children on the nature of the choices on which they are being asked to vote.
Since I didn't hear any mention in the talks about including voters' education as part of the standards, I asked the speakers to comment on this with an emphasis on Climate Change.
The answer that I got was that the speakers are aware of the issue but in their opinion, to address it properly, we need to revisit our entire educational system and make broad changes – changes for which we are not yet prepared.
Next week I will try to make the case that in many instances, we are not only not addressing ignorance at the voting booths but we are also fossilizing disciplinary boundaries that make it very difficult to acquire the necessary education on our own.