Last week I focused on Texas. In spite of its strong inclination toward state autonomy, reluctance to implement new taxes, and its heavy dependence on fossil fuels, it is playing a vital role in the energy transition:
The state is a leader in renewable energy commercialization; it produces the most wind power in the nation. The Roscoe Wind Farm in Roscoe, Texas, is one of the world's largest wind farms with a 781.5 megawatt (MW) capacity. The Energy Information Administration states that the state's large agriculture and forestry industries could give Texas an enormous amount biomass for use in biofuels. The state also has the highest solar power potential for development in the nation.

Unlike the rest of the nation, most of Texas is on its own alternating current power grid, the Texas Interconnection. Texas has a deregulated electric service.
I have paid special attention to Georgetown, a relatively small town in Texas, and its commitment to convert entirely to carbon-free energy sourcing by January 2017. That's way ahead of almost everywhere else in the world. The town intends to make that transition by replacing all usages of fossil fuels with wind and solar sources.
While Georgetown is an example of incredible progress, there are still barriers to the changeover. One of these, a long-time nemesis of this evolution, is the NIMBY (Not in My Back Yard) phenomenon. Many people worldwide have expressed their dismay at having gigantic wind farms feature prominently in their immediate field of view.
Three of my students in the Physics & Society course did a project in which they compared NIMBY attitudes directed at wind energy in the US, Germany, and China. They found the following chart in an article by Eric R.A.N. Smith and Holy Klick which reflects the opinions of Americans polled: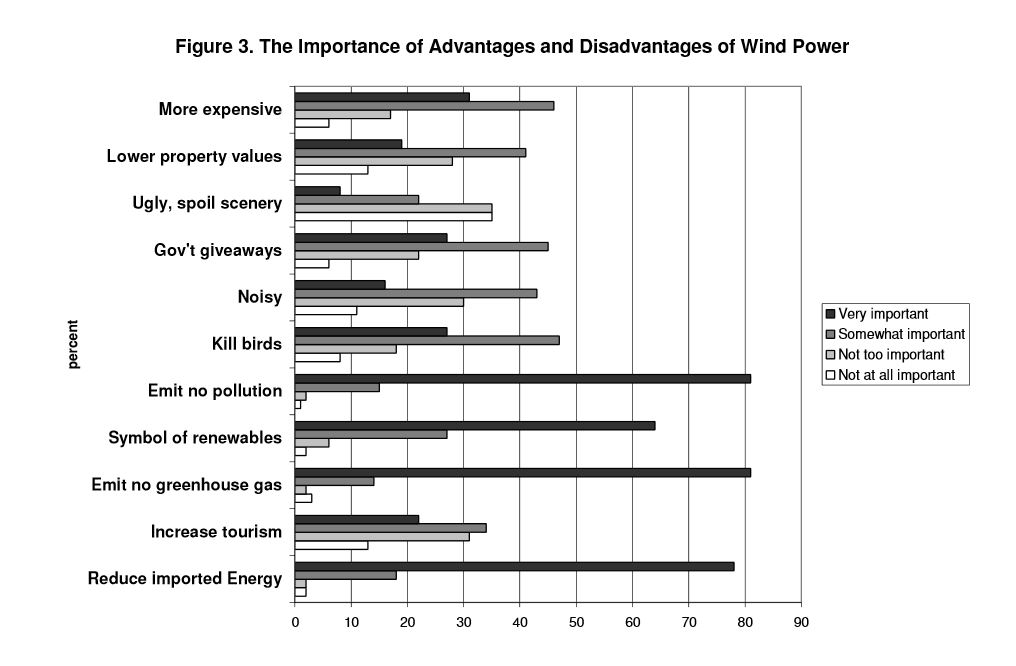 The factors deemed most important in the survey were the positive aspects of wind power: the turbines emit no pollution or greenhouse gases, they symbolize renewable energy, and they reduce reliance on imported energy. But those questioned also emphasized the relative perceived importance of several obstacles: wind farms are more expensive, they lower property value, are ugly, noisy and they kill birds.
All of these questions need references, though – what are these numbers in comparison to? Meanwhile, I'd like to focus on the complaint that wind power generators are ugly. This was a leading concern which caused significant delay in the construction of wind farms in a multitude of locations. Unsurprisingly, if you have an ocean view property and somebody proposes to put a wind farm in the ocean directly in front of your window, you might object.
But consider the two facilities below: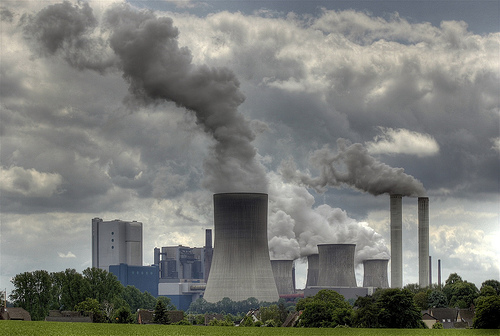 The first photograph is taken from the New York Times article, "Wind Power Is Poised to Spread to All States":
All 50 states could become wind energy producers, according to an Energy Department report released Tuesday, once the next generation of larger, taller turbines in development hits the market.

The bigger machines — reaching as high as 460 feet — could eventually make faster winds at higher altitudes an economical source of electricity, an important part of reaching the nation's goals in fighting global warming, said Ernest Moniz, the secretary of energy.
The second photograph is from a quick Google image search for a fossil fuel power plant.
Which view would you prefer? One of them has to provide you with the energy that you need.