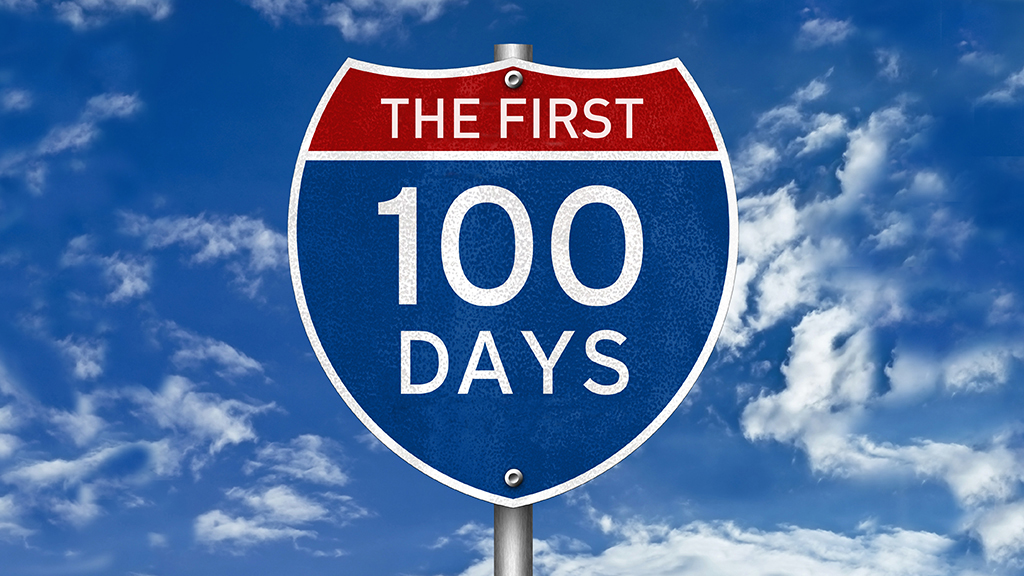 President Biden has now been in office for 98 days. We look at the first 100 days as an important marker of a president's accomplishments:
The 100-days concept is believed to have its roots in France, where the concept of "Cent Jours" (Hundred Days) refers to the period of 1815 between Napoleon Bonaparte's return to Paris from exile on the island of Elba and his final defeat at the Battle of Waterloo, after which King Louis XVIII regained the French throne.

When did the first 100 days become a key benchmark for a U.S. presidential administration?
In the United States, no one talked that much about the importance of a president's first 100 days—until Franklin D. Roosevelt took office in 1933. He took swift action to calm the nation's crippling financial panic (cue the Emergency Banking Act and the "fireside chats" that became Roosevelt's signature) and began rolling out the programs that made up his New Deal, including 15 major pieces of legislation in the first 100 days. FDR's extraordinary productivity translated into enormous popularity, and he set a first 100-day standard against which all future U.S. presidents would (perhaps unfairly) be measured.
Well, Napoleon's first 100 days was a period of intense activity and Roosevelt used his to work with Congress to bring an end to the Great Depression. Both of these historic examples are well documented, and we know what happened next in each instance. In this case, however, we have no idea what will follow.
President Biden focused his first 100 days on trying to tackle the same set of interrelated problems that I illustrated in a Venn diagram in my August 4, 2020 post. These include COVID-19, climate change, population growth, jobs, and equity. As we've seen from this latest transition of power, any lasting change will have to come in the form of legislation—a difficult proposition right now. The political landscape required to address any one of these issues is challenging, to say the least, and especially so in this intensely polarized time. To his credit, President Biden has already started to take on each of these topics: he has suggested increases in progressive taxes to fund remedies for inequities, he has met the job crisis with climate- and infrastructure-related job creation; he is updating immigration policies to address populations (in and out of the US), and, obviously, his team is working very hard on the COVID-19 pandemic.
In keeping with the theme of this blog, since Inauguration Day, I have focused primarily on climate change. Earth Day comes toward the end of a president's first 100 days and President Biden took the occasion to signal his administration's commitment to climate action. In a move to regain world leadership of climate change mitigation and adaptation, he (virtually) convened a group of world leaders and asked them to not only renew but upgrade their Paris Agreement commitments. He called for leaders to lower their countries' carbon (and carbon equivalent) emissions in the coming years and to indicate what specific steps they are taking now toward those new commitments.
President Biden wanted this summit to occur ahead of the COP26 UN conference that is scheduled for November 1-12 this year in Glasgow, Scotland. COVID-19 is still striking almost everywhere, so we don't know yet whether it will be held virtually or in person. Originally, that meeting was supposed to mark the updating of the Paris Agreement commitments but President Biden clearly wanted to reestablish America's participation in and leadership of the Paris Agreement framework. Many of the countries were happy to have the US back (although some of them remained a bit skeptical):
President Joe Biden brought the U.S. back into the global fight against climate change on Thursday, pledging at an international summit he convened to halve emissions of greenhouse gases by 2030 and double climate aid to developing nations.

Poor countries made clear at the summit that they expect money from wealthier nations in exchange for accelerating their own efforts to curb warming, while China and India stuck to plans to continue growing their own carbon emissions before making any cuts, dismaying environmentalists who say the world remains on course toward catastrophe.

Biden announced in opening remarks for the two-day summit that the U.S. will reduce its greenhouse gas emissions 50%-52% from 2005 levels by the end of the decade — significantly boosting a commitment made under former President Barack Obama that was scrapped by former President Donald Trump.
Of course, the hardest part comes after the two-day meeting:
President Biden's summit meeting on climate change ended on Friday with the United States promising to reduce its dependence on fossil fuels and help other countries do the same. But the real test will be Washington's ability to steer the rest of the world toward cleaner energy fast enough to avert catastrophe.

The limits of America's influence were clear. Australia, India, Indonesia, Mexico and Russia made no new pledges to cut down on oil, gas or coal. Some countries said that they were being asked for sacrifices even though they had contributed little to the problem, and that they needed money to cope.

Away from the summit, the Chinese foreign minister demonstrated the difficulties the Biden administration faces in working with the country most crucial to lowering global greenhouse gas emissions.
However, the new administration made it clear that it can back up its new commitments—both with executive orders and control over mechanisms that can distribute billions of dollars toward climate change mitigation and adaptation:
WASHINGTON — Federal officials, showing how rapidly the Biden administration is overhauling climate policy after years of denial under former President Donald J. Trump, aim to free up as much as $10 billion at the Federal Emergency Management Agency to protect against climate disasters before they strike.

The agency, best known for responding to hurricanes, floods and wildfires, wants to spend the money to pre-emptively protect against damage by building seawalls, elevating or relocating flood-prone homes and taking other steps as climate change intensifies storms and other natural disasters.
The president has signed an extensive set of related executive orders:
WASHINGTON — President Biden on Wednesday signed a sweeping series of executive actions — ranging from pausing new federal oil leases to electrifying the government's vast fleet of vehicles — while casting the moves as much about job creation as the climate crisis.

Mr. Biden said his directives would reserve 30 percent of federal land and water for conservation purposes, make climate policy central to national security decisions and build out a network of electric-car charging stations nationwide.
President Biden used the Earth Day summit to encourage new commitments but the results were mixed:
This is the decade we must make decisions that will avoid the worst consequences of the climate crisis," Biden, a Democrat, said at the White House.

British Prime Minister Boris Johnson called the new U.S. goal "game changing" as two other countries made new pledges.

Prime Minister Yoshihide Suga, who visited Biden at the White House this month, raised Japan's target for cutting emissions to 46% by 2030, up from 26%. Environmentalists wanted a pledge of at least 50% while Japan's powerful business lobby has pushed for national policies that favor coal.

Canada's Prime Minster Justin Trudeau, meanwhile, raised his country's goal to a cut of 40%-45% by 2030 below 2005 levels, up from 30%.

Brazil's President Jair Bolsonaro announced his most ambitious environmental goal yet, saying the country would reach emissions neutrality by 2050, 10 years earlier than the previous goal.
For instance, some of the media coverage bordered on sarcasm when covering the commitments of China, Russia, and Brazil:
Xi also announced that China will start to phase down its use of coal in 2025 and "strictly limit" the increase of the most carbon intensive fossil fuel for the next few years. He also said the country would "strictly control" coal-fired power plant projects.

But in his remarks to the summit, Bolsonaro highlighted the country's recent pledge to end deforestation by 2030, and alluded to a desire for international aid to help the country do so.

"There must be fair payment for environmental services provided by our biomes, to the planet at large, as a way to recognize the economic nature of environmental conservation activities," he said.

The Russian leader said that initiatives by Russia would set it up to become carbon neutral "as soon as by 2025."

"I would like to reiterate that Russia is genuinely interested in galvanizing international cooperation … to look further for effective solutions to climate change, as well as to other vital global challenges," he said.
Contradicting these announcements, Mr. Bolsonaro significantly reduced Brazil's environmental budget only a day after the Earth Day conference, a move that devastates any hope of follow-through on these new commitments. According to Congressman Rodrigo Agostinho, leader of the environmental caucus in Brazil's Congress, "After years of ever tighter budgets, the latest cuts threaten to completely paralyze environmental agencies."
To be fair, Prime Minister Modi, President Bolsonaro, and other leaders of developing countries probably have other things on their minds than what some may see as a virtual US photo opportunity. We are still in the middle of a deadly pandemic. On Saturday, the headline story in the NYT print edition focused on COVID-19's dire impacts on Brazil and its digital and Sunday print editions added similar information about the situation in India. Hopefully, the upcoming COP26 will feature a more complete set of written, updated global recommitments.
One good thing that has come from these activities is that they have sparked a conversation about the shape that the world might take as a result of increased commitments to reduced fossil fuel consumption. In the US, for example:
In several recent studies, researchers have explored what a future America might look like if it wants to achieve Mr. Biden's new climate goal: Cutting the nation's planet-warming emissions at least 50 percent below 2005 levels by the year 2030.

By the end of the decade, those studies suggest, more than half of the new cars and S.U.V.s sold at dealerships would need to be powered by electricity, not gasoline. Nearly all coal-fired power plants would need to be shut down. Forests would need to expand. The number of wind turbines and solar panels dotting the nation's landscape could quadruple.
As I have mentioned repeatedly, it will take a lot of patience to convert these discussions and suggestions into lasting legislation. The Republicans' only official response to the American Jobs Plan so far has come in the form of a plan that quarters the budget—it dedicates most of that money to fixing roads and bridges, and completely ignores the other issues that I included in my Venn diagram. Traditional infrastructure is not inherently a bad thing to spend money on—it just doesn't address the larger network of problems:
U.S. Senate Republicans on Thursday proposed a $568 billion, five-year infrastructure package as a counteroffer to President Joe Biden's sweeping $2.3 trillion plan, calling their measure a good-faith effort toward bipartisan negotiations.

The proposal, which falls below even the range of $600 billion to $800 billion that Republicans floated earlier in the week, focuses narrowly on traditional infrastructure projects and broadband access.

The Republican plan would not result in higher taxes but be fully paid for with user fees on electric vehicles and other items, unspent federal funds and possible contributions from state and local governments.
Keep safe and stay tuned.