This week, we have a guest blog from one of my friends, a retired Brooklyn College History professor, who just installed solar power in his home in Brooklyn.
Going Solar in 2022
My wife and I recently succeeded in going solar on our home in Brooklyn, choosing Brooklyn SolarWorks (BSW) to do the installation. We had attempted to do this back in 2015 with two other companies that were participating in the "CUNY-Sunshares" program. What happened back then is instructive; anyone considering going solar should be aware of the various factors that are involved, even if they are not mentioned up-front by the would-be installers.
The first salesperson we dealt with seemed informed and provided us with a written proposal within a few hours of our initial meeting. After considering the proposal, we were nearly ready to go forward and sign a contract with company #1 but decided to see what company #2 had to offer.
The salesperson for that company set up an appointment to meet but then canceled abruptly, calling to say that their engineers had determined that the needed number of panels couldn't be installed on our flat 16′ x 40′ roof due to NYC Fire Code restrictions. This prompted us to ask company #1 if it was certain that it could install the needed number of panels and be within the Fire Code; the reply was that their engineers had approved installation and that it was a "go" – Company #1's engineers found no problem with the NYC Fire Code requirements. But a few days later, the company called again and informed us that an additional $7,500 would be needed to finance the necessary NYC Fire Code permits. This had not been mentioned in the initial written proposal. Either the company was duplicitous in dealing with us or seriously unaware of the NYC fire code for flat roof solar panel installations, which require that paths be left on the roof for possible firefighter use.
Needless to say, we were disappointed. We had very much wanted to install solar panels. What we learned from the encounter was how important it is that every aspect of photovoltaic system installation and how it relates to the NYC Fire Code be fully understood by everyone involved.
In mid-January of 2022 we were approached at the front door by another company, Brooklyn SolarWorks (BSW). We agreed to receive a phone call. On January 25th, we and their salesperson met at our home for about 90 minutes. We listened, asked questions, took notes on the conversation, and provided a Con Edison summary of our electric use during 2021. Within days, 2 BSW engineer/mechanics came to the house; I accompanied them to our flat roof where they took measurements and worked out a plan for installation on tilted racks that would meet both the NYC Fire Code and our electrical needs. On January 30th, we received a contract proposal for a 4 kW Flat Roof–Tilt Rack Photovoltaic System; it included a 3-D sketch of where the needed panels would be placed.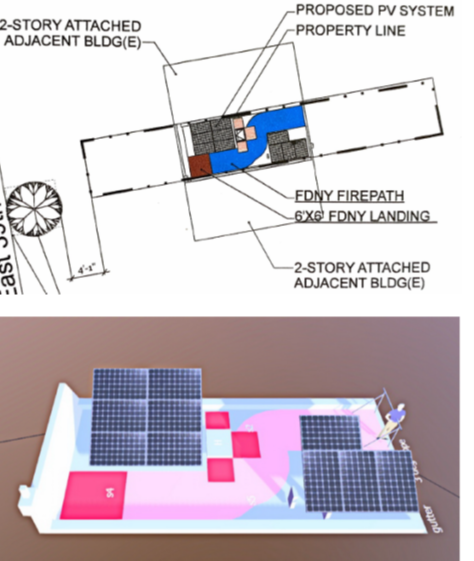 Among the details of the 11-page contract was a listing of the crucial components: 10 400-watt LG solar panels and an SMA SunnyBoy Inverter. On January 31st, we signed a contract and made a down payment. During February and March, we were regularly informed of the steps in the NYC application and permitting process and of the anticipated dates as the paperwork between BSW and NYC Department of Buildings (DOB) went forward.
In early March, we received word that BSW's application for our system had been approved by NYC DOB and that the application for an NYS incentive grant had been filed and approved. A few weeks later, installation was scheduled for April 15th. The morning of that day, a team of 7 comprising 4 mechanics and 3 electricians arrived at 9 AM; they completed the process in 6 ½ hours. We were very pleased with their efficiency and with the care with which they proceeded. I followed them around from the basement to the roof, photographing most aspects of the process. In the basement they installed the conduit-protected wiring that descended from the solar panels and inverter, and connected it to Con Edison's grid and meter. On the roof, they set up the heavy-duty racks and bound the panels to them. By the end of the day, we were generating electricity.
Two steps remain before we get credit from Con Edison for the electricity we generate. Next week, NYC DOB is scheduled to inspect the system to be sure everything has been completed to code. If it has all been done appropriately, Con Edison will begin to monitor what we generate and give us credit for it via a process called net metering. When we use more electricity than we generate, we pay ConEd; when we generate more than we use, ConEd pays us—that is, the value of what we generate is subtracted at market rate from our monthly bill. At least, that's what we've been promised.
The system comes with a 30-year warrantee from SolarInsure that covers materials and labor. Like every insurance policy, it's important to read the fine print, but it appears to be a solid policy. Only time will tell.
Lastly, there's the question of money. There are federal, state, and NYC tax incentives for installing a photovoltaic system on your home. They are payable in the four years following installation.
Update: A few minutes ago, our mail arrived, and with it came the first bill from ConEd since the new setup. The bill for the same period last year was $86.43. Today's bill totaled $21.30, which they called a "delivery" charge; the charge for electricity was $0.00.
Phil Gallagher retired from Brooklyn College in 2012 after 45 years teaching Medieval European History. With his family, he has enjoyed 50 summers in their off-the-grid log cabin on a mountain lake in Maine, where they fish, hike, swim, cook, read, and write. Their cabin has just enough solar panels to keep a few LEDs and their computers and cell phones going.