*Note: This is a pre-written blog and may not reflect current events.
If everything goes well, by the time this blog is posted, I will already be in Europe. I am writing it before I leave so that it reflects my reality in the US. I won't be surprised if that means some of what I say ends up being somewhat out of date by the time it goes up.
In my July 12th posting, I gave a few details about my trip to Europe. A few days after that, my wife and I both tested positive for COVID-19; I had some semi-serious symptoms for a day but after a full round of Paxlovid and isolation, I retested negative. My wife didn't have any serious symptoms, so she didn't take the drug. She is still weakly positive (as I write this blog) but without symptoms. Our experience was not very different from what many others are experiencing, including President Biden, whose age is somewhere between mine and my that of my wife:
WASHINGTON, July 21 (Reuters) – Joe Biden, the oldest person ever to serve as president of the United States, has tested positive for COVID-19, is experiencing mild symptoms and will continue working but in isolation, the White House said on Thursday.

Biden, 79, has a runny nose, fatigue and an occasional dry cough, symptoms which he began to experience late on Wednesday, White House physician Kevin O'Connor said in a note released on Thursday. Biden has begun taking the antiviral treatment Paxlovid, O'Connor said.
This blog summarizes the political polarization toward the end of July. As I mentioned in my July 12th blog, if everything goes as planned, I will return from Europe on August 26th to teach for a week, before traveling back to Europe on September 1st for the delayed memorial celebration of my concentration-camp's liberation. On Tuesday, August 30th, I will post a short blog summing up some of my travel experiences.
The most often repeated story that I read about the political polarization in the US is about how unpopular President Biden is  and what a disaster the Democrats will face in the 2022 mid-term election and the 2024 Presidential election.
Figure 1 shows the job approval vs. disapproval rates of President Biden's leadership.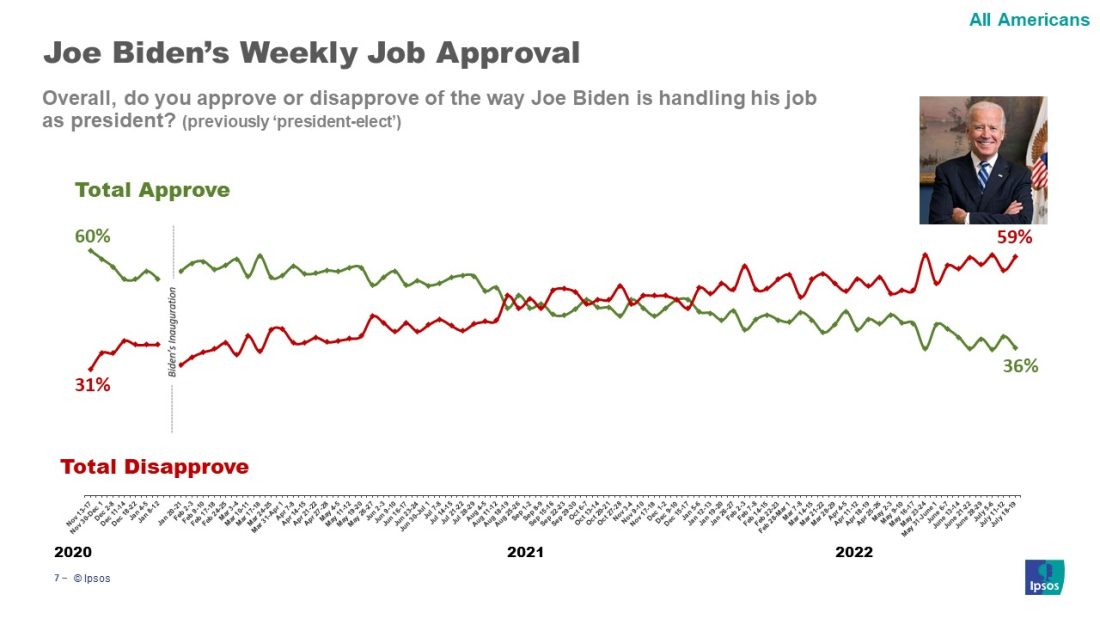 Figure 1– Source: Ipsos
Meanwhile, Figure 2 shows the approval rate of Congress, while Figures 3 and 4 show the approval rates for the governors of the two largest US states—one Republican-controlled and one Democrat-controlled. All four graphs show relatively similar disapproval rates for those who control major parts of our public life, regardless of the politicians' party affiliation.
Figure 2 – Source: Statista 2022
Figure 3– Source: The Texas Politics Project at the University of Texas at Austin
Figure 4 – More Californians approve of Newsom than they do of the CA Legislature Source: Public Policy Institute of California (PPIC)
In terms of climate change, it almost became a non-issue:
Joe Manchin's rejection of a compromise climate bill tells a familiar story: Voters and politicians put a higher premium on immediate issues, such as inflation and the economy, giving politicians a pass on global warming.
It's fascinating that our planet continues to cook while climate stalls as a political issue. However, trying to assign responsibilities to separate governmental powers shows a similar attitude: politicians wanting to shift responsibility away from themselves:
It'll take some time to understand how Americans view last week's [July 2022] collapse of climate legislation in Congress, but previous data holds some clues. When asked which elected officials should do more on climate, Americans point to Congress, according to recent surveys by the Yale Program on Climate Change Communication.
Analysis of public opinion on who should do more revealed the following responses:
Congress – 61%
State governor – 57%
President – 52%
I will discuss this attitude in more detail in the future. It's no surprise that outlets such as FOX news are focused on only their favorite part of this spectrum:
Delay is the New Denial: The Latest Republican Tactic to Block Climate Action
WASHINGTON — One hundred million Americans from Arizona to Boston are under heat emergency warnings, and the drought in the West is nearing Dust Bowl proportions. Britain declared a national emergency as temperatures soared above 100 degrees Fahrenheit and parts of blistering Europe are ablaze.

But on Capitol Hill this week, Republicans were warning against rash action in response to the burning planet.

"I don't want to be lectured about what we need to do to destroy our economy in the name of climate change," said Senator Lindsey Graham, Republican of South Carolina.
If we now move to the recent Supreme Court decisions, the results are not much different, at least in terms of attitude about the decision makers:
Public Approval of Supreme Court Falls to 38% After Roe v. Wade Ruling
Public approval of the US Supreme Court after its historic ruling eliminating federal abortion rights is down to 38%, compared with 60% about a year ago, a poll found.

The national survey by Marquette University Law School, the first since the June 24 decision overturning Roe v. Wade, shows a sharp split by party and ideology. Among Democrats, those who approve of how the high court is doing its job cratered to 15% from 52% in March, while Republican approval increased modestly to 67% from 64% during the same period.
Politics, independent of issue or arm of government, seems to be frozen. The most productive election strategy seems to be not to promote new ideas but rather to use negative campaigning to belittle opponents.
Good luck to all of us.