Last week's blog focused on the global impact of the deteriorating weather in rich and poor countries and the results that such deteriorating weather have on the most vulnerable both in the US and developing countries. This blog is focused on some of the most important financial results of such impacts.
Losses in developed countries:
When extreme weather hits, it causes destruction of property and life. After the calamity is over, we need to rebuild. Recently, the US Treasury Department published a report on the extent of the economic damage to American households expected from the accelerated impacts of climate change. The outline of this report is given below:
Households can experience significant financial strain through pressures to their income and expenses.
Reduced earning and access to employee benefits.
Damage and destruction to property. 
Increased spending on transportation.
Added healthcare costs. 
Higher expenditures on utilities.

Climate hazards can impact households' ability to manage losses, expenses, and transactions using financial products and services such as credit, insurance, and payments.

Challenges accessing funds. 
Insurance gaps. 
Reduced availability and increased cost of credit. 

Across the U.S., many areas projected to have high future exposure to climate hazards also overlap significantly with areas in which the underlying populations may be particularly vulnerable to financial hardship. An analysis in the report finds that half of U.S. counties – populated by millions of Americans – face heightened future exposure to at least one of the three significant climate hazards described in the report: flooding, wildfire, or extreme heat. In addition, approximately one-fifth of all U.S. counties face both elevated vulnerability and elevated future exposure to these climate hazards.

The report profiles three regions in the country to illustrate the potential impact of major climate hazards:

Flood exposure in Appalachia
Wildfire exposure in border regions between the U.S. and Mexico
Heat exposure in the Mississippi Delta
If you need further details on any of these entries, you can go to the original report.
Rebuilding after the impact of a destructive weather event requires resources. The free enterprise system is based on the principle that the destructive impacts are relatively rare and random. Insurance companies generally operate on this principle, allowing them to charge a relatively small amount of money from the many, pay out large amounts of money to the impacted few, and leave some of this balance for profit. When this balance breaks down, the insurance companies lose money. If the insurance companies estimate that circumstances in the future will not get better and are likely to get worse, they close up shop. This is what is now starting to happen in some states in the US:
Faced with growing losses from hurricanes, floods and wildfires, major insurance companies are pulling out of California, Florida and Louisiana — a shift that threatens to undermine the economies of those states.

Now Senate Democrats are demanding that insurers tell them which places could be next.

On Wednesday, the Senate Budget Committee sent letters to 40 insurance companies, seeking documents that show where in the country those insurers have begun dropping customers, or are considering it. The committee, which has subpoena power, has given the companies until Nov. 17 to respond.

"Climate-caused uninsurability has the potential to trigger cascading failures that undermine our entire economy," Senator Sheldon Whitehouse, Democrat of Rhode Island and the committee chairman, said in a statement. "With this investigation, we are seeking information about where the dominoes may fall next."

Banks typically require insurance when writing a mortgage. If insurance becomes unavailable in a particular community, it becomes hard for most potential buyers to purchase a home, leading to a drop in real estate values.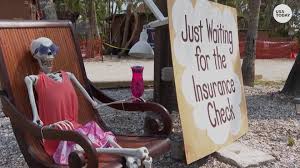 (Source: Palm Beach Post)
Yet, in spite of experiencing the highest threat from climate-based destruction, and forcing the insurance industry to give up on the state, Florida is experiencing the highest population growth in the US. Miami and Tampa are experiencing the highest Case-Shiller home price rise (see November 1, 2022 blog).
Losses in Developing Countries:
When climate change causes destruction and losses in most developing countries, the situation is more complex. A year ago, immediately after the conclusion of COP27 in Egypt, I started a short series of blogs on one of the central issues that was discussed in that meeting: the loss and damage fund (November 29, 2022). That meeting decided (unanimously) that the rich, developed countries would help financially poor countries to mitigate climate damage. It was decided that this year would serve as the time to figure out the details of the payments. This preparation period is now over, and we are about to start COP28 in the UAE (United Arab Emirates). Deliberations took place and the conclusions were posted recently. Below is a brief synopsis:
BENGALURU, India (AP) — Tense negotiations at the final meeting on a climate-related loss and damages fund — an international fund to help poor countries hit hard by a warming planet — ended Saturday in Abu Dhabi, with participants agreeing that the World Bank would temporarily host the fund for the next four years.

The United States and several developing countries expressed disappointment in the draft agreement, which will be sent for global leaders to sign at the COP28 climate conference, which begins in Dubai later this month.

The U.S. State Department, whose officials joined the negotiations in Abu Dhabi, said in a statement it was "pleased with an agreement being reached" but regretted that the consensus reached among negotiators about donations to the fund being voluntary is not reflected in the final agreement. The agreement lays out basic goals for the fund, including for its planned launch in 2024, and specifies how it will be administered and who will oversee it, including a requirement for developing countries to have a seat on the board, in addition to the World Bank's role.
Not everybody is happy. A recent op-ed from Africa, the host of the largest concentration of indebted developing countries is shown below:
When poor countries are forced to default on their foreign debt, as Ghana and Zambia have done, they pay a heavy price. Cut off from credit of any kind, spending on health, education and dealing with the damaging effects of climate change comes to a juddering halt.

Countries in the West often plead with us to invest in the kind of ambitious resilience projects we need to survive in a warming world. But in Africa, we can't fix the climate issue unless we fix the debt issue. Of the 52 low- and middle-income countries that have defaulted on their debts or have come close to it in the last three years, 23 are in Africa. The continent's debt burden is skyrocketing as a result of factors beyond its control: the aftershocks of the pandemic, rising fuel and food prices, higher interest rates and climate catastrophes that weaken our economies and sap our ability to repay creditors.

During the pandemic, rich countries pumped trillions of dollars into their economies to support families and businesses. African governments had no such option. Instead, their leaders kept their nations afloat by taking on more debt, which turned out to be a very expensive life raft. As a result of rising interest rates, Africa's debt repayments will surge to $62 billion this year, up 35 percent from 2022.

To put this figure into context, Africa is now paying more in debt service than the estimated $50 billion a year the Global Center on Adaptation says it needs to invest in climate resilience. These investments are not nice-to-haves — they are vital for building roads, bridges and dams that can withstand torrential rains and floods. Failure to do so is to invite catastrophe, as the recent floods in Libya so tragically attest.
But instead of receiving funds to address the climate crisis, Africa is borrowing at a cost up to eight times higher than the rich world to rebuild after climate catastrophes. This is why Africa urgently needs a pause in debt repayments so that it can prepare for a world of ever greater climate extremes. The Annual Meetings of the International Monetary Fund and the World Bank in Marrakesh, Morocco, that begin Monday are a good place to start.
Since the COP meetings require unanimous decisions, the unhappiness of many developing countries could paralyze any new measures—to the degree that these important annual meetings could become irrelevant to mitigating global climate change, leaving both rich and poor countries in danger. Stay tuned.