Over the last two weeks, I was invited to give two different talks. One was to take place as part of another school's Physics Department's seminar program, and the other as part of an Economics Student Club at my own school. The economics meeting, which was organized by students, was a joint presentation with an Economics professor and was designed to show two perspectives in the need for an energy transition from "green to business" model.
I decided to think about the two talks as a single unit with some symmetry, and design them accordingly. My impression was that the audience at the Physics Department talk would consist of physics students and faculty, while the audience in the Economics Student Club would naturally be comprised mainly of students majoring in economics. I wanted the message to the physicists to be that career opportunities in physics extend well beyond textbook ideas of physics; that they can aspire broadly to be involved in any activity – it is their quantitative outlook that differentiates them from workers with a different background. To do that, I decided to bring my own career choices, present research activities, and life experiences to the forefront. I was also trying to demonstrate to the economics students that they should devote some of their time to the study of the language and fundamentals of the sciences. Given the consistently increasing interactive role humans have in the physical environment (Climate Change is a prime example here—see my June 25 blog), the physical environment will, in turn (in my opinion), take an increasing role in the economic decisions that society must make.
As often happens on such occasions, the reality turned out to be a bit different. The talk for the Physics Department started with the two figures below.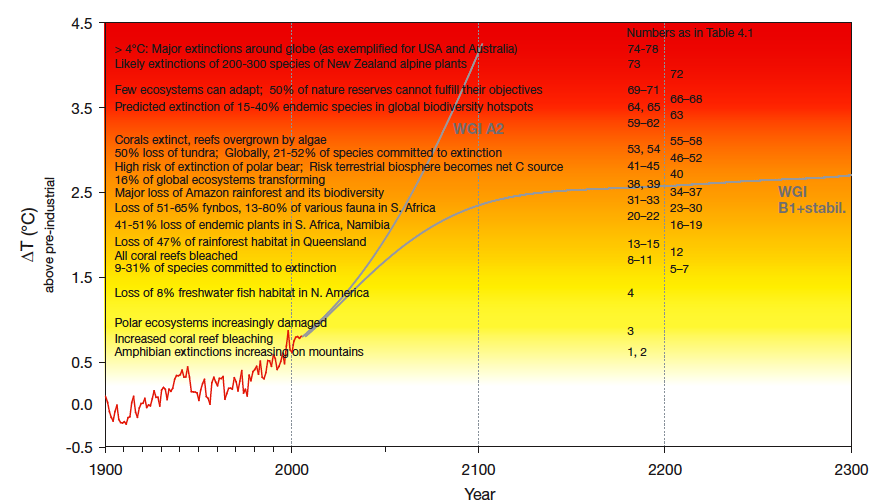 These are often used figures that were taken from the last IPCC report (the second figure was already mentioned in my September 24 blog) (I showed much more recent figures, taken from the November 2012 World Bank sponsored report, later in the talk). I regularly use them as a quantitative introduction to my frequent discussion of our much-needed energy transition.
In this particular talk I didn't go much further in talking about them. I was expecting familiarity with the figures and wanted to get quickly to what I considered the focus of the talk. (I was also working with the probably unconscious expectation that I was not dealing with an audience of deniers) I mentioned the data in the first figure as "simple spectroscopy" – a familiar branch in physics. I did emphasize the uncertainty that is visible in the band of the temperature response to atmospheric consequences of carbon dioxide. The purpose was to differentiate this figure from the second one, which is based on two specific scenarios and represents a projection of the future.
Well – I got a bucket thrown at me (figuratively speaking). The essence of the comments was that this is bad science: much worst science than what physicists are doing for example in figuring out properties of semiconductors— bad science because it cannot be described by a set of differential equations. I was told that in two hours, one of the physicists could come up with his/her own scenario – implying the arbitrary nature of analyzing a future based on projected scenarios. Surely, science with such uncertainty should not form the basis for action that could result in a reduction of our standard of living.
Since I included my Holocaust background (May 14 blog) later in my talk, it was strongly suggested to me to disconnect the two issues, because denying the climate change might lead to denying of the Holocaust.
I ended up in a completely defensive mode that I was not prepared for. In fact, I strongly suspect that what I achieved with the students that were present was the exact opposite of what I had intended.
The dynamics of the second talk were different — calmer. My colleague's perspective was based on a more general perspective (shared by many economists) that the future, and our ability to predict it, needs to be taken with a large grain of salt. As evidence, he mentioned my data from papers by M. King Hubbert (that I discussed in my October 29 blog post), which showed not only the projected oil supply in the US but also a possible energy transition out of the projected shortage. My colleague did mention the recent advances in technology (Fracking) to drill for natural gas and oil, which are now causing a major shift in our energy usage. An issue that was of great interest to the students was the recent article by Justin Gillis (New York Times, December 5, 2012) titled "To Stop Climate Change, Students Aim at College Portfolios." I was ambivalent about the tactic, mainly because of its dotted history, but I was admiring the students' dedication to promote this issue, whose values I share. As far as encouraging studying science, it remains to be seen how effective I was.
Since my objective is to democratize the climate change issue as best I can, it is imperative, at least on my part, to continue to engage with diverse audiences and adapt my response accordingly. This means I will probably meet with varying responses and levels of success in the future, depending on my audience. In any case, it will be a learning experience, hopefully for both my audience and me.