The Festival of Lights in Lyon, France, expresses gratitude to Mary, mother of Jesus, on December 8 every year.
My French 2nd cousin who lives in Paris emailed me that this year, one central display, shown below, was being powered by electrical power generated by visitors exercising on specially equipped exercise bicycles.
The two photographs below were taken from here.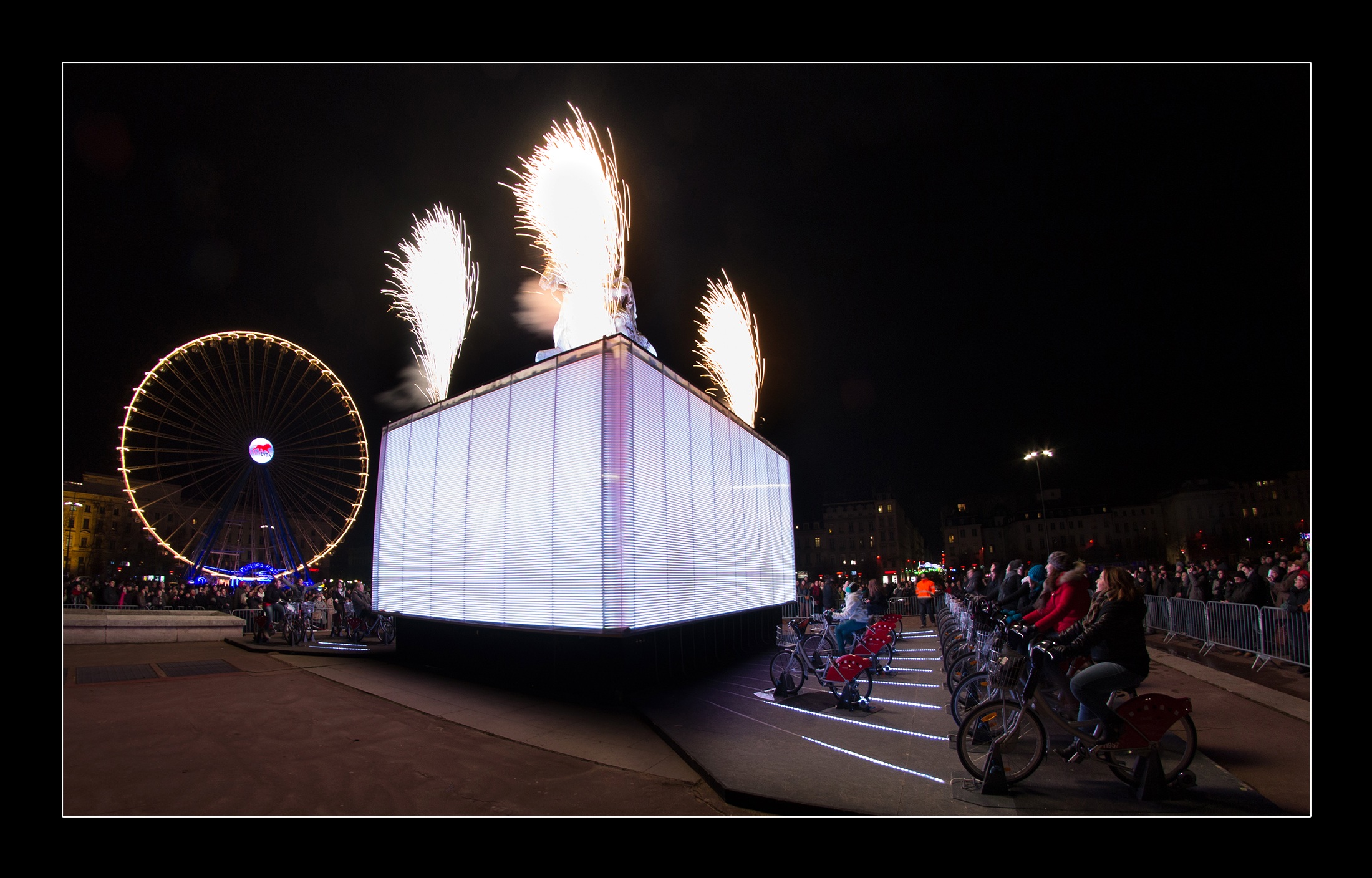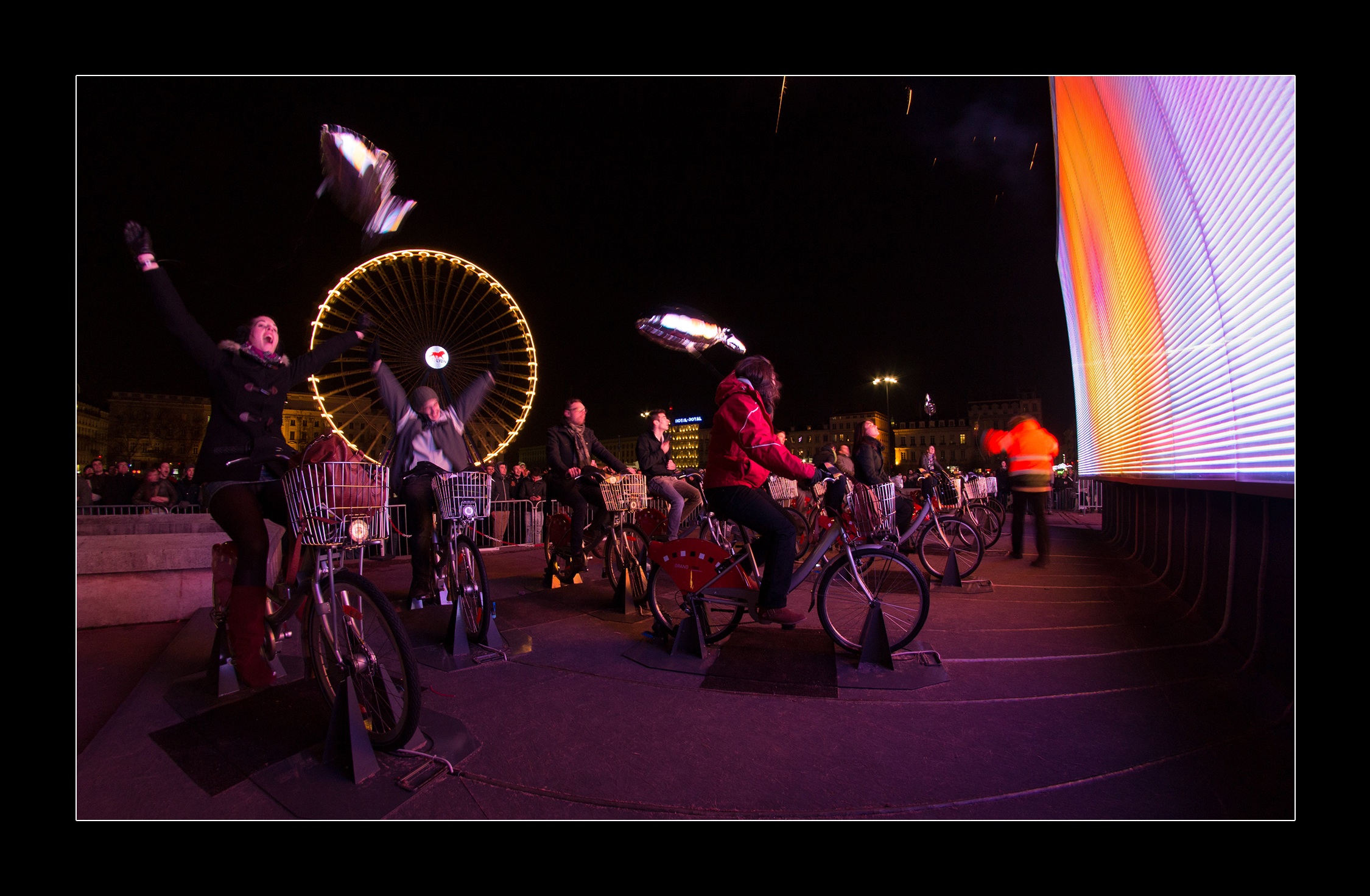 Festival of Lights – 2012 – Lyon – France
What a great idea! I immediately thought about Times Square in NYC, where I live, and how to apply the same concept. My second though was – we need some numbers.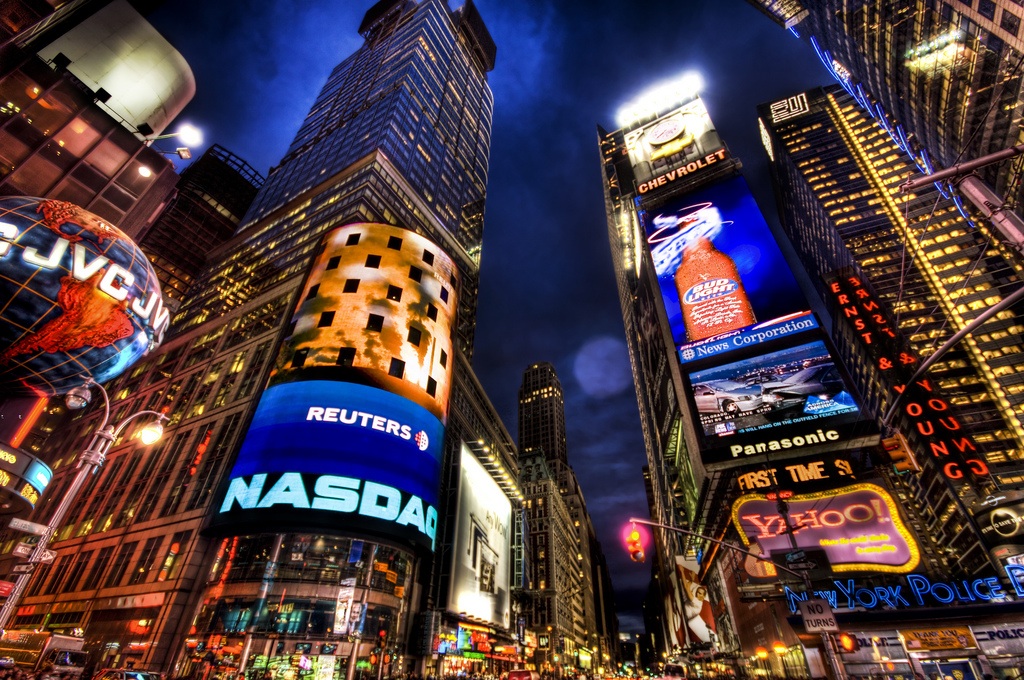 Times Square, NYC
A photograph of a power generating exercise bicycle is shown below. I didn't do market research, but a superficial inquiry informed me that there are few American manufacturers of such bikes, and presently their main use is as exercise bikes with the generated electricity delivered back to the electrical network to compensate for some of the equipment costs.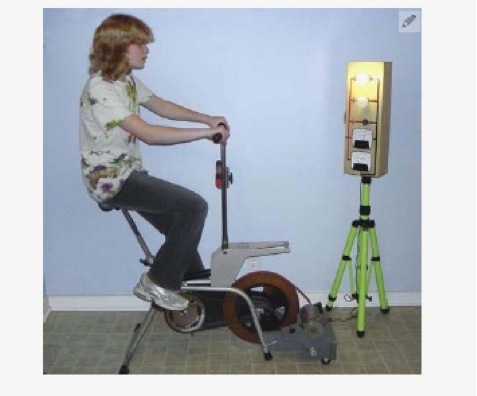 Power generating exercise bike

A top shape athlete can generate up to 500 Watts on one of these bikes, while an "average" patron can generate 200 Watts.
I went to Times Square in NYC for an estimate of what it would take to illuminate some of the displays there. On a previous occasion, for a different use, I tried to find out the electrical consumption of the advertising displays in Times Square. I was not able to get the information. So, for the present objective I have tried to estimate the needs.
The power requirement of a P10 Outdoor SMD LED display is 1200 Watts/m2  (111.5Watts/ft2). A logical place to put the bicycles would be in the heart of Times Square between 45th and 47th streets, along 7th avenue. Since most of this area is traffic free, it could easily accommodate the bikes. The length of this stretch is about 500 ft. If we covered the area with a continuous stretch of 100m2 (1076ft2) displays of 4/3 aspect ratio (37.7ft length and 28.5 ft height) we will need 27 displays. This will amount to 29,050ft2 of display area that will require 3.2MW (Megawatts or million watts) power. This is the approximate power that can be generated by one large wind turbine or 16,000 active, "mediocre" exercise bikers. This is a large crowd for this stretch of New York City. The bikers would have the obvious incentive that exercise would enable them to see a popular great site illuminated, while at the same time keeping themselves in shape and reducing the carbon footprint on the environment.
If I need such a large crowd of sweating bikers for Times Square – how can Lyon pull it off?   My French cousin went to work to get additional information. He was able to contact a person in Lyon's City Hall, who provided some enlightenment. For the animation, which is named "Magic Cube," 30 bikes were wired to the cube. Over four days, 10,000 visitors used the bikes. The Cube, like any other display, was plugged into the electrical network, and draws its power from a "conventional" (in France more than 70% powered by nuclear power) grid – not the bikes. The bikes are used instead to change/modify the colors of the Cube.
I found this a bit disappointing, but if nothing else, it re-emphases the need to get more data on what is currently possible, and what could become possible for the future.