In the last blog I started to discuss the role that energy storage plays in the transition to more sustainable energy sources. While I had originally planned to focus this blog on the various energy storage technologies, I will instead postpone that subject for a later blog. Instead, as often happens (at least to me) current events diverted my attention to a different topic.
This time, the trigger for the change was a short piece in the online magazine Renewable Energy World.com. I am a subscriber and a regular reader of this magazine. Elisa Wood, a writer from the organization was my guest blogger here on May 6, 2014 and I contributed to her May 31, 2013 blog regarding adaptation to climate change. A few days ago, the following piece by Alexandra Ho from Bloomberg showed up in their publication:
China Requires Electric Vehicles to Make Up 30 Percent of State Purchases

Alexandra Ho, Bloomberg

July 14, 2014

SHANGHAI — China is mandating that electric cars make up at least 30 percent of government vehicle purchases by 2016, the latest measure to fight pollution and cut energy use after exempting the autos from a purchase tax.

Central government ministries and agencies will take the lead on purchases of new-energy vehicles, a term that China uses to refer to electric vehicles, plug-in hybrids and fuel-cell autos, according to a statement on the central government's website yesterday. The ratio will be raised beyond 2016, when local provinces are required to meet the target.

China is stepping up support for electric vehicles as demand lags behind its target because of consumer concerns over price, reliability and convenience. The government has identified EVs as a strategic industry to help it gain global leadership, reduce energy dependence and cut smog that often reaches hazardous levels in Beijing and other cities.

"This is a laudable aspiration," said Yang Song, a Hong Kong-based analyst at Barclays Plc, who estimates that government purchases made up less than 10 percent of total new vehicle sales in China. "Government purchases are not growing as fast as private consumption. So just to rely on the government purchase would be a challenge."

Last week, China announced the waiver of a 10 percent purchase tax for new-energy vehicles, excluding them from the levy beginning Sept. 1 to the end of 2017, the central government said in a statement posted on its website on July 9.

BYD Co., the electric automaker partially owned by Warren Buffett's Berkshire Hathaway Inc., climbed 3.6 percent to HK$48.90 as of 11:47 a.m. in Hong Kong trading. The benchmark Hang Seng Index gained 0.4 percent.

Electric Vehicles

The measures announced yesterday by the National Government Offices Administration also direct agencies to give preference to all-electric vehicles in purchases, while cold-weather jurisdictions may consider plug-in hybrids. Electric sedans should cost no more than 180,000 yuan ($29,000) after subsidies.

Government organizations and public institutions will be required to add parking spaces reserved for new-energy vehicles and ensure the ratio of charging facilities to the vehicles is equal, according to the plan.

Local officials will be held responsible if the targets aren't met, according to the statement.

Copyright 2014 Bloomberg
This caught my eye because for years there has been a tendency to view electric cars as an important and visible component of energy transformation to more sustainable energy sources. They are not.
Electricity is a secondary energy source. Its sustainability depends on the primary energy sources. If we produce the electricity from solar, wind, hydroelectric or biofuels – it is sustainable. If we produce it by burning coal it is not.
Here are the primary energy sources from which China is producing its electricity.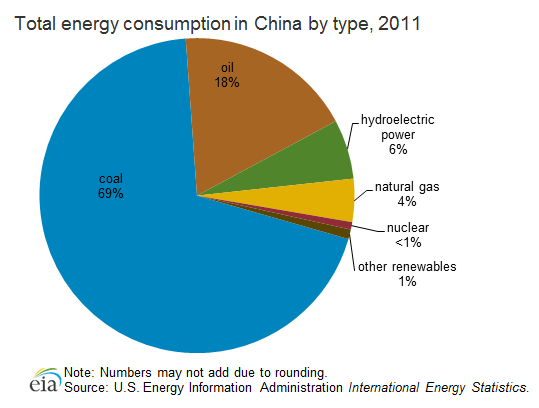 According to recent report from EDGAR (Emission Database for Global Atmospheric Research) China is now the largest global emitter of carbon dioxide, at 9.9 billion tons/ year, as compared to the United States, which comes in second at 5.2 billion tons per year. On a per-person basis, the United States is still on top, with emissions of 16.4 tons of carbon dioxide per person, compared to China's 7.1 tons per person. Both far exceed the global average of 4.9 tons per person.
While there is nothing inherently wrong with a transition toward electric cars, they cannot be heralded as a solution to extremely high emissions. As we can see from the graph above, 69% of China's energy production comes from coal; from that, we can infer that 69% of the power for an electric car comes, likewise, from coal. The promised move to electric vehicles will not change this situation until China actually changes the energy sources from which it gets its electricity.
* On a separate note, I always welcome questions and comments about my blog, my book, and my work in general. Unfortunately, I have been deluged with spam – both in the comments section here, and in my email. In the interest of spending my time addressing actual messages (instead of sorting through junk), I ask that you please send any questions to one of the following addresses, with the title, "Comment about CCF blog."
micha (no space) tom (at) brooklyn (dot) cuny (dot) edu
or info (at) lcgcommunications (dot) com. Thank you for your continued readership and your feedback.