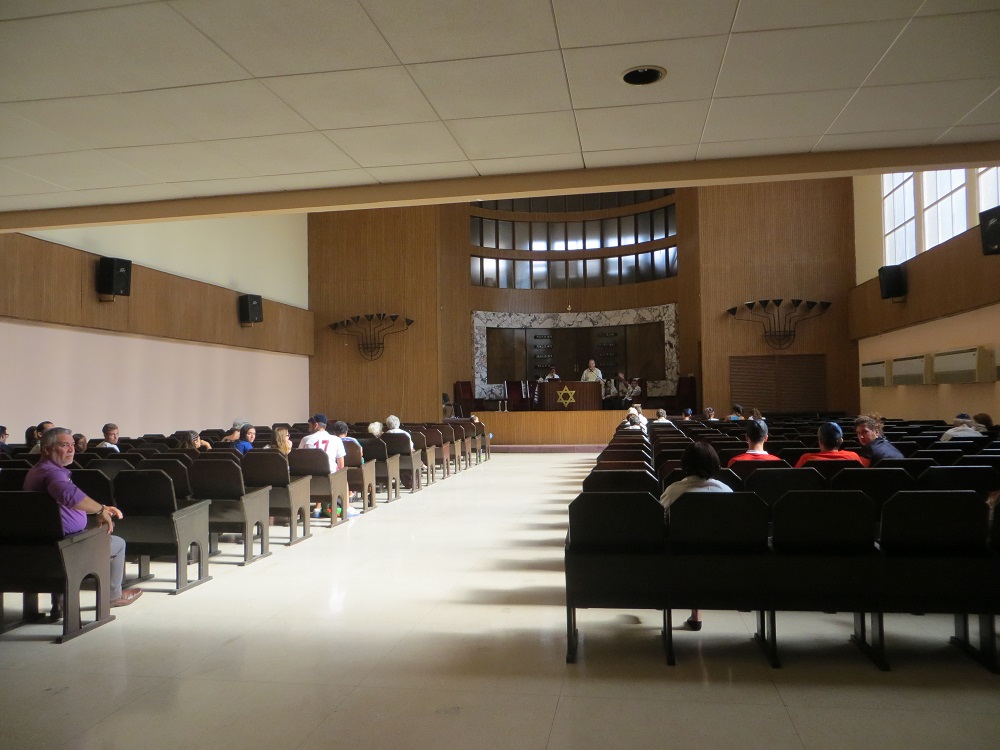 Synagogue Beth Shalom – Havana, Cuba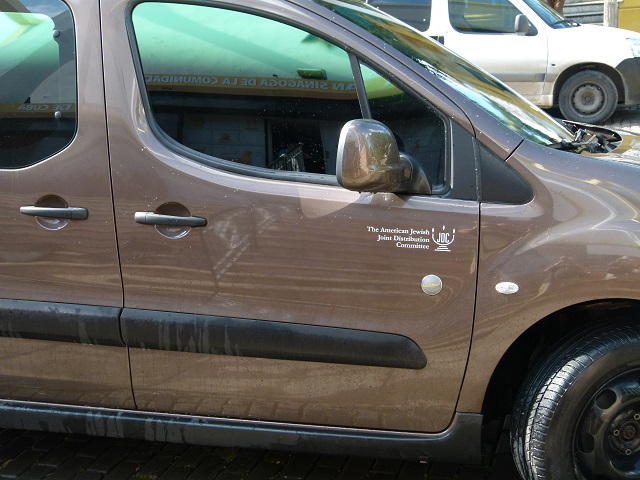 A JDC marked car in front of the synagogue
Above, you see the beautiful Beth Shalom (House of Peace) synagogue we visited in Havana, as well as a car that belongs to the synagogue (it looks modern, i.e. not pre-revolution). The car bears the marking of The American Jewish Joint Distribution Committee (JDC), a global Jewish humanitarian assistance organization that has operated since 1914.
In 1945 the Jewish population of Cuba was around 25,000, most of whom lived in Havana. Of that number, 94% emigrated shortly after the country's revolution in 1959; the majority of them came to the United States. Today there are about 1,500 Jews in Cuba and three functioning synagogues in Havana, including Beit-Shalom.
Havana's Jewish community received some unwelcome publicity in 2014 because part of America's relaxation of the embargo on Cuba hinged on the release of Alan Gross. Alan Gross worked as a contractor for USAID (United States Agency for International Development). He was arrested in 2009 by the Cuban government while working on a program to bring satellite phones and computer equipment to Jewish synagogues in Havana without the government's permits required by Cuban law. He spent 5 years in Cuban prison prior to his release. In truth, Mr. Gross would likely have been arrested as a spy in many other countries for similar activities, but the relationship between US and Cuba meant that his arrest and eventual release were especially politically charged.
Meanwhile, the recently announced yacht race between Miami and Havana is a clear and festive example of the relaxation of the embargo.
We arrived in Miami a few days before our scheduled departure to Cuba and stayed with some friends south of the city. One of the reasons for our early arrival was a meeting between Holocaust survivors and liberators that took place in Bradenton on the Gulf coast. It was a four hour drive from the place where we were staying, and the terrain of the whole area was as flat as I have ever seen, with wide highways that made for an easy and enjoyable drive. We met our friends at the Miami airport before boarding our flight to Cuba. To kill time, they had brought a recent issue of the New Yorker magazine. One relevant article caught our collective eyes: Elizabeth Kolbert's "The Siege of Miami: As temperatures climb, so, too, will sea levels." It is a long article, but I have included a few paragraphs that provide the essence of her message:
"…I arranged to meet up with Hal Wanless, the chairman of the University of Miami's geological-sciences department. Wanless, who is seventy-three, has spent nearly half a century studying how South Florida came into being. From this, he's concluded that much of the region may have less than half a century more to go."

"According to the Intergovernmental Panel on Climate Change, sea levels could rise by more than three feet by the end of this century. The United States Army Corps of Engineers projects that they could rise by as much as five feet; the National Oceanic and Atmospheric Administration predicts up to six and a half feet. According to Wanless, all these projections are probably low. In his office, Wanless keeps a jar of meltwater he collected from the Greenland ice sheet. He likes to point out that there is plenty more where that came from. "Many geologists, we're looking at the possibility of a ten-to-thirty-foot range by the end of the century," he told me."

"To cope with its recurrent flooding, Miami Beach has already spent something like a hundred million dollars. It is planning on spending several hundred million more. Such efforts are, in Wanless's view, so much money down the drain. Sooner or later, and probably sooner, the city will have too much water to deal with. Even before that happens, Wanless believes, insurers will stop selling policies on the luxury condos that line Biscayne Bay. Banks will stop writing mortgages."

A recent report on storm surges in the United States listed four Florida cities among the eight most at risk. (On that list, Tampa came in at No. 1.) For the past several years, the daily high-water mark in the Miami area has been racing up at the rate of almost an inch a year, nearly ten times the rate of average global sea-level rise. It's unclear exactly why this is happening, but it's been speculated that it has to do with changes in ocean currents which are causing water to pile up along the coast. Talking about climate change in the Everglades this past Earth Day, President Obama said, "Nowhere is it going to have a bigger impact than here in South Florida."

The region's troubles start with its topography. Driving across South Florida is like driving across central Kansas, except that South Florida is greener and a whole lot lower. In Miami- Dade County, the average elevation is just six feet above sea level. The county's highest point, aside from man-made structures, is only about twenty-five feet, and no one seems entirely sure where it is. (The humorist Dave Barry once set out to climb Miami-Dade's tallest mountain, and ended up atop a local garbage dump nicknamed Mt. Trashmore.) Broward County, which includes Fort Lauderdale, is equally flat and low, and Monroe County, which includes the Florida Keys, is even more so.

But South Florida's problems also run deeper. The whole region indeed, most of the state, consists of limestone that was laid down over the millions of years Florida sat at the bottom of a shallow sea. The limestone is filled with holes, and the holes are, for the most part, filled with water. (Near the surface, this is generally freshwater, which has a lower density than saltwater.)
In other words, the good times in Miami might not last much longer as the effects of climate change increase. I encountered a parallel situation during my last visit to Southern Africa. On my way to a conference in Mauritius (July-August 2013 blogs), we visited South Africa. A local family in Cape Town hosted us for dinner. As the conversation flowed and we told our hosts where we were going, they mentioned that among white South Africans, Mauritius is a popular place to buy property as an insurance against racial deteriorations in South Africa. I asked them if they took into consideration the impact of climate change on their choice of sanctuary, and got a confused stare in response. The topography of Mauritius (July 30, 2013) has some similarities to that of Cuba. The photograph below shows a beautiful landscape that is characteristic of the area we visited. It is certainly not as flat as southern Florida and one might easily consider it a perfect refuge in case of a water "siege" on Miami.
Valle de los Ingenios near Trinidad, Cuba
Indeed, there was a related scene in the popular 2004 movie The Day After Tomorrow. In the movie, global warming immediately caused a big freeze all over the United States. Americans that could, including powerful government officials, escaped to Mexico (which was somehow immune to the freeze). There was also the accompanying debate about immigration and refugees from the extreme weather.
While the timeline of the disasters in the movie was a bit of an exaggeration, we had better keep up friendly relationships with our neighbors. Our moment of need might come sooner than we expect.