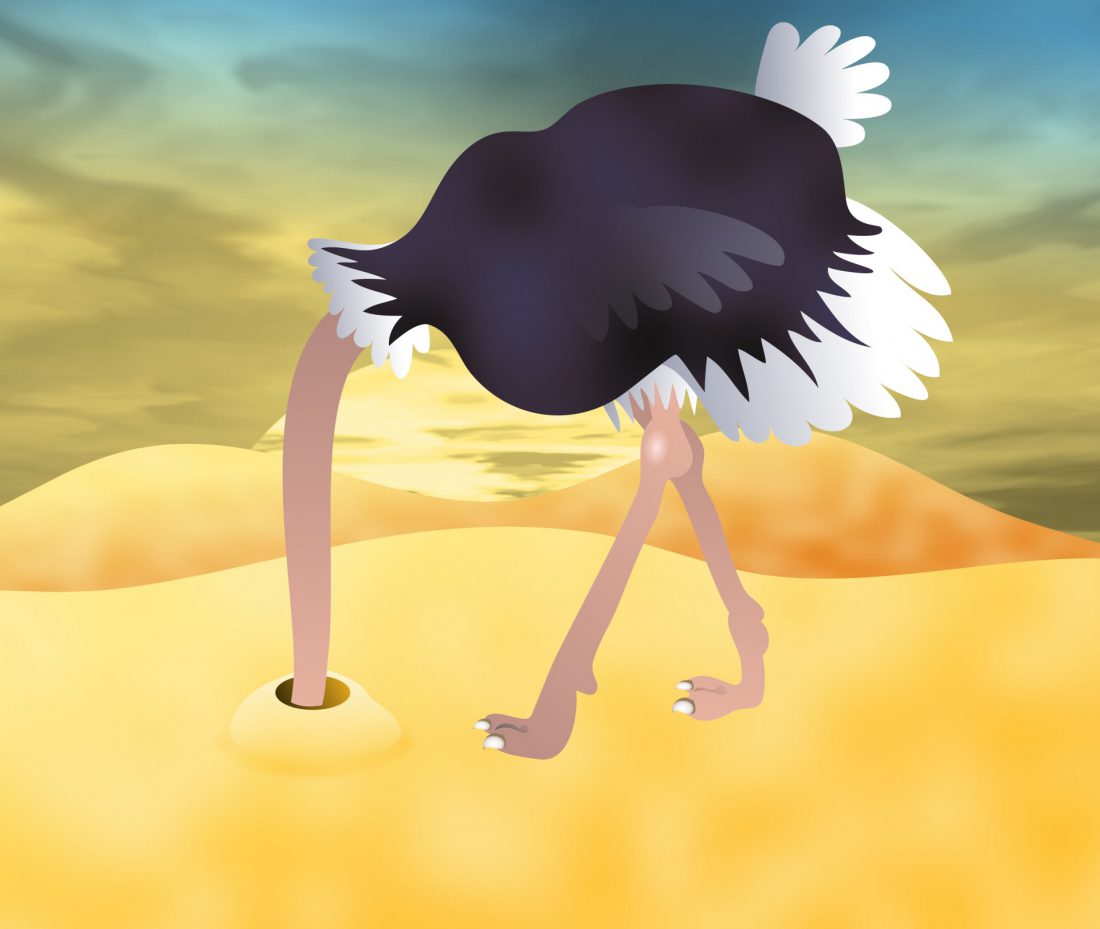 Ostriches don't actually bury their heads in the sand in the belief that it makes their predators unable to see them – but many of us do. Unfortunately many such human ostriches occupy high level positions of our government, putting us all – including our children and grandchildren – in great danger.
In last week's beautiful blog on Tucson, Sonya Landau wrote:
In addition, while in theory there is a law that mandates all developers must prove that there is a 100-year water supply before starting any large development, the Arizona Supreme Court recently ruled in favor of developers, effectively gutting this protection.

The majority said the state agency need not consider other potential future claims for the same underground water — in this case, by the federal Bureau of Land Management — or even the possibility that those other claims could end up leaving the development and the people who buy homes there high and, literally, dry.
Arizona is not alone in ignoring the future. North Carolina, which was just starting to rebuild from the devastation that it suffered from Hurricane Florence, also had to endure the remnants of Michael, which had already demolished large swaths of Florida's Panhandle as well as Georgia, and Alabama. Here's a bit more about North Carolina's efforts to rebuild – and whether doing so is feasible in light of future storms:
The privately owned Rodanthe pier has already undergone half a million dollars in renovation in seven years and the owners started a new round of repairs this week. Scientists have warned such rebuilding efforts are futile as sea levels rise and storms chew away the coast line but protests from developers and the tourism industry have led North Carolina to pass laws that disregard the predictions.

The idea of retreating is a tough sell for the people who live there and have invested in property. "You're asking us to say, 'Hey, 4,000 or 5,000 people on little Hatteras Island, it's time for you to pack up and move,' and that's not a reasonable expectation," said Bobby Outten, manager for Dare County on the Outer Banks.

Even though she acknowledges that sea levels are rising, Kelly is also among those who opposed making state policy decisions, including anything affecting home insurance or property values, based on the study's dire 90-year forecast of sea-level rise. Kelly supported a 2012 state law that banned North Carolina from using the 90-year prediction on rising sea levels to influence coastal development policy.   The CRC released a second report in 2015 predicting sea level rise over a 30-year period, instead of 90 years. The new report was praised by developers as being more realistic and said sea levels would rise 1.9 to 10.6 inches. (bit.ly/2xyGDVr)
Florida is also in reconstruction mode after Michael. A piece in LiveScience describes some of the obstacles:
Florida, one of the States most susceptible to the effects of climate change and sea-level rise, verbally banned state environmental officials from using the term "climate change," an investigation revealed. But the Sunshine State isn't the only U.S. state that has attempted to "outlaw" climate science.

North Carolina, Louisiana and Tennessee have all passed laws that attempt to cast doubt on established climate science in boardrooms and classrooms.
This sort of denial comes from the very top and continues in spite of  repeated proof of the grave reality of climate change.
The Intergovernmental Panel on Climate Change (IPCC) posted its latest report on Saturday, October 6th. The report includes more than 1,300 pages. Here are some highlights from the IPCC's press release on the 34-page "Summary for Policy Makers" (SPM). The SPM was approved by the governments of each IPCC member nation, including the US:
Summary for Policymakers of IPCC Special Report on Global Warming of 1.5ºC approved by governments

INCHEON, Republic of Korea, 8 Oct – Limiting global warming to 1.5ºC would require rapid, far reaching and unprecedented changes in all aspects of society, the IPCC said in a new assessment. With clear benefits to people and natural ecosystems, limiting global warming to 1.5ºC compared to 2ºC could go hand in hand with ensuring a more sustainable and equitable society, the Intergovernmental Panel on Climate Change (IPCC) said on Monday.

"One of the key messages that comes out very strongly from this report is that we are already seeing the consequences of 1°C of global warming through more extreme weather, rising sea levels and diminishing Arctic sea ice, among other changes," said Panmao Zhai, Co-Chair of IPCC Working Group I.

The report highlights a number of climate change impacts that could be avoided by limiting global warming to 1.5ºC compared to 2ºC, or more. For instance, by 2100, global sea level rise would be 10 cm lower with global warming of 1.5°C compared with 2°C. The likelihood of an Arctic Ocean free of sea ice in summer would be once per century with global warming of 1.5°C, compared with at least once per decade with 2°C. Coral reefs would decline by 70-90 percent with global warming of 1.5°C, whereas virtually all (> 99 percent) would be lost with 2ºC.

The report finds that limiting global warming to 1.5°C would require "rapid and far-reaching" transitions in land, energy, industry, buildings, transport, and cities. Global net human-caused emissions of carbon dioxide (CO2) would need to fall by about 45 percent from 2010 levels by 2030, reaching 'net zero' around 2050. This means that any remaining emissions would need to be balanced by removing CO2 from the air.
President Trump's reaction to the report was as follows:
It was given to me. And I want to look at who drew it … Because I can give you reports that are fabulous, and I can give you reports that aren't so good. But I will be looking at it, absolutely.
While his quote is somewhat garbled, he seems to be saying that he doesn't entirely trust the report. It is a bit odd for him to claim he doesn't know who created it though, given that – as I just mentioned – the US is a party to the IPCC and someone in his administration had to sign off on it.
On a positive note, the new report – for the first time in the IPCC's history – discusses the transition into the Anthropocene (type Anthropocene into the search box of the blog to see previous coverage). Next week's blog will explore that addition.