About three weeks ago, shortly after spring began, The New York Times ran a short article about how local leaders in many communities are approaching adaptation to the major increase in flooding. Two short paragraphs capture the essence of the issue:
As Mayor Frank Klipsch of Davenport starts that conversation — a wide-ranging discussion of upstream levee heights, riverfront development and whether the city should install permanent flood protection — there is one topic he sees little benefit in raising: human-caused climate change.

"We know there's something going on, so how do we come together and deal with that?" said Mr. Klipsch, a two-term mayor who said taking a stance on climate change could be "divisive." "Let's not try to label it. Let's not try to politicize it. It's just a matter of something is changing.
Mr. Klipsch's determination not to include human-caused climate change in addressing the need for permanent flood protection is problematic. The term is not just a matter of politics—refusing to utilize it limits people's focus to mitigating the immediate issues and ignores the need for any attempts at long term solutions. The "finger in the dike" idiom illustrated below seems appropriate.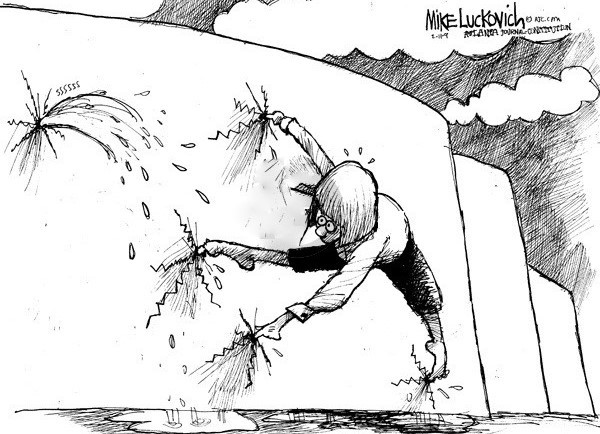 Politics aside, my attention shifted quickly to my own professional setting: university campuses. These are places where it has not yet been deemed necessary to avoid all mention of climate change.
This week I will examine the general issue of various university campuses' attempts to mitigate and adapt to climate change. Next week I'll shift my attention to more familiar territory of my own campus with some suggestions about how to accelerate our progress in this area.
A piece in the online magazine Yale Environment 360 acknowledges the gap between colleges' ambitions and achievements in sustainability. "On College Campuses signs of Progress on Renewable Energy" opens with the following short abstract:
U.S. colleges and universities are increasingly deploying solar arrays and other forms of renewable energy. Yet most institutions have a long way to go if they are to meet their goal of being carbon neutral in the coming decades.
The article follows up with some examples, including Arizona State University and Colorado State University (the latter is featured in the opening photograph of this blog). Below are two key paragraphs about ASU's efforts and those of a few other top campuses:
The Memorial Union's PowerParasol is just one installation within Arizona State's expansive network of 88 solar systems, which now produces 41,000 megawatt hours annually — enough to power nearly 4,000 average U.S. homes. Arizona State's solar capacity stands second among American universities, behind only rival University of Arizona, and it's about to grow further: The state's largest electric utility is building an off-site facility that will provide the campus with another 65,000 megawatt hours per year, knocking 10 percent from its carbon footprint. That will go a long way toward helping Arizona State create a carbon-neutral campus by 2025, a target it aims to reach not only by expanding its solar capacity, but also by improving its refrigeration and waste management practices, making its buildings more efficient, and purchasing carbon offsets.

Not every campus can exploit the relentless Arizona sun, of course; nonetheless, university sustainability is moving further into the mainstream with every passing year. In 2007, the first installment of the Sierra Club's rankings was dominated by small private colleges known for their progressive bent, like Oberlin in Ohio and Vermont's Middlebury. Only two of the top 10 schools — the University of California system and Pennsylvania State University — were public institutions. By contrast, half of this year's top 10 is composed of public schools, including major institutions like Arizona State and the University of Connecticut. The Climate Leadership Network, a coalition of more than 650 schools that have vowed to achieve carbon neutrality on self-determined timetables, counts institutions such as Montana State, Mississippi State, and the University of Washington among its members.
It's great to see public schools gaining ground and making progress in carbon neutrality. The top efforts in this area are reflected in the Sierra Club's sustainability rankings. The section below details the organization's revised methodology:
We then processed the raw data (obtained from the schools) through a custom-built formula that scored the schools across 64 questions, with each of those questions given a specific numeric value on a 1,000-point scale. You can find our scoring key here.

This year, our scoring methodology was updated to reflect trends in campus sustainability. In past years, we awarded partial points on many questions even if schools reported no progress in that area. This was something of a hangover from the earliest iterations of our rankings systems, when we felt that it was important to reward schools simply for conducting audits and surveys of their sustainability operations. Since we launched the Cools Schools rankings 10 years ago, higher education has come a long way in terms of incorporating sustainability values. At this point, it's no longer sufficient for schools to simply survey their operations and curricula; we, along with our 2.4 million members and supporters, are expecting measurable progress.

Our scoring key is a reflection of the broader priorities of the Sierra Club. For example, we award a significant percentage of points in the areas of campus energy use, transportation, and fossil fuel divestment because the Sierra Club believes that progress in these sectors is essential for addressing the climate crisis. While our ranking is fair, transparent, and accurate, we make no claim that it is the ultimate arbiter of campus sustainability.

Our results show that while many universities are making admirable progress, no school has yet attained complete sustainability. In 2016, the top-rated university scored 783.41 out of a possible 1,000 points, proving that, in higher education as in the rest of society, there is much room for improvement.

The United States has more than 2,000 four-year colleges and universities; we acknowledge that many schools that care about the environment don't appear on Sierra's list.

That said, our rankings can serve as a guide for prospective students, current students, administrators, and alumni to compare colleges' commitments to environmentalism. It also serves to spur healthy competition among schools, raise environmental standards on campus, and publicly reward the institutions that work hard to protect the planet.

Tangible items funded by the Technology Fee will be identified by special labels or plaques. The proposed expenditures are described below and the entire college community is encouraged to review the plan and provide feedback.
In other words, they've stopped grading on a curve and no one is getting an A (the highest score was 78% or a C+). The Sierra Club list contains more than 200 schools; my school is not among them. Next blog I will narrow my emphasis from the national picture to focus on my own campus.