My first entry for this blog was on April 22, 2012. April 22nd is Earth Day but we  will celebrate many other things throughout this coming month, including my wife's birthday, spring, and many religious holidays, including the following:
April 2nd: Ramanavami (Hindu)
April 5th: Palm Sunday (Christian)
April 8th: Hanuman Jayanti (Hindu)
Evening of April 8th – evening of April 16th: Passover (Jewish)
April 9th: Maundy Thursday (Christian)
April 9th: Theravada New Year (Buddhist)
April 10th: Good Friday (Christian)
April 12th: Easter (Christian)
April 21st: Lailat al Bara'ah (Muslim)
Evening of April 23rd: start of Ramadan (Muslim)
May 19th: Laylat al Qadr (Muslim)
Evening of May 23rd: end of Ramadan (Muslim)
Evening of May 23rd – evening of May 24th: Eid-al-Fitr (Muslim)
The Jewish and Christian holidays are more familiar to me but this is a holy time for many religions.
Working and Learning Remotely
This April will obviously be different from any other. We are all facing the COVID-19 pandemic. It has forced us—in the best case—to be stuck at home trying to do everything remotely. Our kids, meanwhile, are having to make do with distance learning.
My wife and I are no exceptions. Our college (CUNY Brooklyn College) is closed so we are doing our best to teach our classes and do administrative work via video conferencing of one sort or another. This is much more challenging for my wife; she is the Dean of Science at BC, responsible for 10 academic departments.
One of the difficult issues that we are now trying to address is student equity. We found out that about 10% of our students at BC don't have the tools (computers, hardware or Wi-Fi connectivity) necessary to participate in remote learning. Unfortunately, the school was unable to provide the usual remedy of inviting the students to do their work on campus. Instead, we paused all classes for close to a week so that we could distribute laptops and/or tablets to all students in need. As of this writing, however, I have no idea how the issue of connectivity is being addressed. We compensated for the time lost by shortening the approaching Spring Break.
Work and learning are not the only aspects of life that need to be adjusted. Family connection is another issue.
Celebrations
Many of the holidays I listed above involve religious ceremonies. Traditionally, these are also times when families get together and eat delicious traditional dishes. Clearly, this is not possible during the coming months. We have to keep our social distance from others, whether or not they are family. Many cases of self-quarantine extend to isolating ourselves from even our spouses and kids. A large number of those leading various organized religions have cancelled customary religious activities. Indeed, they have closed churches, synagogues, mosques, and other houses of religion en masse.
I am a (secular) Jew so I will expand on some of the suggestions to celebrate the Jewish Seders, the traditional dinners where we celebrate the beginning of Passover. The first Seder starts at sundown on Wednesday, April 8th. That's not until next week but I can say for sure that our usual family get together will not be taking place.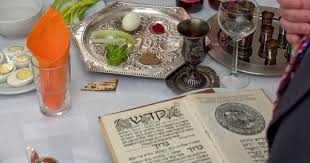 A traditional Passover Seder
Changes in Tradition
It turns out that some rabbis have officially sanctioned a modern version of the Seder that is consistent with social distancing:
In a startling ruling, a group of prominent Sephardic rabbis in Israel has permitted the use of Zoom videoconferencing at the upcoming Passover Seder so that families can convene virtually without violating restrictions on gatherings mandated by the coronavirus pandemic. The rabbis who issued the ruling, among them the spiritual leaders of several towns and communities in Israel, are all Orthodox.

According to the ruling, videoconferencing during the Seder will be permissible on a one-time basis this year so long as computers are turned on and everything is set up before the holiday sets in. Jewish religious law, or halakha, does not permit the use of electricity on Shabbat – a restriction that includes operating computers and other forms of technology. This ban on electricity use applies to the Jewish holidays as well, including Passover, though Sephardic rabbis tend to be more lenient than their Ashkenazi counterparts when it comes to this restriction, as they are on many others.
That is a big deal; the rule against electricity is taken very seriously. As should be obvious from the passage above, the suggestion was not universally accepted. Various sects are stricter than others when it comes to deviation from tradition.
Including the Younger Generations
I believe that the younger generations—hopefully high school or college students—will (and should) take charge. They are now the recipients of distance learning. They can put this into practice by changing roles: performing as distance teachers and organizers for their extended families. Many older folks struggle with this technology.
It's obvious that the youngsters cannot be solely in charge of the food. Every household will have to do its best to take care of its members. But the youth can certainly take charge of the reading and the prayers. While they cannot be the sole readers, their contribution to organizing, reading, singing, and prayers will at least underline some of the best aspects of "normal" celebrations.
If you decide to participate in these new festivities, I hope you will include a short summary (including photographs) on the comments section of this blog.
Keep safe and happy holidays.