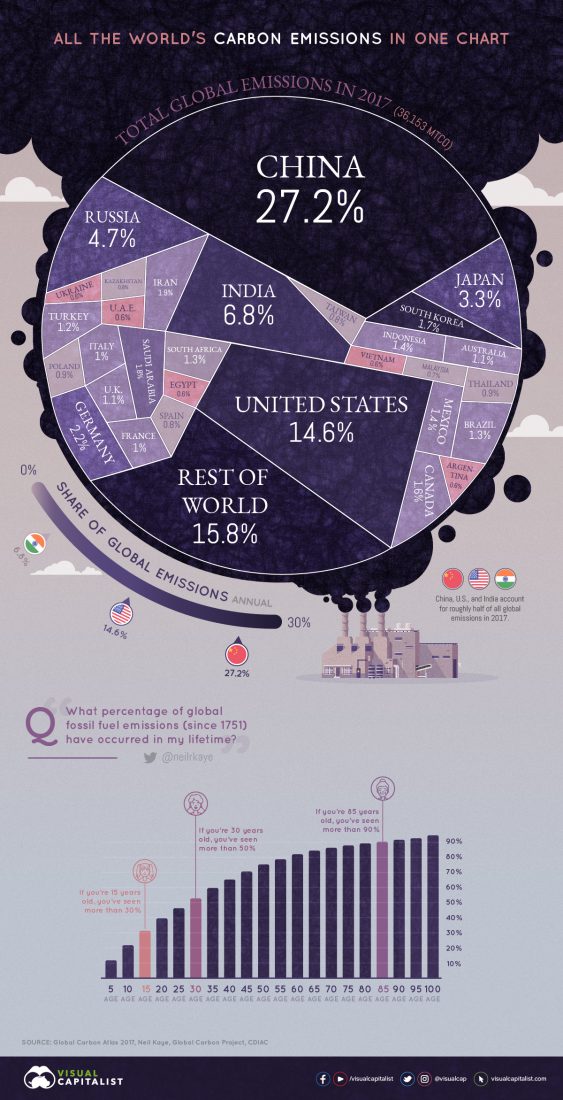 Figure 1 – Relative country contributions to total global carbon emissions and percentages of emissions over time, 2017
The new administration and the accompanying new leadership of many federal offices have strongly signaled a renewed and strengthened dedication to confront the challenges that we face in battling climate change. Our country's act of rejoining the 2015 Paris agreement (see December 14, 2015 blog) was a key step in marking this transition. The eye-catching figures above summarize various nations' carbon emissions, as of 2017, as well as the rise in fossil fuel emissions relative to the birth year of the observer. Not only is the US the second largest emitter, close to 90% of the total global emissions have been emitted during my lifetime; I'm not directly responsible for all of that but I still feel guilty.
Recently, many around the world have made commitments to reduce net carbon emissions to zero by mid-century. This is a solid goal but it puts much of the burden on future generations. Many people who make such commitments now will not be alive to deal with the consequences should those promises prove hollow.
Last year, there was a report published that tried to quantify the actual commitments made during the Paris agreement, as compared to the overall objective of limiting carbon emissions enough to keep global temperature rise to less than 2oC (or 1.5oC). As we can see from Figure 2, the gap between intent and action is large.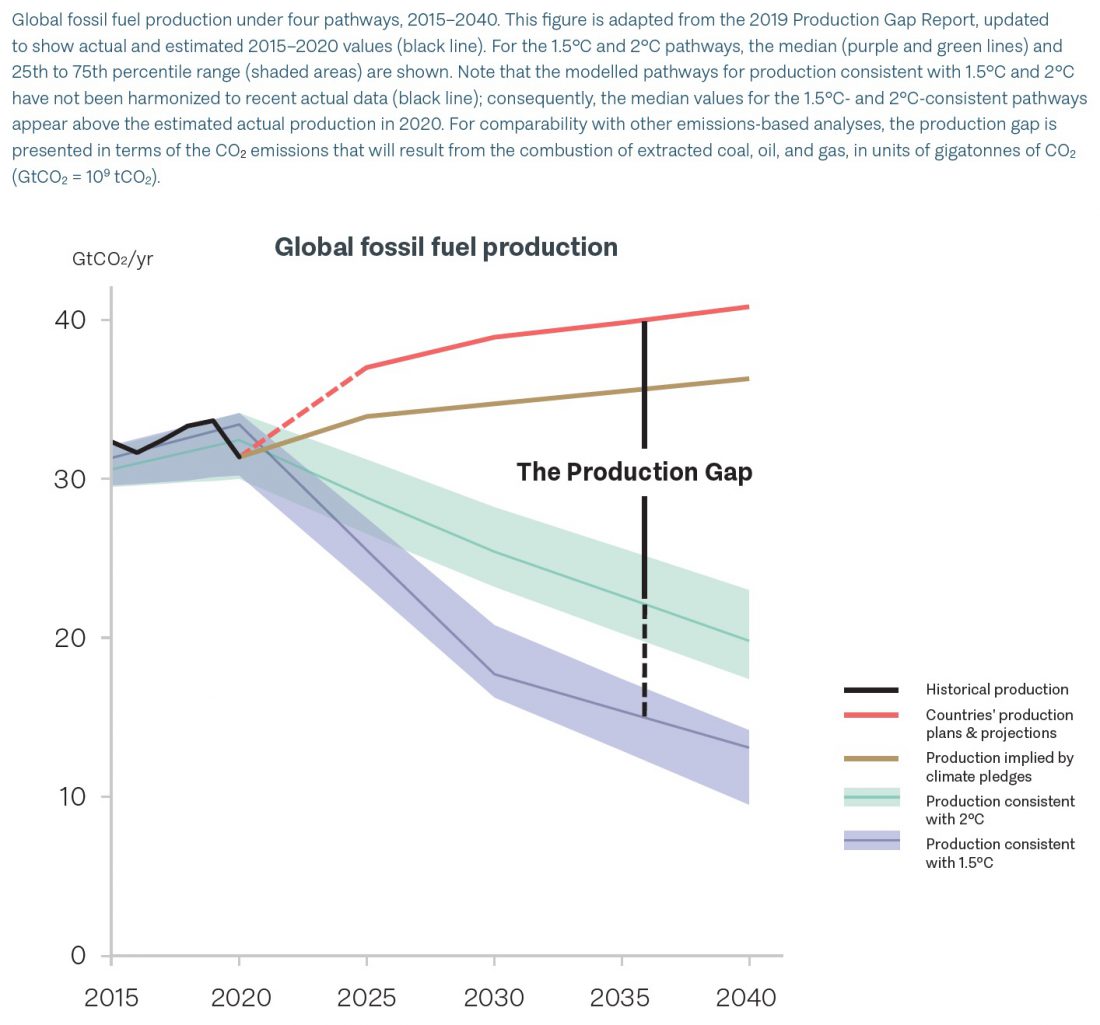 Figure 2 – This graph of global fossil fuel production (2015-2040) under 4 scenarios shows the vast disparities between the total Paris agreement pledges, a business-as-usual scenario, and the action needed to reach the objectives of limiting global temperature rise to 1.5oC or 2oC.
"The Production Gap: The discrepancy between countries' planned fossil fuel production and global production levels consistent with limiting warming to 1.5°C or 2°C"
The first Production Gap Report was launched in November 2019 by leading research institutions and experts, in collaboration with the UN Environment Programme (UNEP). Modelled after UNEP's Emissions Gap Report series — and conceived as a complementary analysis — the Production Gap Report conveys the large discrepancy between countries' planned fossil fuel production and the global production levels necessary to limit warming to 1.5°C and 2°C. This year's report comes as the COVID-19 pandemic and resulting lockdown measures impact societies — and their use and production of coal, oil, and gas — in unprecedented ways. The context for fossil fuel production is thus changing rapidly. Governments are pouring money into their economies, taking on increasing debt, and even changing environmental regulations in a bid to respond and recover from the pandemic's economic and social fall-out. This could have lasting consequences for the nature and speed of transitions away from fossil fuels — and, consequently, for the production gap. This year's report is a special issue that considers the production gap in the context of the COVID-19 pandemic. It recognizes that the world is still at a potential turning point towards a healthier and more resilient, low-carbon future. It considers government responses to the COVID-19-induced crisis and the implications of those responses for the production gap. It includes an interim update of the production gap, while acknowledging the current uncertainty of long-term government planning amid the focus on near-term solutions to the COVID-19 crisis. Next year, the 2021 Production Gap Report will include a broader assessment of the production gap, including the country profiles that were a centrepiece of the 2019 report.
Key Findings:
To follow a 1.5°C-consistent pathway, the world will need to decrease fossil fuel production by roughly 6% per year between 2020 and 2030.
Countries are instead planning and projecting an average annual increase of 2%, which by 2030 would result in more than double the production consistent with the 1.5°C limit.
Pre-COVID plans and post-COVID stimulus measures point to a continuation of the growing global fossil fuel production gap, locking in severe climate disruption.
To date, governments have committed far more COVID-19 funds to fossil fuels than to clean energy. Policymakers must reverse this trend to meet climate goals.
Countries with lower dependence and higher financial and institutional capacity can undertake a just and equitable transition from fossil fuel production most rapidly, while those with higher dependence and lower capacity will require greater international support.
Policymakers can support a managed, just, and equitable wind-down of fossil fuel production through six areas of action.
Key Areas of Action:
Ensure COVID-19 recovery packages and economic stimulus funds support a sustainable recovery and avoid further carbon lock-in.
Provide local and international support to fossil-fuel-dependent communities and economies for diversification and just, equitable transitions.
Reduce existing government support for fossil fuels.
Introduce restrictions on fossil fuel production activities and infrastructure.
Enhance transparency of current and future fossil fuel production levels.
Mobilize and support a coordinated global response.
The steps suggested in the Production Gap Report are not much different from the new shifts in policy that President Biden announced on his inauguration day. Unfortunately, they are not quantitative and they don't secure key requirements necessary to significantly slow mid-century warming. Next week, I will focus on intermediary markers and their feasibility and effectiveness in global efforts for long-term mitigation.