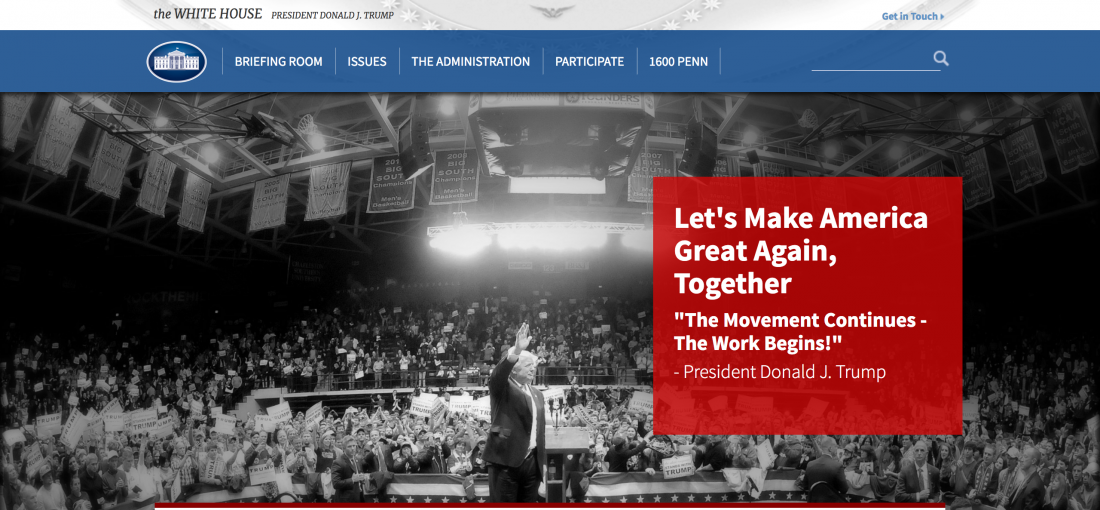 Top Issues – Trump
Top Issues – Obama
It's already been more than three weeks since the inauguration and the only action the new administration has taken with regards to climate change has been erasing it from the white house page as a concern for focus. As you can see from the lists above, climate change was not the only priority to shift; all the previous issues were replaced by the new president's election slogans.
Meanwhile, climate change was also initially removed from the EPA's site – even before a new EPA administrator was approved, but Trump has reportedly suspended that particular change, letting the topic stand – for now.
There are speculations about what our new president can do or undo regarding climate change policy but at the moment most of these remain conjecture. Right now, we only have two "real" things to track: the appointment of Rex Tillerson as Secretary of State and President Trump's standing commitment to start a major effort to update the country's much needed infrastructure.
Exxon's role in the country's efforts to be a leader in climate change mediation is a subject of much controversy and confusion. A few years ago my research on climate change was supported by Exxon funding. I had contacts and friends in Exxon research laboratories and at the time I didn't hear any voices that denied the role that humans played in changing the atmospheric chemistry that results in global climate change. On the other hand, there is also no denying Exxon's pivotal support for organizations such as the Heartland Institution, which has done everything in its power to stop any attempts to mitigate human contributions to climate change. The Hill examines Rex Tillerson's part in these developments:
Rex Tillerson oversaw a major shift on climate change as chairman and CEO of Exxon Mobil Corp. as the nation's largest oil company accepted the scientific consensus that humans are contributing to a warming planet.

Tillerson, whom President-elect Donald Trump this week tapped to be his secretary of State, took charge as Exxon Mobil's top executive in 2006

Just a year later, Exxon shifted from its public position of doubting climate change to declaring that there is "no question" that human activity was the source of carbon dioxide emissions contributing to the phenomenon. "Before and after Rex Tillerson, Exxon had a very different profile, as a company, in the issues related to climate change, and that's worth noting," said Sam Adams, the United States director for the World Resources Institute, a nonpartisan group that advocates for international climate action.

Under Tillerson's predecessor, CEO Lee Raymond, Exxon fought the Kyoto Protocol on global warming and other climate policies, frequently framing climate science as shaky at best.

After Tillerson took over, the company backed a tax on carbon dioxide emissions, implemented an internal accounting measure to put a fee on carbon emissions and stopped funding many groups that outright reject the scientific consensus behind climate change, all major shifts away from its previous positions.

Exxon endorsed last year's agreement in Paris on global warming
Complete separation of the histories of Exxon and Tillerson's roles in their attitude to climate change is probably impossible. However, there is no denying that Rex Tillerson understands climate change data and doesn't claim that climate change is a Chinese hoax that was invented to challenge the United States. This, it seems, makes him unique in the new Trump administration. One can only hope that he will have some impact.
The second thing that that has some likelihood of being able to influence President Trump to treat climate change for what it actually is might rest on his promise to start on major infrastructure rebuilding. He wants to spend a trillion dollars on the project:
In his inaugural address, President Trump doubled-down on his campaign promise to invest in America's aging infrastructure, vowing to "build new roads, highways, bridges, airports, tunnels and railways" across the country. A comprehensive infrastructure package is a rare opportunity for bipartisan collaboration.
Donald Trump came to the presidency already known as a successful builder. Many corners of the US building industry are now taking the data of the likely impacts of intensification of climate change and updating building codes accordingly. They are putting serious resources into attempting to make the buildings climate-change-resilient. To that end, climate change resiliency has become a major selling point. Here is an example from the city that Trump knows best:
There is a breathtaking view of the mid-Manhattan skyline, pierced by the Empire State Building, from the 48th floor of the taller of two new copper-clad apartment towers along the East River, just south of the United Nations.

No plutocrat will enjoy it, however. This impressive penthouse aerie is hogged by five emergency generators. The window is already blocked by a bank of electrical switchgear. For the developers, giving up premium space to machinery is insurance against an ominous future: They want tenants in the towers' 760 apartments to be able to live in their apartments for at least a week, no matter how high floodwaters may reach nor how long the power is out.

"We said: 'Water is going to come in here. What are we going to do about it?'" explained Simon Koster, a principal in the JDS Development Group, which is building the towers, known as the American Copper Buildings.

JDS is in good company.
The building industry wouldn't have put such resources behind a "Chinese hoax."
Fortunately, thoughtful persons with great credibility among many conservatives, offer a reasonable way ahead. Martin Feldstein, Ted Halstead, and Gregory Mankiw penned an Op-Ed in The New York Times:
Our plan is built on four pillars.

First, the federal government would impose a gradually increasing tax on carbon dioxide emissions. It might begin at $40 per ton and increase steadily. This tax would send a powerful signal to businesses and consumers to reduce their carbon footprints.

Second, the proceeds would be returned to the American people on an equal basis via quarterly dividend checks. With a carbon tax of $40 per ton, a family of four would receive about $2,000 in the first year. As the tax rate rose over time to further reduce emissions, so would the dividend payments.

Third, American companies exporting to countries without comparable carbon pricing would receive rebates on the carbon taxes they've paid on those products, while imports from such countries would face fees on the carbon content of their products. This would protect American competitiveness and punish free-riding by other nations, encouraging them to adopt their own carbon pricing.

Finally, regulations made unnecessary by the carbon tax would be eliminated, including an outright repeal of the Clean Power Plan.
Hope that somebody is listening.
Stay tuned.