My last five blogs (starting on February 20, 2018) have focused on some key indicators of the global energy transition as they relate to climate change and the IPAT identity. I examined the 12 most populous countries, which together represent more than half of the world's population as well as the full spectrum of economic development. I also looked at five small, developed countries that are at the forefront of the transition into a more sustainable energy mix. I presented almost all of the indicators in this series on a per person basis so that we could compare countries with different populations.
This blog will open a new series that will present both the global picture and the specific data for the same set of countries in terms of vulnerabilities. Over the nearly six years since I started this blog, I have repeatedly mentioned that the main driving force for climate change is our disruption of the global energy cycle through our energy use. Most of the biggest impacts have occurred via our disturbance of the global water cycle. I have also said that this is not just about our future; there are early signs of impacts that are already taking place.
The vulnerabilities that we will talk about are existential but they do not take place uniformly throughout the planet. As a result, many people are trying to escape from vulnerable areas to more stable ones. Since our global governance system relies on sovereign states, the flux of environmental refugees is now awakening jurisdictional issues that never occurred to most of us (especially in light of the increasing number of political refugees). This series of blogs will mix the vulnerabilities to changes in the climate with the rise in people leaving their climate-affected countries in search of safer places for themselves and their families – often against the wishes of their target countries.
I am starting here with four important water-related indicators: employment in agriculture (% of total employment); agricultural value added; annual fresh water withdrawal (% of internal resources); and population living in areas where elevation is at or below five meters above sea level (% of total population). I am sourcing all of my statistics from the World Bank database.
Figures 1 and 2 show the global trend in the first two indicators over the last 20 years. We see a sharp decline both in terms of global employment in agriculture and in the fraction that agriculture contributes to GDP. The trend, coupled with the large increase in global population that took place over the same period strongly suggests that the agricultural industry is becoming much more efficient in feeding the growing global population.
Figure 1 – Global employment in agriculture (% of total employment)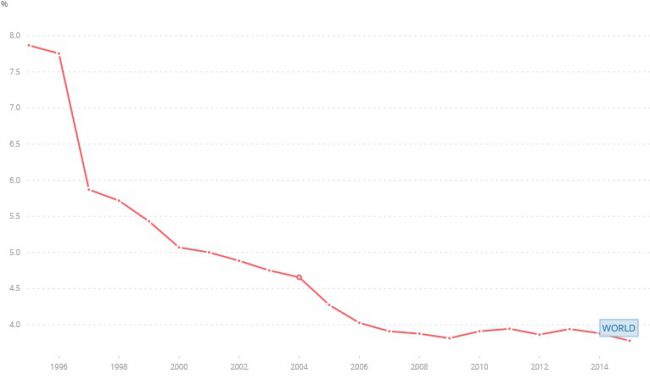 Figure 2 – Global agricultural value added (% of GDP)
However, when we refocus our attention to individual countries, the situation changes.
Table 1 – Indicators of water-related vulnerabilities to climate change impact among the world's most populous countries
Table 2 – Same indicators as in for five small, developed countries that are ahead in their energy transitions
Agriculture is very sensitive to climate conditions, especially when it is dependent on natural precipitation. Rich countries can produce food using many fewer workers and the activity constitutes a small part of the GDP. In poor countries the situation is markedly different. A large percentage of the employment in countries such as India (44%), Indonesia (31%), Pakistan (42%), Bangladesh (41%), Ethiopia (71%), and DR Congo (65%) is agricultural. When long-term droughts hit, people are driven from their plots. They must move to places that give them better chances of survival. In the same line, extraction of fresh water from nonrenewable sources reaches (or exceeds) dangerous levels in poor countries that lack the resources to supplement their water with sources such as desalination. I will expand on the issue of regional water stress in future blogs.
Annual fresh water withdrawal can exceed 100% when extraction from nonrenewable sources becomes significant (this correlates with water stress). The last column maps the percentage of the population that lives below 5 meters above sea level – those most susceptible to climate change-driven sea level rise. Nine percent of the population of Bangladesh amounts to 15 million people vulnerable to perpetual flooding threat. In China the 7% of the population in these circumstances amounts to a staggering 100 million people.
My next blog will focus on some of the global consequences behind these numbers.