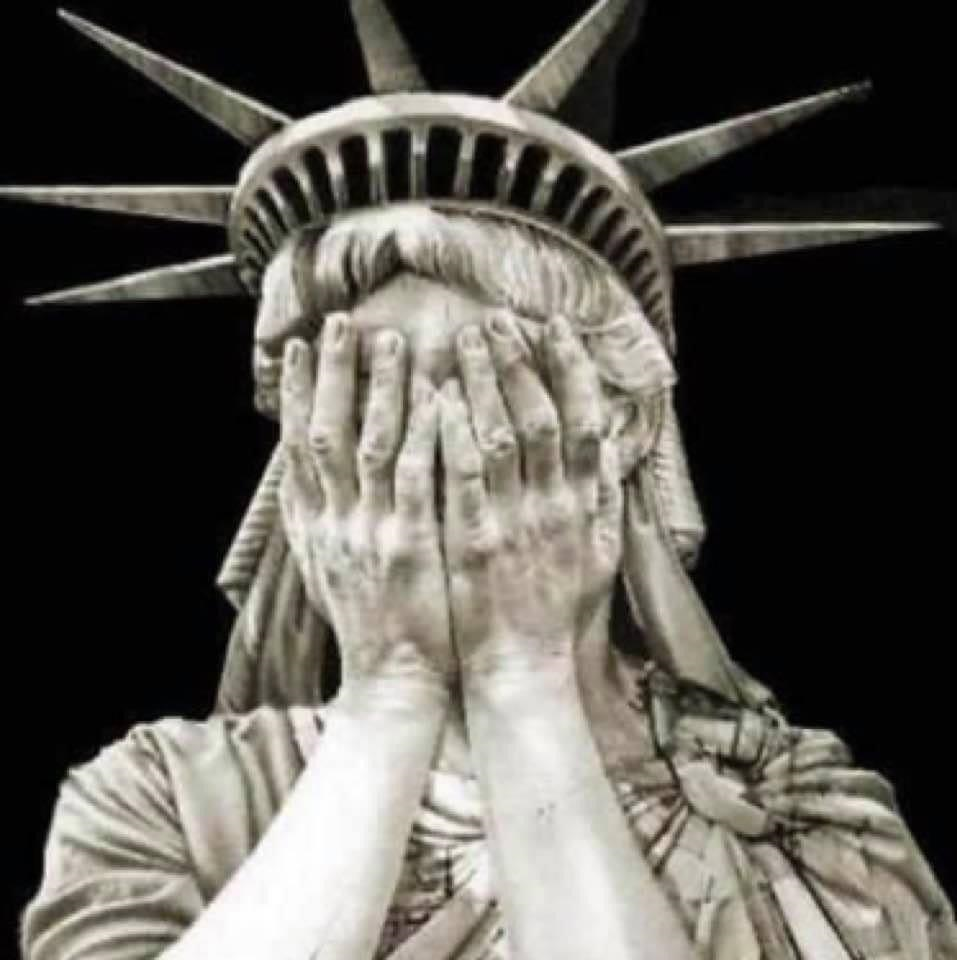 My dear friends who now live in Poland sent me the image above. Both are now infected with and trying to recuperate from COVID-19 but they didn't want my sympathy. They contacted me to say that they felt sorry for us, given recent events in Washington, DC. They didn't send me the original link to the image but it was easy to find. I searched Google for, "Statue of Liberty in shame" and found a hit on the first try.
Well, I can see the actual Statue of Liberty from my terrace. I had to double check to make sure that it hadn't changed. It hadn't but America has.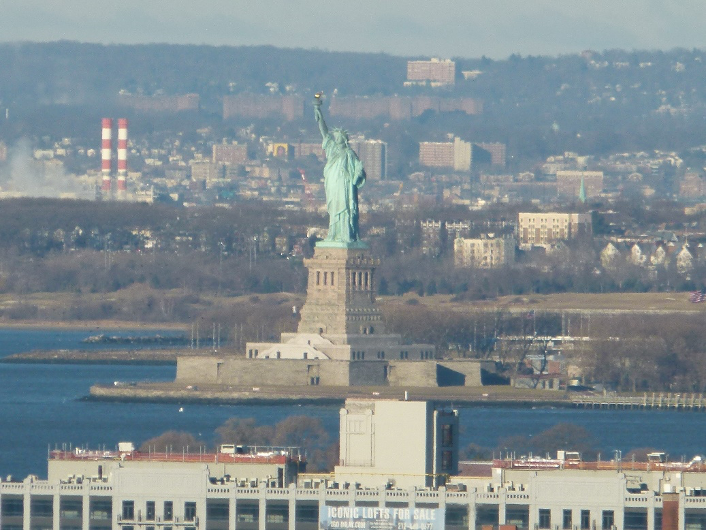 The Statue of Liberty a few hours before I wrote this blog.
Wednesday, January 7th was the last step in Congress' confirmation of the November 3rd presidential election. The congressional approval process is supposed to be a ceremonial event. The American people already decided on a winner and the vote has been certified by all of the states. The only step left is the inauguration of Mr. Biden on January 20th. Yet, Mr. Trump still hasn't admitted that he lost and has instead done everything possible to portray this election as illegitimate. He convinced his core, both in the legislature and on the streets, to take matters into their own hands—to change the verdict and declare him as the winner. On Wednesday, he went so far as to incite a riot at Capitol Hill in Washington, DC.
The police department gave a summary of what happened on Thursday:
Washington, D.C., officials say four people have died, including one in a shooting inside the U.S. Capitol, and more than a dozen police officers were injured after a mob of supporters of President Trump stormed the nation's legislative building, temporarily shutting down a vote to certify his successor's win.

"Thousands of individuals involved in violent riotous actions" stormed the building that houses Congress, the Capitol Police said late Thursday morning, in its first statement about the events. The extremists attacked police "with metal pipes, discharged chemical irritants, and took up other weapons against our officers."
The number of deaths has since risen to five.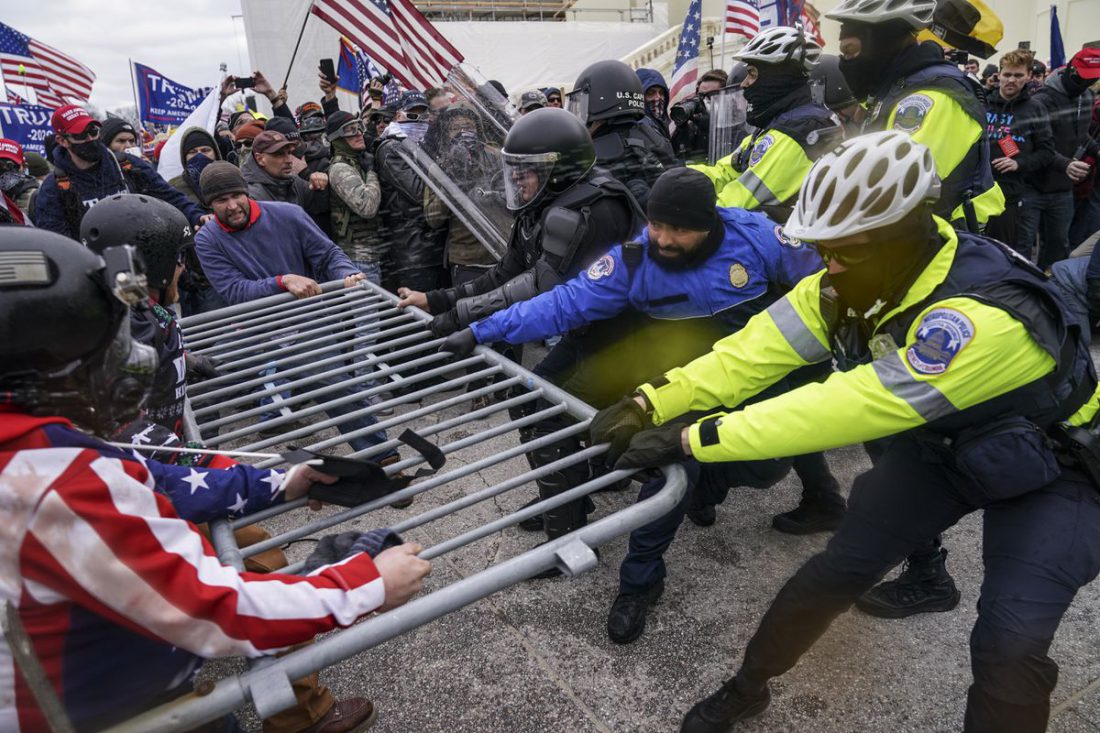 A scene from the riot at the capitol
Senator Mitt Romney, a Republican senator from the state of Utah, had this to say on Wednesday:
We gather today due to a selfish man's injured pride and the outrage of his supporters whom he has deliberately misinformed for the past two months and stirred to action this very morning. What happened here today was an insurrection, incited by the President of the United States. Those who choose to continue to support his dangerous gambit by objecting to the results of a legitimate, democratic election will forever be seen as being complicit in an unprecedented attack against our democracy. They will be remembered for their role in this shameful episode in American history. That will be their legacy.
This was a coup attempt by the president of the United States. The coup interrupted the congressional meeting but congress re-met in the evening to complete the process.
The final results were that the Trump Republican core continued to question the results in Arizona and Pennsylvania. Both houses had to vote on acceptance or rejection of the state's electoral reports. The results were as follows:
Pennsylvania: House: 282 approved, 138 disapproved (total number of Republican votes – 211); Senate: 92 approved, 7 disapproved.
Arizona: House: 303 approved, 121 disapproved; Senate: 93 approved, 6 disapproved
If both houses had disapproved of electoral reports, these states' votes would have been removed from the tally. There were no legitimate reasons to reject the electoral votes. None of the president's claims have any basis in fact.
All of this was so unusual that The New York Times felt compelled to include photographs and names of each of the 147 congressmembers who voted to disapprove the states' tallies. I agree with the NYT on its importance and am reproducing the photographs and the names below:
Senate
Tommy Tuberville, Ala.; Rick Scott, Fla.; Roger Marshall, Kan.; John Kennedy, La.;
Cindy Hyde-Smith, Miss.; Josh Hawley, Mo.; Ted Cruz, Texas; Cynthia Lummis, Wyo.
House
Robert B. Aderholt, Ala.; Mo Brooks, Ala.; Jerry Carl, Ala.; Barry Moore, Ala.; Gary Palmer, Ala.;
Mike Rogers, Ala.; Andy Biggs, Ariz.; Paul Gosar, Ariz.; Debbie Lesko, Ariz.;
David Schweikert, Ariz.; Rick Crawford, Ark.; Ken Calvert, Calif.; Mike Garcia, Calif.;
Darrell Issa, Calif.; Doug LaMalfa, Calif.;  Kevin McCarthy, Calif.; Devin Nunes, Calif.;
Jay Obernolte, Calif.; Lauren Boebert, Colo.; Doug Lamborn, Colo.; Kat Cammack, Fla.
Mario Diaz-Balart, Fla.; Byron Donalds, Fla.; Neal Dunn, Fla.; Scott Franklin, Fla.;
Matt Gaetz, Fla.; Carlos Gimenez, Fla.; Brian Mast, Fla.; Bill Posey, Fla.; John Rutherford, Fla.;
Greg Steube, Fla.; Daniel Webster, Fla.; Rick Allen, Ga.; Earl L. "Buddy" Carter, Ga.;
Andrew Clyde, Ga.; Marjorie Taylor Greene, Ga.; Jody Hice, Ga.; Barry Loudermilk, Ga.;
Russ Fulcher, Idaho; Mike Bost, Ill.; Mary Miller, Ill.; Jim Baird, Ind.; Jim Banks, Ind.;
Greg Pence, Ind.; Jackie Walorski, Ind.; Ron Estes, Kan.; Jacob LaTurner, Kan.;
Tracey Mann, Kan.; Harold Rogers, Ky.; Garret Graves, La.; Clay Higgins, La.; Mike Johnson, La.;
Steve Scalise, La. Andy Harris, Md.; Jack Bergman, Mich.; Lisa McClain, Mich.;
Tim Walberg, Mich.; Michelle Fischbach, Minn.; Jim Hagedorn, Minn.; Michael Guest, Miss.;
Trent Kelly, Miss.; Steven Palazzo, Miss.; Sam Graves, Mo.; Vicky Hartzler, Mo.; Billy Long, Mo.;
Blaine Luetkemeyer, Mo.; Jason Smith, Mo.; Matt Rosendale, Mont.; Dan Bishop, N.C.;
Ted Budd, N.C.; Madison Cawthorn, N.C.; Virginia Foxx, N.C.; Richard Hudson, N.C.;
Gregory F. Murphy, N.C.; David Rouzer, N.C.; Jeff Van Drew, N.J.; Yvette Herrell, N.M.;
Chris Jacobs, N.Y.; Nicole Malliotakis, N.Y.; Elise M. Stefanik, N.Y.; Lee Zeldin, N.Y.;
Adrian Smith, Neb.; Steve Chabot, Ohio; Warren Davidson, Ohio; Bob Gibbs, Ohio;
Bill Johnson, Ohio; Jim Jordan, Ohio; Stephanie Bice, Okla.; Tom Cole, Okla.; Kevin Hern, Okla.;
Frank Lucas, Okla.; Markwayne Mullin, Okla.; Cliff Bentz, Ore.; John Joyce, Pa.; Fred Keller, Pa.;
Mike Kelly, Pa.; Daniel Meuser, Pa.; Scott Perry, Pa.; Guy Reschenthaler, Pa.;
Lloyd Smucker, Pa.; Glenn Thompson, Pa.; Jeff Duncan, S.C.; Ralph Norman, S.C.; Tom Rice, S.C.;
William Timmons, S.C.; Joe Wilson, S.C.; Tim Burchett, Tenn.; Scott DesJarlais, Tenn.;
Chuck Fleischmann, Tenn.; Mark E. Green, Tenn.; Diana Harshbarger, Tenn.;
David Kustoff, Tenn.; John Rose, Tenn.; Jodey Arrington, Texas; Brian Babin, Texas;
Michael C. Burgess, Texas; John R. Carter, Texas; Michael Cloud, Texas; Pat Fallon, Texas;
Louie Gohmert, Texas; Lance Gooden, Texas; Ronny Jackson, Texas; Troy Nehls, Texas;
August Pfluger, Texas; Pete Sessions, Texas; Beth Van Duyne, Texas; Randy Weber, Texas;
Roger Williams, Texas; Ron Wright, Texas; Burgess Owens, Utah; Chris Stewart, Utah;
Ben Cline, Va.; Bob Good, Va.; Morgan Griffith, Va.; Robert J. Wittman, Va.; Carol Miller, W.Va.;
Alexander X. Mooney, W.Va.; Scott Fitzgerald, Wis.; Tom Tiffany, Wis.
Almost everybody who was born in Poland knows the history of the Nazi party. We know how the party of hate and fascism rose to power. My Polish friends and I are not the only ones worried, though. What happened in the US on Wednesday evoked fear worldwide and requires some examination. I will expand on this soon.