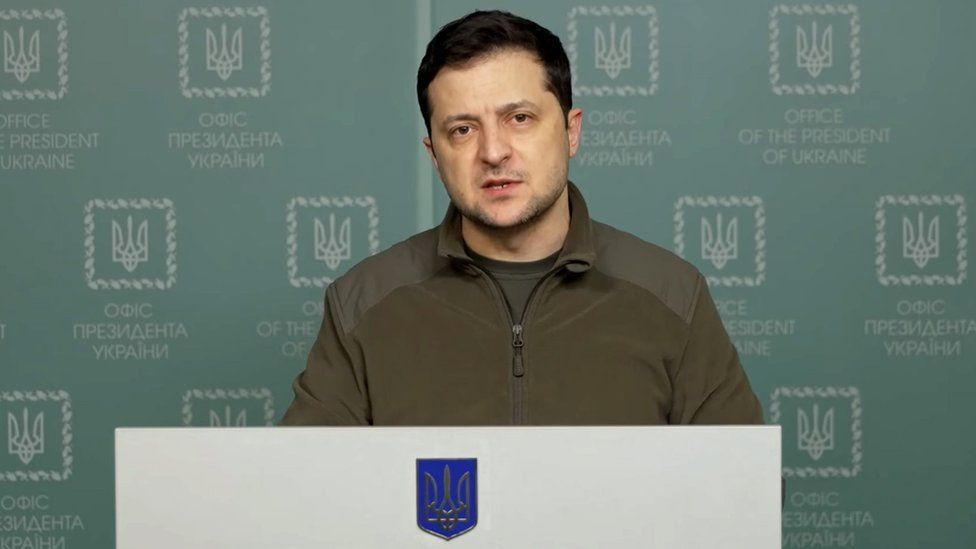 Ukrainian President Volodymyr Zelenskyy (Source: BBC)
Previous blogs emphasized the fog of the Ukrainian-Russian war (March 8th) and the fog of the peace attempts (March 22nd) but even the combination doesn't cover the reality of the Russian aggression. Many more aspects of this conflict are covered with fog, even as some important aspects remain clear. One of the clearest aspects of this conflict is the extent to which this aggression is viewed as a global event. A quarter of the Ukrainian population (of 44 million) have been forced to leave their homes, out of which 3.6 million have been forced to leave the country.
The number of dead and injured, whether civilian or military, is still under fog. The economic impacts—both to Russia and the rest of the world—have become more transparent. The complete destruction of the Ukrainian economy doesn't need numbers to be transparent.
There is no question (at least in my mind) that the transparent parts of the conflict owe a great deal to Volodymyr Zelenskyy, the Ukrainian President. His constant communication with the Ukrainian people, combined with major appearances before parliaments of important states and regions, has united most of the world in support of Ukraine. He has directly addressed the governing bodies or parliaments of the US, England, Germany, Israel, France, and the European Union. He has also addressed the Russian people in their own language (and his), drawing a lot of support from that country's citizens. In terms of communication, he will be known as one of the most effective wartime leaders in recent history. His background in entertainment is helping him in his role as the leader of the underdog country in a wartime conflict.
However, the supporting world is not willing to help Ukraine with direct military involvement to confront Russia. As I mentioned in the last blog, Russia is home to the world's largest nuclear arsenal. Fear of escalating this war to WWIII, which might involve the use of chemical, biological, or nuclear weapons, is on everybody's mind.
Instead, most of the countries that openly support Ukraine have stuck to using major economic sanctions on Russia in an attempt to shift the balance of power.
There is no question in my mind that the endgame of this conflict will leave major impacts on the global balance of powers but the nature of these impacts is still largely in a thick fog.
Meanwhile, we can clearly see major economic impacts on both Russia and the countries that are trying to punish its aggression. Below are a few of the echoes of these impacts:
Impacts on Russia:
Live Updates as Business, Lawmakers and Stocks Respond to Ukraine-Russia War
After shutting down for almost a month, the Russian stock market reopened for limited trading on Thursday. Just 33 companies, all listed in the benchmark MOEX index, were allowed to trade on the Moscow Exchange for four hours and ten minutes.

The MOEX index rose 4.4 percent, but it was probably buoyed by significant government policies intended to avoid a sell-off, including a measure to bar foreigners from selling stocks.

The Russian central bank said on Wednesday there would be a ban on short selling the stocks, a type of trade involving a bet that a company's share price will fall. Previously, the government had said it would instruct its sovereign wealth fund to channel up to $10 billion into local stocks to stop their prices from plummeting. And in late February, the central bank barred brokers from executing sell orders by foreigners.
Putin to Charge in Rubles for Russian Oil Purchases by 'Unfriendly Countries'
Economic sanctions imposed by the United States, Europe and their allies have shaken the Russian economy and caused the value of the ruble to plunge.

On Wednesday, President Vladimir V. Putin of Russia came up with a way to get his opponents to help prop up his currency, by demanding that "unfriendly countries" use rubles to buy the Russian oil and gas still flowing.

"I have made a decision to implement in the shortest possible time a set of measures to switch payments for … our natural gas supplied to the so-called unfriendly countries to Russian rubles," Mr. Putin said.

Sanctions aimed at the Russian central bank effectively froze hundreds of billions of dollars of assets. The actions immediately drove down the value of the ruble as people frantically rushed to turn their rubles into a more stable currency, like the dollar or the euro.

"If you're invoiced in rubles, you've got to go out and buy rubles," he said. "I don't know if there is a workaround."
The German response to this demand was a direct refusal to do so: Germany Won't Pay Russia in Rubles for Natural Gas, Defying Putin Request.
Total Energies Will Stop Buying Oil From Russia
Total Energies, the French oil and gas company, said on Tuesday that it would stop buying Russian oil by the end of the year and halt further investment in projects in the country.

At the same time, the company warned of the risks and potential negative consequences — for itself and Europe — of a headlong flight from Russia in the wake of Moscow's invasion of Ukraine.

The Paris-based company said it had "initiated the gradual suspension of its activities in Russia, while assuring its teams' safety." Total Energies had said on March 1 that it would halt new Russian investment.

Tuesday's announcement expanded on that initial statement, describing how the company would no longer enter into or renew contracts to purchase Russian oil and petroleum products, and saying that would it would halt all such purchases by the end of this year. Total Energies also said it would stop providing capital for new projects in Russia, including a large planned liquefied natural gas installation called Arctic LNG 2.
To what extent other companies will follow is still unknown.
Impacts on the parties that imposed the sanctions:
German Chancellor Says Boycott of Russian Energy Would Cost Jobs
BERLIN — A boycott of Russian oil and gas would have severe economic and social consequences in Germany and the rest of Europe, Chancellor Olaf Scholz told lawmakers on Wednesday.

Conceding that Germany has grown dependent on Russia for its energy, Mr. Scholz vowed to end its reliance as quickly as possible, but said: "To do so from one day to the next would mean plunging our country and all of Europe into recession."

"Hundreds of thousands of jobs would be at risk," he added, speaking on the floor of the Bundestag, the German legislature.

The United States and some eastern European Union countries, such as Poland and the Baltic States, have been pressuring the bloc to boycott Russian energy exports.
Will War Make Europe's Switch to Clean Energy Even Harder?
Smoothly managing Europe's energy switch was always going to be difficult. Now, as economies stagger back from the second year of the pandemic, Russia's attack on Ukraine grinds on and energy prices soar, the painful trade-offs have crystallized like never before.

Moving investments away from oil, gas and coal to sustainable sources like wind and solar, limiting and taxing carbon emissions, and building a new energy infrastructure to transmit electricity are crucial to weaning Europe off fossil fuels. But they are all likely to raise costs during the transition, an extremely difficult pill for the public and politicians to swallow.
Communication channels are now saturated with the impacts of the Ukrainian conflict, to the exclusion of longer-term threats such as climate change. I will start to return my focus to climate change and related global environmental issues soon. As we saw in the last few blogs, there is no way to completely separate the two but there is a way to shift the emphasis, with the hope that some semblance of peace will return to this corner of the world.