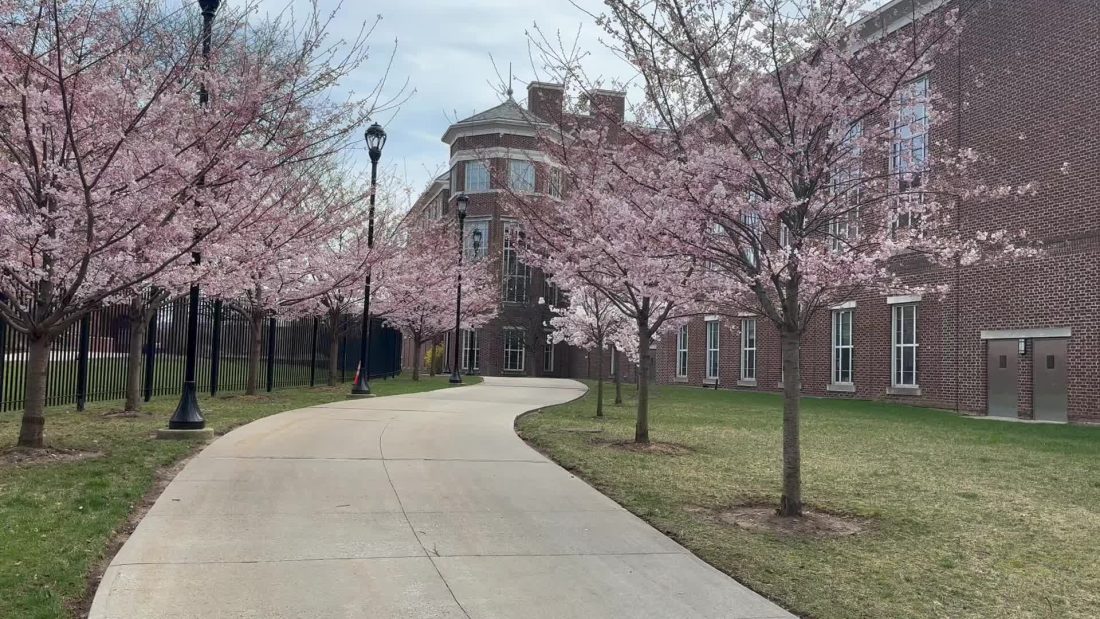 Spring Break at Brooklyn College
I am starting this blog at the tail-end of spring break at my university (CUNY). It will be posted as classes recommence for a month, followed by final exams and the summer break. This is a great time to start thinking about next semester's classes. Over the fall of 2023, I will be teaching two courses focused on climate change and one on cosmology.
One of the two courses on climate change is part of our general education program and the other is more advanced, catering to our Honors College. The honors class is focused on our local mitigation and adaptation activities. My teaching in this course is part of a broader program focused on "Campus as a Lab" that I described in an earlier series of blogs (the last one in this series was from October 4, 2022). I am trying to approach the concept on various levels, spreading it around the campus at every opportunity. The details are summarized in the earlier blog.
Two weeks ago I got an invitation to attend a Zoom meeting that was co-organized by my university's sustainability office and Con Ed, the dominant power company in New York City. The meeting was a workshop for solar and energy storage installers, part of a regular series of meetings that CUNY's sustainability office organizes. The last one was pre-pandemic and was described in an earlier blog (July 2, 2019). I am attaching below the agenda for this meeting:
2023 NYC Solar+Storage Installer Workshop AGENDA
9:00 am Welcome and Workshop Overview
Tria Case, Exec Dir of Sustainability & Energy Conservation, CUNY
Sustainable CUNY's Smart DG Hub: Accessing TA & Permitting Resources
Daniella Leifer, DG Ombudsman Emily Sweeney, Solar Ombudsman
9:15 am Con Ed Incentives, Interconnection Requirements, and Processes Opening Remarks
Shaun Smith, Director, Distribution Planning
Demand Response Program Gerianna Cohen, EE Program Manager EV Initiatives
Kevon Brown, Sr. Specialist, E-Mobility & Demonstrations FERC 2222 – NYISO Aggregator Participation Model Wassim Saloum, Project Specialist, Distribution Planning Kishan Patel, Project Specialist, Distribution Planning Utility Energy Storage
Masum Ahmed, Associate Engineer, Dist. Planning Technical Update from Dist. Engineering Constantine Spanos, Sr. Engineer Interconnection & Policy Updates
Christine Gorman, Sr. Specialist Julio Tardaguia, Project Specialist DG Ombudsman Team
10:30 am Sustainable CUNY's Collaboration with FDNY
Daniella Leifer, DG Ombudsman Emily Sweeney, Solar Ombudsman
10:45 am Updates to FDNY Application Processes for Solar and Storage
John Ingenito, Supervisor – Rooftop Access Unit, FDNY Yash Patel, Engineering Consultant, FDNY
1:15 pm NYCHA's ACCESSolar Program
Ron Reisman, NYC Solar Partnership Program Manager, Sustainable CUNY Christopher White, Program Manager – Sustainability, NYCHA
1:40 pm Updates to DOB Construction and Electrical Permits and Material Acceptance Application Processes
Yarnell Williams, Assistant Chief Plan Examiner, NYC Dept. of Buildings Abderrahim Charguini, Assistant Plan Examiner, NYC Dept. of Buildings Alan Price, Director, Office of Technical Certification & Research
3:10 pm Panel Discussion – NYC Solar and Storage Industry Outlook
Noah Ginsburg, Executive Director, NYSEIA Denise Sheehan, Senior Policy Advisor, NY-BEST Facilitated by Emily Sweeney and Daniella Leifer
3:30 pm Wrap-up and Next Steps
Ron Reisman, NYC Solar Partnership Program Manager, Sustainable CUNY
I am not a solar or energy storage installer and I am not trying to teach my students to become them. Two recent guest blogs that described the experience of solar installation (the last on March 21, 2023), are my only connections to the topic. The agenda of the meeting is so full of abbreviations that I had to use Google to decipher them. I will save you the effort and try to summarize them:
Sustainable CUNY's Smart DG Hub: Accessing TA & Permitting Resources:
This collaborative effort was expanded to include energy storage systems (ESS) in 2013 and was formalized as the Smart DG Hub. Today, the Smart DG Hub's dedicated and knowledgeable Ombudsmen provide support to the solar and storage industries as well as NYC agency staff who are tasked with creating new solar and energy storage regulatory structures (https://www1.cuny.edu/sites/sustainable/solar/nysolar-smart/)
FERC 2222 – NYISO Aggregator: NYISO is NY Independent System Operators; FERC is Federal Energy Regulation Commission.
FDNY – NYC Fire Department
NYCHA – NYC Housing Authority
DOB – NYC Department of Buildings
What intrigued me was the complexity that installers have to go through in order to make their input to our energy transition. While listening to the presentations I decided on a reasonable objective, that I can try to accomplish next semester with my students and with anybody else willing to listen: to try to guide them through the terrain of what else is being done to accomplish the same objective, including mapping the hierarchy of the organizations working on the problem.
I even came up with a new disciplinary name for the effort: Sociology of the Global Energy Transition. This is a reasonable title for a joint major of the Sociology Department and an interested STEM Department similar to the new collaborative majors that I described in an earlier blog (February 21, 2023).
According to Britannica, Sociology is defined as:
a social science that studies human societies, their interactions, and the processes that preserve and change them. It does this by examining the dynamics of constituent parts of societies such as institutions, communities, populations, and gender, racial, or age groups. Sociology also studies social status or stratification, social movements, and social change, as well as societal disorder in the form of crime, deviance, and revolution.
Achieving the global objective of zero-carbon energy sourcing within a reasonable time will require efforts by all constituents of human societies to address needed changes in the physical environment. The line of thinking for students (and others) starts with "What can I do?" It often continues with "What is everybody else doing?" and "What will happen if I do nothing?" I will focus below on a derivative of these relevant questions:
"What can students on my campus do to speed up the energy transition?" To answer this question the students will have to recognize the roles that everybody else related to their campus is playing.
For students of my campus the sociology of the process will follow this narrowing focus:
Global > Federal > State > Local (City) > University > College. When a student on my campus is asked what this campus can do to approach the zero-carbon objective he/she will probably answer the obvious – change all energy sources from fossil to sustainable sources. Unfortunately, on my campus, that cannot be done. CUNY is a multi-campus consortia institution whose real-estate and energy delivery —as I've described earlier (September 20, 2022)—are controlled by the central government. So, such changes would have to be top-down. Students, however, will have to look at bottom-up solutions. In collaboration with everybody else on campus, they can make important contributions through more efficient use of energy. There are also ways for the university and the campuses to encourage energy savings. I will explore some of the possibilities in future blogs.