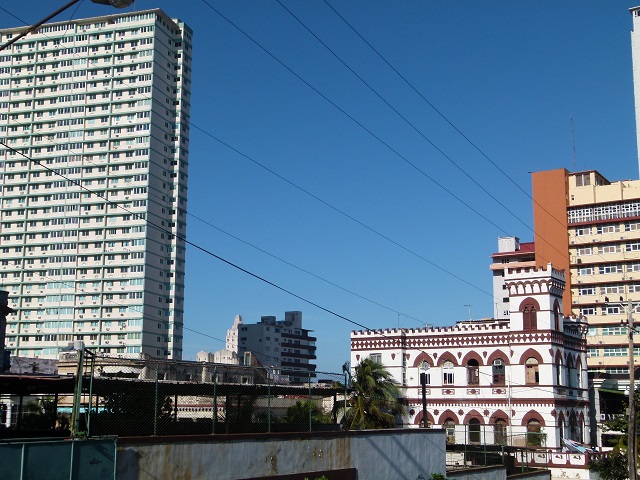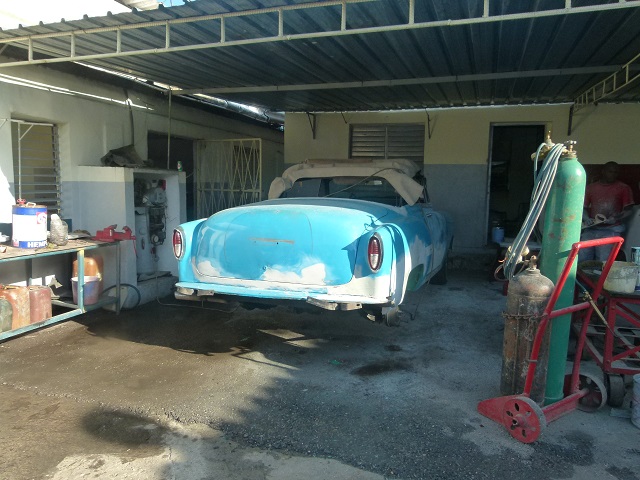 For the semester break I decided to "unwind" with a book about the Holocaust and one on the consequences of a nuclear Armageddon – one covering the painful past and the other looking at a possible end of human civilization. To spice up the vacation, my wife and I decided to travel to Cuba. Given America's timely relaxation of its travel embargo to the country, we figured it would be interesting to observe the transitions.
The easing of the embargo still does not mean that one can just jet over to Cuba to enjoy a Mojito on the beach and conclude the day listening to great Cuban music. One has to follow strict American guidelines that include being part of a tour. The rule is that
Americans who wish to travel to Cuba will have to meet one of 12 different criteria for authorized travel, as they have in the past. Those categories include family visits, official business of the U.S. government, foreign governments, and certain intergovernmental organizations; journalistic activity; professional research and professional meetings educational activities; religious activities; public performances, clinics, workshops, athletic and other competitions, and exhibitions.
My wife and I don't like to travel in groups. Fortunately, we contacted a company called "Cuba Educational Travel" that specializes in individualized educational tours. We got together with another couple that likes to travel in a similar way and went on a nine day tour focused on Havana and Trinidad.
As far as I know, the US does not do much to ensure that travelers are actually learning during these "educational" tours of Cuba. Nobody asked us any questions on our way in or out. The US government does not provide tests at any stage of the visit and they certainly don't require us to repeat the exercise if we don't demonstrate sufficient learning – as we do in the classroom. However, I am in the business of education, so test or no test, I feel obliged to share what I have learned.
The two photographs at the top were taken in Havana. The first one represents a mixture of colonial and modern architecture in Havana. Cuba won its independence from Spain in 1898; the colonial period spans from Columbus' arrival until that time.
The second photograph is of a Cuban auto shop repairing a pre-1959 American Chevrolet. Here is what Bloomberg says about Cuba's classic American cars:
When Fidel Castro came to power in 1959, he made it illegal for anyone to import cars without government permission. The mandate arrested automotive history on the island, and curvaceous mid-century Chevys, Studebakers, and Buicks still rumble down Havana's Malecón, much as they did half a century ago. Now, with the easing of relations between the U.S. and Cuba, some of the nearly 60,000 vintage cars in Cuba could eventually make their way into collectors' hands stateside.

Cuba loosened some trade restrictions on automobiles earlier this year [2014], allowing new cars to be bought and sold on the island. Lifting the U.S. trade embargo on the island—a decision that must be made by Congress, not President Barack Obama—would let Cuba's classic automobiles return to the U.S. after so long. If that does happen, the buyers won't be traditional car collectors, who prize low mileage and automobiles in pristine condition. For one thing, Castro's restriction on auto imports stopped the flow of replacement parts, so while a Cadillac convertible in Cuba may look authentic at first blush, a closer look reveals both hundreds of thousands of miles on the odometer and a bevy of makeshift fixes, perhaps even (gasp!) a Peugeot diesel engine under the hood. That said, experts anticipate a niche market of buyers willing to pay a premium to own a piece of Cuban history.
Cubans are very proud of their ability to keep the old American cars running. If you take a cab in Havana or any other Cuban city, it is very likely that you will ride in an old American car, although there are now sometimes alternatives available due to relaxations of the import ban.
My next few blogs will delve into Cuba's efforts to mitigate and adapt to climate change, as well as is the very confrontational relationship between Cuba and the United States since the Cuban revolution.
The table below summarizes some key indicators that will be relevant to these discussions about Cuba. My source for most of the information was the World Bank (data.worldbank.org/indicator); I used incarceration rates from Wikipedia, the United Nations' data for the Human Development Index, and I took migration numbers from the recent issue of the CIA World Factbook. The table includes Cuba and the United States for obvious reasons but it also includes three other countries in Central America with similar populations and somewhat similar colonial histories to that of Cuba, to serve as reference points.
The Gini coefficient measures economic equality; 0 represents perfect equality and 1 is "perfect" inequality. Cuba's most recent Gini coefficient was not available through the Word Bank, but it rose from 0.24 in 1986 to 0.38 in 2000.
The Human Development Index is a composite statistic of life expectancy, education, and income per capita. In principle, these factors tell us about the area's ability to thrive and grow.
| | | | | | |
| --- | --- | --- | --- | --- | --- |
| Indicators | Cuba | Dominican Republic | Haiti | Honduras | US |
| Population (Thousands)(2014) | 11,379 | 10,406 | 10,572 | 7,962 | 319,000 |
| GDP/Capita (2013) (Current US$) | 6,790 | 5,969 | 810 | 2,356 | 52,980 |
| Access of Electricity(2012) (% of population) | 100 | 98 | 37.9 | 82.2 | 100 |
| CO2 emission (2011) (MT/Capita) | 3.2 | 2.2 | 0.2 | 1.1 | 17.0 |
| Adult literacy (2012)(% of population aged 15+) | 100 | 90 | ——– | 85 | ——– |
| Fertility rate (2014) (Birth/woman) | 1.6 | 2.5 | 3.1 | 2.4 | 1.9 |
| Life Expectancy at birth (2014)(females) | 81 | 76 | 65 | 76 | 81 |
| Infant mortality rate (2014) (per 1000 births) | 4 | 26 | 54 | 18 | 6 |
| Human Development Index (2014) | 0.769 | 0.715 | 0.483 | 0.606 | 0.914 |
| Gini Coefficient (2013) | ——– | 0.471 | 0.608 | 0.574 | 0.411 |
| Incarceration rates (per 100,000) | 510 | 233 | 97 | 196 | 698 |
| Number of migrants/1000 | -3.64 | -1.91 | -2.76 | -1.16 | +3.86 |
Next week I will look into the origin and impact of the American embargo on Cuba.