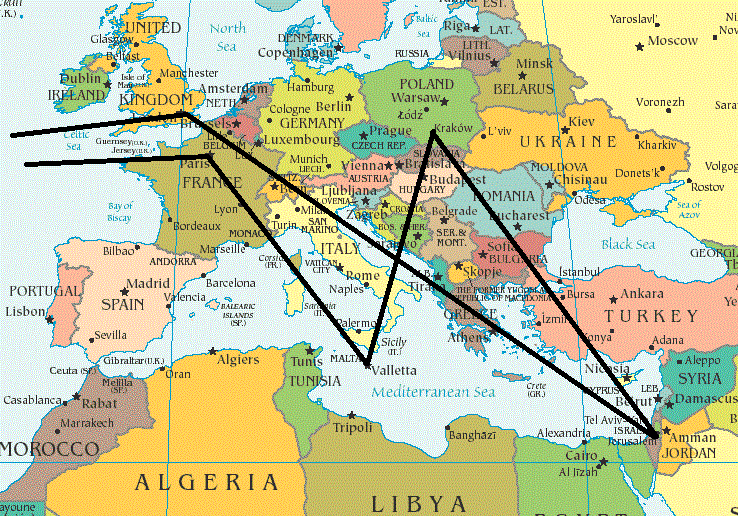 Figure 1 (from August 2 blog)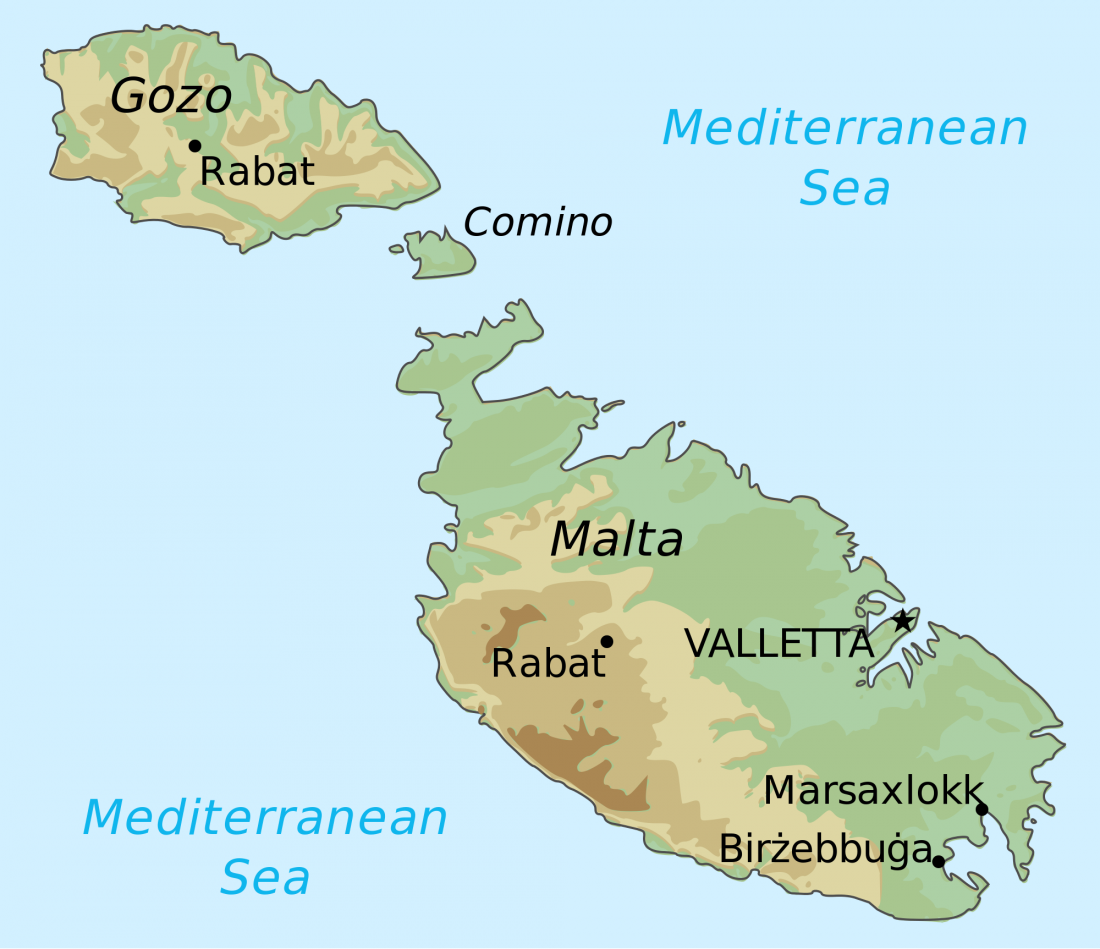 Figure 2 – Map of Malta
Figure 1 from my August 2nd blog shows my summer vacation route. Malta is a tiny dot on that map but I felt it necessary to show the context so I can emphasize the country's critical location with regards to African refugees seeking safety in Europe. I also included a more detailed map of the island country.
Although Malta is an attractive tourist attraction, we did not know that before visiting. Our main objective was to meet my cousin and his wife and spend a quality week with them. This desire was consistent with our aims throughout the trip. Originally, we were going to meet him at his home in Australia but he decided he'd rather take a Mediterranean cruise than stay for the Australian winter (our summer). He and his wife are older than us so we respected their wishes and looked for places around the Mediterranean that would coincide with their cruise. Croatia looked promising until we realized it would require long drives, which they preferred to avoid. Instead, once we pulled out a magnifying glass to look at the map, we decided on Malta. Among other pros, we could guarantee that long drives would not be necessary.
We had magnificent time. In addition to the family event we also got to act as tourists, exploring archeology that can be traced back 5,000 years, enjoying the people and the beautiful landscape. I would strongly recommend adding it to any vacation itinerary.
One can find a short description of Malta and its rich history via Wikipedia:
Malta's location has historically given it great strategic importance as a naval base, and a succession of powers, including the Phoenicians, Carthaginians, Romans, Moors, Normans, Sicilians, Spanish, Knights of St. John, French and British, have ruled the islands.

King George VI of the United Kingdom awarded the George Cross to Malta in 1942 for the country's bravery in the Second World War.[12] The George Cross continues to appear on Malta's national flag.[13] Under the Malta Independence Act, passed by the British Parliament in 1964, Malta gained independence from the United Kingdom as an independent sovereign Commonwealth realm, officially known from 1964 to 1974 as the State of Malta, with Elizabeth II as its head of state.[14] The country became a republic in 1974, and although no longer a Commonwealth realm, remains a current member state of the Commonwealth of Nations. Malta was admitted to the United Nations in 1964 and to the European Union in 2004; in 2008, it became part of the Eurozone.

Malta has a long Christian legacy and its Roman Catholic Archdiocese of Malta is claimed to be an apostolic see because, according to the Acts of the Apostles,[15] Paul the Apostle was shipwrecked on Malta.[16] Catholicism is the official religion in Malta.[17][18]

Malta is a popular tourist destination with its warm climate, numerous recreational areas, and architectural and historical monuments, including three UNESCO World Heritage Sites: Ħal Saflieni Hypogeum,[19] Valletta,[20] and seven Megalithic Temples, which are some of the oldest free-standing structures in the world.
My cousin and his wife were both Holocaust refugees. Each made his or her way to Australia after the war. Like me, my cousin was born in Warsaw and basically spent the war under Nazi occupation. He often recalls the Oscar-winning Roman Polanski film, "The Pianist," which tells the story of Władysław Szpilman in Nazi-occupied Warsaw – specifically the scene when a German officer spots Szpilman hiding in the ruins of a building but leaves him alone without harming him or reporting him to others. He had an almost identical experience. Also, like me, my cousin ended up immigrating to Palestine, where he went to school and served in the Israeli army.
His wife had the good fortune of avoiding the Holocaust. Her parents were in a mixed marriage: she had a Christian Austrian mother and a Jewish father. Before the war, her parents decided that Austria was not a suitable place for their family's kind of arrangement, so they too immigrated to British Palestine. She attended school at a convent in Jerusalem. They immigrated to Australia independently, where they met, married, started a very successful business, and raised three children. They now have four grandchildren and the entire family are now Australian citizens. We had not heard their full story until this visit but this is not the best place to lay it all out. Instead, with their help, I am trying to share that on Tapestry, the app that I am co-developing. You can access it at www.tapestry.life.
Family connections aside, I wanted to explore Malta's role in the African refugee migration to Europe. The magnitude of this issue can be realized from the following rescue operation by the Italian navy that was recently reported by the NYT:
Italian naval ships and vessels from nongovernmental groups rescued thousands of migrants off the Libyan coast on Monday, responding to the latest surge in desperate attempts to flee war, poverty and human traffickers. The operation took place 13 miles north of Sabratha, Libya. Groups such as Proactiva Open Arms and Doctors Without Borders helped save about 3,000 people who had been traveling in some 20 small wooden boats.

Tens of thousands of Africans take the dangerous Mediterranean Sea route as a gateway to a better life in Europe, alongside those fleeing wars in countries like Syria and Afghanistan.
According to other sources, 400,000 Africans have taken the dangerous Mediterranean Sea route from Libya to Italy since the beginning of 2014.
We visited both Malta and Gozo (see Figure 2). During the taxi drive from the airport to Gozo I chatted with the taxi driver about the issue of refugees in Malta. He expressed admiration for Prime Minister Joseph Muscat (who has served since 2013), from the Labor party, for minimizing the presence of the refugee crisis in Malta to almost non-existent.
Initially, I wanted to try to visit the main refugee center in Malta, but I quickly learned that would be impossible. Instead, we drove by the center, stopped, walked around, and took some photographs. We saw a few black guys sitting on the fence outside the center. We assumed that these men were refugees but realized that we were stereotyping and were reticent to ask them their stories lest it come across as inappropriate. The whole place looked mundane and deserted.
Instead, I had to resort to more official channels of information.
The best that I could find was an old report of a visit to Safi emigration center by representatives of EFUS (European Forum for Urban Security) in March 2012 that I cite below:
The Safi Detention Centre for Immigrants is situated on an army base at Hal Safi, in the southeast of Malta, close to the international airport. It occupies a three story building at the back of the compound. Surrounded by a barbed wire fence and with barred windows, through which detainees wave and shout at visitors, the centre looks very much like a prison.

Safis the second largest of the three migrant detention centres of Malta. As the Maltese government follows a mandatory detention policy, all migrants arriving in Malta have to go through a detention centre. There, they are screened by authorities who register them in the EU Eurodac database of fingerprints of applicants for asylum and illegal immigrants. They also undergo a medical check-up and receive medical attention if necessary.

Identifying migrants and obtaining papers from their country of origin is a time consuming process. It is followed by another process to determine if a migrant is entitled to asylum, which can last up to one year, although Maltese authorities say they usually do it in five months. If they are granted asylum, migrants are relocated in open centres, where they are provided with a room and daily meals. They are also given a work permit, and benefit from the same social and medical services as Maltese citizens. Those who are not granted asylum are returned to their country of origin, either with the help of Frontex (the EU frontier agency) or by a flight directly chartered by the Maltese government. However, if the process to determine asylum is not completed in 18 months, migrants are also released into an open centre where they have to await the final decision. Unaccompanied children, families with children, pregnant women, people with special needs and elderly people are not detained but only screened and sent to open centres.

When the Efus delegation visited Safi, 218 people were detained there, including 45 women. Safi centre is divided into five zones that all include bedrooms and toilets, as well as a kitchen, a living room, and a first aid room. A doctor is present every day on the premises. There is also a classroom where detainees can attend classes of English and "life adaptation".

The challenge, he says, is also to manage the cultural diversity of migrants. Safi detainees come from 36 countries, and there are often conflicts between East and West Africans, Muslims and Christians, and various tribes and ethnic groups. The centre has set up special procedures, notably with the help of the UNHCR (United Nations High Commissioner for Refugees), in particular for Somalian refugees who represent about 55% of arriving migrants, and who are granted asylum in most cases. Moreover, the detention centres cooperate with various NGOs, such as the Red Cross. Indeed, we saw Red Cross delegates during our visit at Safi. Also, Maltese authorities have improved the procedure for granting asylum, which is now faster than a few years ago.
The numbers speak for themselves; this is an enormous issue.
A much more recent short report by the Economist, draws an equivalent. Malta doesn't play a significant role in mitigating African refugee issues. The photographs that I took of the refugee center convey relatively little. Much more revealing is the cartoon that came as a part of the Economist's short report:
WHEN the European Union picked Malta as the site for this week's EU-Africa migration summit, it seemed a logical choice. The island nation is perched in the Mediterranean halfway between Libya and Italy. For a time, it was one of the top destinations for migrants from Africa trying to reach Europe. And Valletta, Malta's fortified Baroque capital, is a very telegenic spot for a summit. (In "Game of Thrones", a television series, it serves as the backdrop for the port city of Pentos, whose own asylum seekers include the Targaryans, an exiled royal family.) But Malta is also apt in a way EU leaders may not have intended: as a standpoint from which to observe Europe's increasingly confused attitude towards refugees and other immigrants.

African migrants encounter as much undisguised hostility here as anywhere in Europe. Neil Falzon, who runs Aditus, a local human rights organisation, says many have been spat upon in the street. As in much of eastern Europe, unfamiliarity breeds contempt. Until the turn of the century, the island had one of the most ethnically homogenous societies in Europe, though its unique identity is actually the product of centuries of racial mingling. (The result is a native population who look a bit like Italians, speak a bit like Arabs and drive on the left like the British.)

In the early 2000s, when thousands of African asylum seekers began landing here annually, it came as a shock. "A lot of elderly people had never seen a coloured person," says the leader of the opposition Nationalist Party, who condemns racism (while unwittingly using a politically incorrect term). Maltese xenophobes can fall back on a rational argument: Malta is both the EU's smallest state and its most densely populated one. Maltese feel they should have to take fewer migrants than larger states.

Yet strangely, without anyone much noticing, they seem to have got what they want. Malta is barely 200 miles from Libya, still a major transit country for refugees though no longer as important as Turkey. But the flow to Malta has virtually shut down—and no one knows why. Over 140,000 migrants arrived in Italy by sea in the year to November 10th; in Malta, since the end of January, the number is just 20. Meanwhile, the economy has been thriving. Malta has succeeded in becoming something Viktor Orban, the eurosceptic Hungarian prime minister, might dream of: an EU state with enviable growth figures and almost no migrants.
Malta is not a state to be admired or mimicked in terms of solution of the global refugee issue.