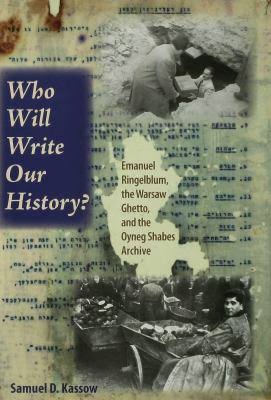 Samuel Kassow's book describes the efforts of a group led by historian Emanuel Ringelblum who documented what was happening around them in the Nazi-occupied Warsaw Ghetto. The group aimed to provide an accurate account of the situation to counter the false history that the Nazis would write if they won the war. Once they realized that they probably would not survive the occupation, they stored the materials in milk cans and metal boxes that they buried underground. Following the war 35,000 pages were unearthed. These papers are now displayed at a museum in Warsaw.
Throughout time, winners and survivors have written the history, largely blaming the losers for their own defeat. The recent presidential elections are no exception.
The Twenty-second Amendment to the American Constitution states that no person shall be elected to the office of the president more than twice but there is no matching amendment that prohibits a political party from holding the presidency for more than two consecutive terms. Yet since 1944, this has almost never been achieved. The one exception was President George H.W. Bush's win following President Reagan's two terms. Some posit that this is due to "fatigue" but I doubt it. I think that the reason is that negative campaigning is easier and more effective than positive campaigning.
President Obama blamed Hillary for her losses:
President Barack Obama suggested fellow Democrat Hillary Clinton was partly to blame for her stunning loss to Republican Donald Trump in the presidential election. The president noted that Clinton should have focused on reaching out to white, non-urban voters like he did in both 2008 and 2012

Obama urged Democrats to take on a 50-state strategy. "You know, I won Iowa not because the demographics dictated that I would win Iowa. It was because I spent 87 days going to every small town and fair and fish fry and VFW hall, and there were some counties where I might have lost, but maybe I lost by 20 points instead of 50 points," Obama said.
I assume that President Obama spent most of those 87 days campaigning in Iowa mainly for the 2008 presidential bid, which included a bitter primary fight against Hillary Clinton. His winning strategy in both the 2008 primaries and general election – was a call for change, a tactic mirrored in Donald Trump's successful campaign. Obama ran against the Clinton "dynasty" in the primaries and advocated a change from George W. Bush's 8 years of power.
In the two terms that followed, Obama's main job was to deliver on his promised changes. Well, he did. The country was resuscitated from one of the worse economic crises, once again becoming a leader in economic progress among developed countries (October 11, 2016). As promised, he withdrew from the Iraq and Afghanistan wars – although the US retains several "informal" involvements and major unrest in these areas continues. Unemployment recently reached almost "full employment" levels and salaries have also begun to rise. For four of these eight years, Hilary Clinton served as Secretary of State but she quit the job at the height of her popularity.
President Obama identified one of the main groups responsible for her defeat in the recent elections: white working class voters who lost their jobs to technology and trade and felt neglected by the government. They felt (justifiably) that globalization was working against them and took to digital social media to make their voices heard. In the time that followed, it was difficult to distinguish between what was fake and what was real – be it news, issues, or choices. This demographic wanted change and that is exactly what Trump assured. Many of them didn't have the educational background to analyze the emptiness of Trump's promises or the solutions that Hillary proposed. Indeed – on too many occasions, when asked about details of her planned solutions, she immediately recommended a visit to her web page. This was an unhelpful tactic – most people are reluctant to go to web pages in the middle of an election campaign. They want brief, memorable recaps.
Figure 2 shows the Economist's summary of the election results (votes are still being counted), as collected from various sources.
Willingly or unwillingly, the world is now going through one of its most crucial transitions. One comparison that comes to mind is the agricultural transition from hunter-gatherer that took place 10,000 years ago. For many populations, this change is still incomplete. Within my lifetime, the global population has increased four-fold (to 7.3 billion people) while the average global standard of living has quintupled. On a cosmological scale, Earth is a very small place; our area is finite and this pace cannot continue. The next four years will be crucial in deciding which way we go. Our dominance requires responsibility for future generations and accountability. The election results are not a good sign. We have to learn – and learn fast – how to do better.
Three non-racial factors stand out in terms of voters decisions: gender, education and urban vs. rural residency. I covered the gender aspect in a previous blog (October 25, 2016). My next two blogs will focus on educational levels and the disparity between the rural and urban votes.