The political fight over mitigation of climate change now spans more than two generations. The fossil fuel industry has long seen mitigation as a direct threat to its business model. It has, whether directly or indirectly, used institutions such as the Heartland Institute to deny climate change. This is unsurprising; a lot of climate change mitigation calls for a shift to non-carbon-based energy sources and/or the reduction of energy use through increased efficiency. But COVID-19 and the very apparent effects of climate change (e.g. extreme weather) seem to be triggering a change in attitude for some members of the oil industry.
In the US, the attempt to make the country energy independent ("Second U.S. shale boom's legacy: Overpriced deals, unwanted assets") created a boom in the industry. It especially meant increases in fracking oil and gas. However, that boom has come to an end. Figure 1 shows the changes in the drilling activities that have taken place over the last few years. They culminated in a major imbalance between supply and demand and lack of storage facilities, which led to negative oil prices (June 9, 2020 blog) in April 2020. By July, the international rig count fell drastically, meaning that the number of active rigs outside of North America was at its lowest since 2003. Since then, the prices have somewhat stabilized around 40-50 US$/barrel, well below the production costs of many US facilities.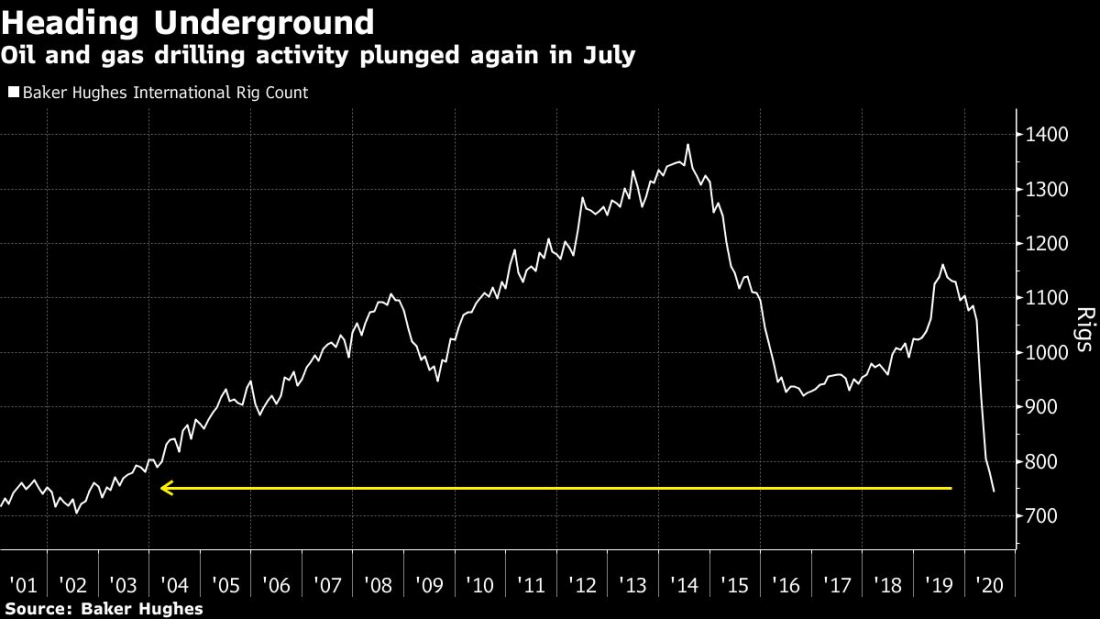 Figure 1 – Drilling activities
Those oil companies who couldn't adapt went bankrupt. The economic model had to change:
Texas-based Gavilan Resources last month filed for Chapter 11 protection, saying it intends to sell its business and assets.

It cited the coronavirus pandemic and the oil price rout along with an ongoing dispute with a joint venture partner in the Eagle Ford Shale in South Texas, Kallanish Energy reports.

It is among 19 new bankruptcies filed in 2020 through May 31 by U.S. energy companies, according to a list maintained by the Haynes and Boone law firm.

The firm with headquarters in Dallas, Texas, said the 19 filings reflected a total debt of $13.1 billion.

Other firms filing for federal protection include Whiting Petroleum, Echo Energy Partners, Ultra Petroleum, Skylar Exploration, Diamond Offshore, Freedom Oil and Gas, and Templar Energy.

There were 51 bankruptcy filings from Jan. 1 through May 31 in 2016; 14 in 2017, 18 in 2018, and 18 in 2019, the law firm said in its Oil Patch Bankruptcy Monitor.

Overall, there are about 225 bankruptcy cases across the country pending in federal bankruptcy courts, as of May 31, it said.

There have been predictions that a wave of Chapter 11 filings is coming and that more than 100 U.S. energy companies may be forced to declare bankruptcy this year after the coronavirus pandemic and the oil price rout.

According to Haynes and Boone, there have been 13 bankruptcies by oilfield service companies in 2020, through May 31.

Those filings had a total debt of $11.6 billion, it said.

That compares to 28 bankruptcies from Jan. 1 through May 31 in 2017, eight in 2018 and four in 2019, the law firm said in a separate listing of wellfield service companies.
All I can say is wow! That many bankruptcies have sparked a change in approach. One new alternative economic model involves slashing stock value and shareholder dividends as steps toward eventual zero-carbon energy sourcing. This shift is global. I show some examples from Europe (Shell), Israel, and the US (Duke) below:
Two of the world's oil supermajors suggested this week that oil demand may never fully recover from the coronavirus crisis.

Shell just did the thing CEO Ben van Beurden said no leader of the company would ever want on their record: cut its shareholder dividend for the first time since World War II.

In slashing Shell's dividend on Thursday from 47 to 16 cents per share, van Beurden made a dramatic statement on the global oil industry's current predicament. But what the supermajor and its peer BP are not cutting is also very telling.

Both BP and Shell released their earnings results this week, their first since the oil price crash and the emergence of the coronavirus pandemic — and since declaring their own net-zero ambitions. Despite the chaos in global oil markets, the pair of supermajors have committed to maintaining their low-carbon investment plans and spoken of an accelerating energy transition.
Europe's Big Oil Companies Are Turning Electric: Under pressure from governments and investors, industry leaders like BP and Shell are accelerating their production of cleaner energy.

This may turn out to be the year that oil giants, especially in Europe, started looking more like electric companies.

Late last month, Royal Dutch Shell won a deal to build a vast wind farm off the coast of the Netherlands. Earlier in the year, France's Total, which owns a battery maker, agreed to make several large investments in solar power in Spain and a wind farm off Scotland. Total also bought an electric and natural gas utility in Spain and is joining Shell and BP in expanding its electric vehicle charging business.

At the same time, the companies are ditching plans to drill more wells as they chop back capital budgets. Shell recently said it would delay new fields in the Gulf of Mexico and in the North Sea, while BP has promised not to hunt for oil in any new countries.
Government seeks to nix half of planned gas power stations as renewables rise

In move welcomed by environmentalists, Energy Ministry says advances in technology will enable it to reach 30% renewables by 2030, but notes it will still need natural gas backup. The Energy Ministry on Sunday asked the National Planning and Building Council to slash its plans for new gas-fired power stations by more than half in a move welcomed by both the Environmental Protection Ministry and civilian campaigners for more renewable energy. The ministry asked the planners to strike off four projects being designed, with a combined output of 4,860 Megawatts (MW).
After Scrapping Gas Pipeline, Duke Looks to Plug Hole With Renewables, Grid Investments: Duke is considering additional solar investments and "will address" its offshore wind plans later this year, says CEO Lynn Good. By Jeff St. John (August 10, 2020).

Duke Energy on Monday reported a $1.6 billion charge related to abandoning the Atlantic Coast Pipeline. The utility also laid out how its renewable energy and grid modernization plans will fill in the capital-investments hole left by the canceled multibillion-dollar natural-gas project.
Meanwhile, if everything else fails, the oil industry has plans to use the excess fuel to make mountains of plastic and dump it on Africa—even though that will end up killing off life in all of our oceans.
Big Oil Is in Trouble. Its Plan: Flood Africa With Plastic: Faced with plunging profits and a climate crisis that threatens fossil fuels, the industry is demanding a trade deal that weakens Kenya's rules on plastics and on imports of American trash.

Confronting a climate crisis that threatens the fossil fuel industry, oil companies are racing to make more plastic. But they face two problems: Many markets are already awash with plastic, and few countries are willing to be dumping grounds for the world's plastic waste.

The industry thinks it has found a solution to both problems in Africa.

According to documents reviewed by The New York Times, an industry group representing the world's largest chemical makers and fossil fuel companies is lobbying to influence United States trade negotiations with Kenya, one of Africa's biggest economies, to reverse its strict limits on plastics — including a tough plastic-bag ban. It is also pressing for Kenya to continue importing foreign plastic garbage, a practice it has pledged to limit.
As I said, this would have disastrous consequences. A lot of plastics eventually end up in the oceans, including in places like the Great Pacific Garbage Patch. At almost 617,000 square miles (1.6 million square kilometers), it's the largest of the 5 vortexes globally that contain large concentrations of plastics, from large pieces to microplastics. Even though they aren't solid islands of trash floating on the surface, those pieces add up and they affect ocean flora and fauna.
We'll see how all of these tactics play out. Hopefully this new push toward more sustainable energy sources, even if it is financially motivated, will help with global mitigation efforts.