A New Year! A New Decade!
By now, we have all made our wishes and resolutions. I am sure that everyone is hoping for better times. However, the news around the world has been very bleak. Globally, since the New Year, the fires in Australia and the US' killing of Gen. Qassem Soleimani and others have dominated the news. Iran is viewing the latter as an act of war and has promised to retaliate militarily. Meanwhile, NYC, where I live, has also faced anti-Semitic attacks.
I have written before on Australia's wildfires (see my January 14, 2013 blog). However, the recent fires dwarf those that came before. An Australian's op-ed in The New York Times sums it up: The bookstore in the fire-ravaged village of Cobargo, New South Wales, has a new sign outside: "Post-Apocalyptic Fiction has been moved to Current Affairs."
Comparisons to atomic bombs and committing suicide have been cropping up everywhere. For instance:
 BBC: What is Australia doing to tackle climate change?
The New York Times:
'It's an Atomic Bomb': Australia Deploys Military as Fires Spread
Australia Fires Keep Spreading as Military Reservists Called Up
NBC: Australia's fires could change the country forever
I have family in Australia; some live in Melbourne, in the southeast, others are in Brisbane and the Gold Coast on the east. The deadly fires didn't reach them but some of the refugees from the disaster areas did, as did some of the smoke. My family there is much more nonchalant about the matter than I am. I am studying every moment of the fires, paying close attention to their locations and scopes. I know that now is only the beginning of the fire season and that in future years things will get worse.
I will give updates on devastating fires around the world periodically in future blogs. Now that we have entered into a new decade, I think it's time to look at how climate change is impacting individual segments of the global economy that we can see and measure now. One of the key subjects is the real estate market. After discussing that, I plan to look into the insurance market, environmental immigration, security, and politics. All of these topics are obviously connected.
We desperately need to shift our perspectives on climate change. We have been exclusively using relatively short-term references, with a generational time limit. We regard long-term predictions with great suspicion and a strong conviction that somehow, in a more distant future, something will turn the tides in our favor. I've dealt with these decadal shifts in outlook on climate change and other matters before (April 18, 2017) but starting the 2020s it's time to look more closely at what we can do to shift these trends in our favor.
I will start with an excerpt from the April 18, 2017 blog to get us on that earlier wavelength:
The Shifting Baselines Ocean Media Project grew from its three founding partners (Scripps Institution of Oceanography, The Ocean Conservancy, and Surfrider Foundation) to over twenty conservation groups and science organizations

For the fishing industry, this takes the following shape: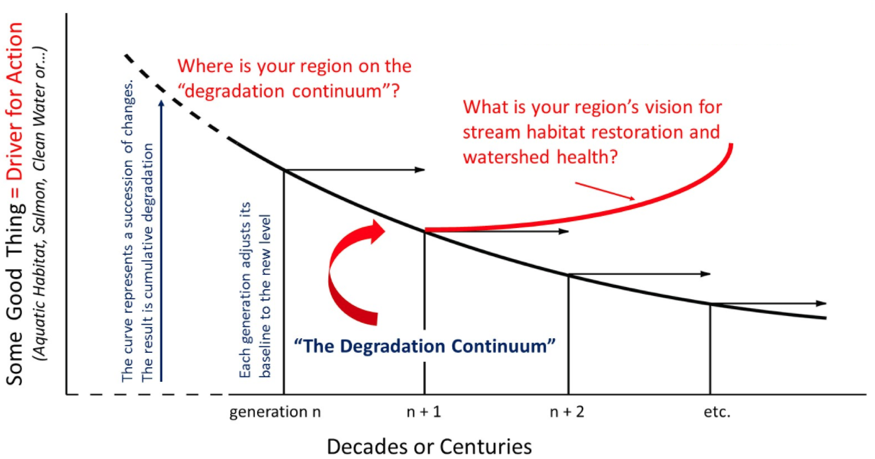 Figure 1
The references change from generation to generation, ultimately resulting in a complete degradation of the natural stock that could have survived without human interference. Human interference is obviously not always destructive; it can often balance natural growth through human needs. For that to take place, however, we need people to be aware of how to determine such a balance and how to regulate human impact to maintain that balance. We need the scientists.
In another blog (February 23, 2016), where I described the flow of people between Cuba and Miami, I reminisced on an experience I had in Cape Town South Africa. I had discussed a recent trend of rich white South Africans buying real estate on the island of Mauritius as insurance against the uncertainties in South Africa:
In other words, the good times in Miami might not last much longer as the effects of climate change increase. I encountered a parallel situation during my last visit to Southern Africa. On my way to a conference in Mauritius (July-August 2013 blogs), we visited South Africa. A local family in Cape Town hosted us for dinner. As the conversation flowed and we told our hosts where we were going, they mentioned that among white South Africans, Mauritius is a popular place to buy property as an insurance against racial deteriorations in South Africa. I asked them if they took into consideration the impact of climate change on their choice of sanctuary, and got a confused stare in response. The topography of Mauritius (July 30, 2013) has some similarities to that of Cuba. The photograph below shows a beautiful landscape that is characteristic of the area we visited. It is certainly not as flat as southern Florida and one might easily consider it a perfect refuge in case of a water "siege" on Miami.
A few months ago, (September 2019) I talked about the Florida Keys, where climate change-triggered sea level rise was prompting the bulldozing of certain coastal neighborhoods:
The Great Climate Retreat is beginning with tiny steps, like taxpayer buyouts for homeowners in flood-prone areas from Staten Island, New York, to Houston and New Orleans — and now Rittel's Marathon Key. Florida, the state with the most people and real estate at risk, is just starting to buy homes, wrecked or not, and bulldoze them to clear a path for swelling seas before whole neighborhoods get wiped off the map.

By the end of the century, 13 million Americans will need to move just because of rising sea levels, at a cost of $1 million each, according to Florida State University demographer Mathew Haeur, who studies climate migration. Even in a "managed retreat," coordinated and funded at the federal level, the economic disruption could resemble the housing crash of 2008.
Yet the impacts of climate change have yet to reach the pathways of migration within the US. People are still moving from colder northern states to warmer southern ones:
Table 1 – The fastest growing US states in the last decade
The issues in this blog are necessarily anecdotal. Next week I'll move on to present and near future impacts on the real estate issue with an attempt to address it from more generalized policy perspective.