This semester, I am teaching two courses directly related to climate change. I start both with an exploration of the basic science involved. It's a multidisciplinary topic that requires using first principles to address the overlap of the physical, natural, and social sciences. For the second half of the semester, I turn to helping my students understand—from both observer and participant perspectives— how global current events relate to climate change. This semester provided us with a rich selection of such events, culminating in COP26 in Glasgow, Scotland.
The observation part of both courses was to compile an individual e-journal of the global developments, ending with a summary of the global climate picture, as they saw it developing. In terms of participation, for the first course, each student had to select a country whose developments in the global climate challenge they would track and summarize. They were asked to give short class presentations following any important developments. Students chose countries based on personal connections, including birth, affiliation of relatives, and special affinity. I personally covered both the United States and the global trends.
The participation part of the second course was targeted at our "campus as a lab" effort to decarbonize campus (type Brooklyn College into the search box to follow my efforts on this line) through students' bottom-up efforts. This is part of a multi-year project, which includes several similar courses. We have summarized the results of this effort on a webpage that is being sent to decision-makers; we hope that some of the proposals will be implemented.
COP26 was concluded on Saturday, November 13th. As is the usual practice of such meetings, it ended with a successful unanimous decision by the 197 official participation countries.
To their credit, Wikipedia contributors were able to post an objective summary of the most important accomplishments of the meeting only a few days after the conclusion of the meeting:
The number of countries pledged to reach net-zero emissions passed 140. This target includes 90% of current global greenhouse gas emissions.[6]

More than 100 countries, including Brazil, pledged to reverse deforestation by 2030.

More than 40 countries pledged to move away from coal.

India promised to draw half of its energy requirement from renewable sources by 2030.[7]

The governments of 24 developed countries and a group of major car manufacturers including GM, Ford, Volvo, BYD Auto, Jaguar Land Rover and Mercedes-Benz committed to "work towards all sales of new cars and vans being zero emission globally by 2040, and by no later than 2035 in leading markets".[8][9] Major car manufacturing nations like the US, Germany, China, Japan and South Korea, as well as Volkswagen, Toyota, Peugeot, Honda, Nissan and Hyundai, did not pledge.[10]
Most of the sources I saw (including press, TV, and social media) criticized the results, saying either that the decision didn't go far enough or that it went too far.
To keep some balance, I'm including what I find to be the most significant entries in each category of the latest draft of the final resolution that was available to me. The final resolution (COP26 cover decision) is not long (around 7 pages) and I strongly recommended that you read it in its entirety so you can form your own opinion:
Glasgow Climate Pact

Acknowledging the devastating impacts of the coronavirus disease 2019 pandemic and the importance of ensuring a sustainable, resilient and inclusive global recovery, showing solidarity particularly with developing country Parties,

Science and urgency
Expresses alarm and utmost concern that human activities have caused around 1.1 °C of global warming to date and that impacts are already being felt in every region;
Adaptation
Emphasizes the urgency of scaling up action and support, including finance, capacitybuilding and technology transfer, to enhance adaptive capacity, strengthen resilience and reduce vulnerability to climate change in line with the best available science, taking into account the priorities and needs of developing country Parties;

III. Adaptation finance

Urges developed country Parties to urgently and significantly scale up their provision of climate finance, technology transfer and capacity-building for adaptation so as to respond to the needs of developing country Parties as part of a global effort, including for the formulation and implementation of national adaptation plans;
Mitigation
Calls upon Parties to accelerate the development, deployment and dissemination of technologies, and the adoption of policies, to transition towards low-emission energy systems, including by rapidly scaling up the deployment of clean power generation and energy efficiency measures, including accelerating efforts towards the phasedown of unabated coal power and phase-out of inefficient fossil fuel subsidies, while providing targeted support to the poorest and most vulnerable in line with national circumstances and recognizing the need for support towards a just transition;
Finance, technology transfer and capacity-building for mitigation and adaptation
Urges developed country Parties to provide enhanced support, including through financial resources, technology transfer and capacity-building, to assist developing country Parties with respect to both mitigation and adaptation, in continuation of their existing obligations under the Convention, and encourages other Parties to provide or continue to provide such support voluntarily;
Urges developed country Parties to fully deliver on the USD 100 billion goal urgently and through to 2025, and emphasizes the importance of transparency in the implementation of their pledges; 28. Urges the operating entities of the Financial Mechanism, multilateral development banks and other financial institutions to further scale up investments in climate action, and calls for a continued increase in the scale and effectiveness of climate finance from all sources globally, including grants and other highly concessional forms of finance;
Loss and damage
Resolves to strengthen partnerships between developing and developed countries, funds, technical agencies, civil society and communities to enhance understanding of how approaches to averting, minimizing and addressing loss and damage can be improved;

VII. Implementation

Strongly urges all Parties that have not yet done so to meet any outstanding pledges under the Convention as soon as possible;

VIII. Collaboration

53. Recognizes the importance of international collaboration on innovative climate action, including technological advancement, across all actors of society, sectors and regions, in contributing to progress towards the objective of the Convention and the goals of the Paris Agreement
As you can tell from the Wikipedia summary, the final resolution is not the only outcome of the conference. Figure 1 shows a snapshot of the 31 separate outcomes that passed without unanimous decisions.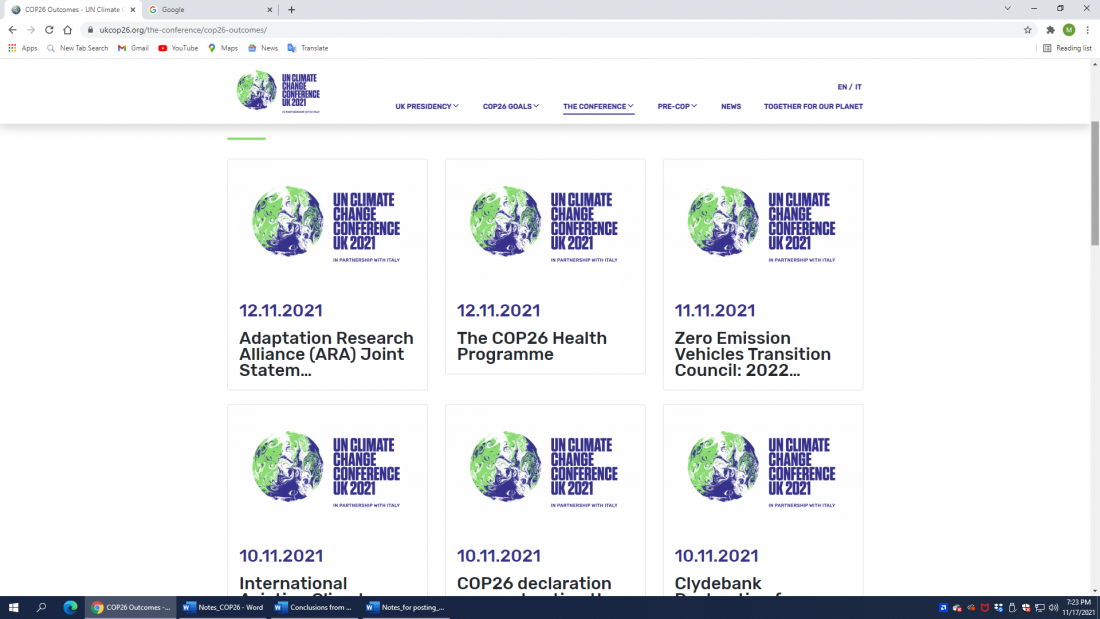 Figure 1 – Screenshot of the main page of COP26 outcomes
I chose to highlight two of these outcomes. One—the ARA—the first in Figure 1, includes not only several member states but also signatories from of cities, companies, and other large entities. This coalition strengthens the belief that strong bottom-up commitments to fight climate change are the best way forward. The second one, not visible in Figure 1, calls for instituting an annual global checkpoint process by 2022:
These statements and declarations are the high-level outcomes from the World Leaders Summit and presidency theme days of the two-week programme of COP26.

We the undersigned, representing over 100 organisations across 35 economies, have gathered here at the 2021 United Nations Climate Change conference (COP26), in Glasgow, United Kingdom, to launch the Adaptation Research Alliance (ARA).

A bold new coalition of global adaptation actors, the ARA will catalyse and scale investment in action-oriented research and innovation for adaptation that strengthens resilience in communities most vulnerable to climate change.

Breakthrough agenda – launching an annual global checkpoint process in 2022

The breakthrough agenda launched at the world leaders summit commits countries to work together to make clean technologies and sustainable solutions the most affordable, accessible and attractive option in each emitting sector globally before 2030.
Wikipedia rightly lists this annual checkpoint process as the biggest accomplishment of the meeting. I fully agree. Hopefully, it will guarantee that the large groups interested in global climate change mitigation will shift from future commitments to ongoing accomplishments in the wake of the COP26 meeting.
I will end this blog by stating my belief that the outcome of COP26 probably would have felt much more discouraging if not for the unexpected announcement of an agreement between the US and China to work together to slow the impact of global warming and to ensure a successful conclusion of COP26.