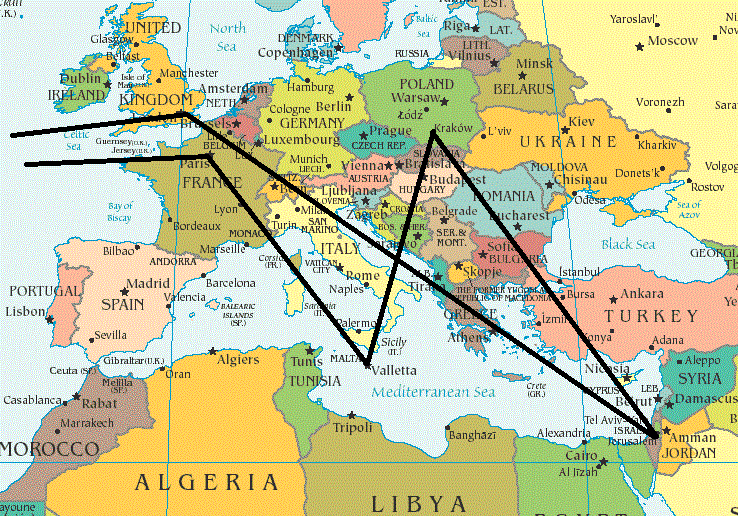 Map of my global family vacation
I have returned from my month-long vacation with my wife. One of the perks of being an academic is that my summers are my own. I show the route of my trip above. Clearly, this vacation was not planned to be relaxing; I had a great time but the many flights made it somewhat vexing. Unlike some of my travels, the purpose of this vacation was not to visit new places. In fact, with the exception of Malta, we have visited each of the areas multiple times before. We were pleasantly surprised by Malta's quality as a small island state tourist destination and will definitely include it in future itineraries.
My main goal here was to meet up with (mostly elderly members of) family. Given our age group with regards to life expectancy, future opportunities to visit with each other may be limited. We also wanted to exchange and record stories that had never been shared.
Like me, almost all of the older family members were immigrants. Of course, some of their offspring were native born to their chosen homes. These meeting fit easily within my latest series of blogs about immigration. As you might imagine, almost all such stories within my family have their origin – whether directly or indirectly – in the Holocaust. Surviving relatives ended up in Australia, Israel, France, and England. Poland, where most of the elderly family members were born and experienced the atrocities of the Nazis, still plays an important part in many of the stories.
I found a lot of generational dynamics that mirrored my own experiences: the younger generations are too busy living their own lives and do not seem interested in the experiences of their elders. It's only once those kids get older that they become more interested in such themes (this was the case for me personally), by which time, they are sometimes too late – those important links have already been lost.
In my case, I was fortunate that my mother put our experiences in the form of two books (July 5, 2016) and I was able to read them when I was ready. My interests awakened nearly 15 years after the books were published. Not everyone can write and publish books. Fortunately, technology now facilitates publishing opportunities that didn't exist for my mother.
A few friends and I have developed a new application called Tapestry. Tapestry is a platform for capturing the human experience and promoting self-expression. It allows people to capture their lives' adventures. It is not only a way to create a type of family heritage but also a chance to connect with people with whom you shared moments. You can find the platform on www.tapestry.life. I will share the stories that I heard during my vacation there and invite the younger generations to use the app for their own communication needs. In the process, I hope they are exposed to the stories of older generations.
The global immigration picture is the sum of individual, intertwined stories. We arrived in England just a few days after the somewhat surprising Brexit vote, during which the United Kingdom decided to exit the European Union. The strongest driving force behind this outcome was a desire stop the flow of immigrants into the UK. The pro-Brexit side made the questionable promise that such an exit would not hamper the UK's free market access to the EU but would effortlessly stop free travel from the EU into the UK and also by some magic stop the global flood of refugees. After the vote, while it was made absolutely clear that this premise was a lie, it was also decided that the lie itself was not grounds to overturn the result. The ability to use lies and demagoguery to sway votes in direct democracies (as distinguished from representative democracies) is obviously not limited to the UK. One finds the same appeal in the US elections and in other European countries (See the series of blogs on Democracy vs. Oligarchy starting March 15, 2016).
From England we traveled to Israel. The refugee problem is at the center of the Palestinian-Israeli conflict and the issue of refugee resettlement vs. their use as a figurative political football. Poland is now part of the European Union and thus party to the EU's refugee problems but it doesn't have a unique issue with global ramifications. Malta is also member of the EU. On the other hand, a brief look at the map above shows that Malta is one of the closest gateways between North Africa and Europe. Many of the refugees that are now trying to reach Europe are desperate to escape unstable states in Africa, making Malta a key player in discussion of refugees and immigrants. Finally, in describing the situation in France, I will emphasize the perception that the influx of refugees without proper security screening is a major concern as a contributing cause of internal terrorist activities.
My next series of blogs will focus on separate geographical locations while attempting to combine local refugee issues with global ramifications as well as some aspects of the personal migrant issues specific to my family.
However, we also have an important election going on in the US with major immigration-related components, so future blogs will oscillate between the US election campaigns and the global immigration issues reflected in my vacation.