My May 28th blog discussed the Sierra Club's ranking of university campuses' sustainability conversions. I also included the organization's methodology. Later, in my June 4th blog, I suggested that campuses could convert this transitional process into a teaching moment — perhaps even a teaching laboratory. I didn't, however, list the Sierra Club's scoring keys anywhere. If a campus decides to put serious efforts into climbing the ranks, it must first know the details of what is involved — including the metrics. The list of these is incredibly long, but I decided that it was essential to have the full set here for reference. Several of the blogs that follow will also depend on this list. Below, I have extracted the 10 highest-scoring activities, along with some suggestions for how campuses should proceed in order to improve their scores in these categories. I then include the full list:

The GHG Protocol Corporate Standard classifies a company's GHG emissions into three 'scopes'. Scope 1 emissions are direct emissions from owned or controlled sources. Scope 2 emissions are indirect emissions from the generation of purchased energy. Scope 3 emissions are all indirect emissions (not included in scope 2) that occur in the value chain of the reporting company, including both upstream and downstream emissions.
Colleges should provide a detailed accounting of their scope 1–3 emissions (it's not necessary to include external evaluations). This makes it easier for the Sierra Club to identify and credit any changes.

This is self-explanatory.

This can be done building by building, starting with the oldest buildings.

There was a June 13th conference on the use of solar energy on CUNY campuses. I will expand on this issue next week with some details about the conference.

An institution must initially get a detailed accounting of its waste and then identify (and follow through with) actions to reduce it.

Same process as above.

Since most projects are done by outside contractors, the contracts should include this requirement.

For educational institutions this is one of the most important topics that will define campuses as working sustainability laboratories.

This is self-explanatory but is at least relatively easy in NYC where we can contact the power company to request that they deliver at least a certain portion of our electricity from renewable sources.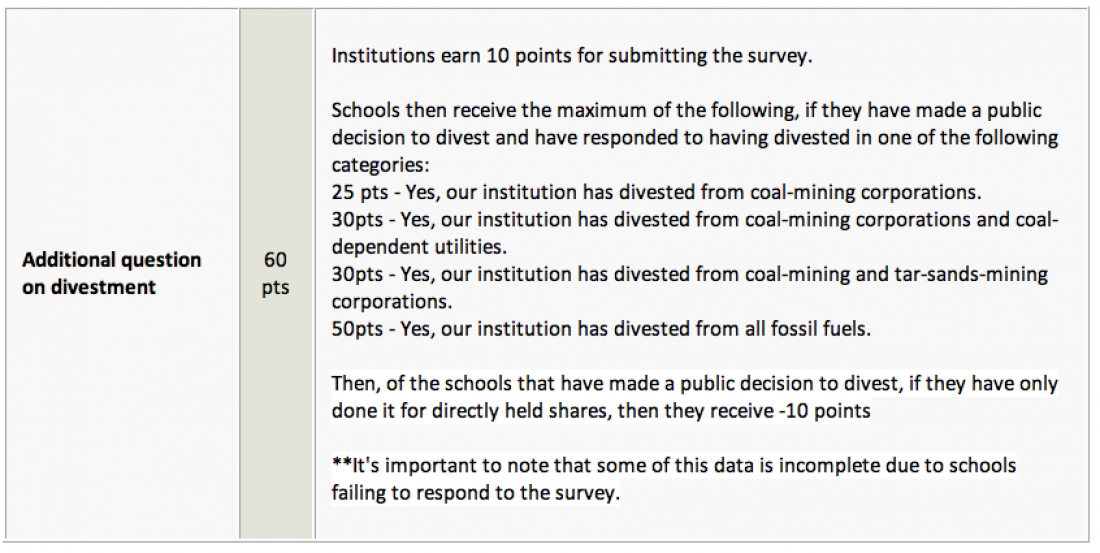 This is by far the highest number of available points and it calls for major action — not just pledges or promises!!
Here's the full set: